Your Money
Success Stories
John Starks: What Being a Pro Basketball Player Taught Me About Money
Life in the NBA Teaches Lessons Needed For a Career Off the Court
By
Michael Austin
Posted: 05/04/16
Updated: 11/10/17
John Starks is an Alumni Ambassador of the New York Knicks, for which Chase is the Marquee Partner.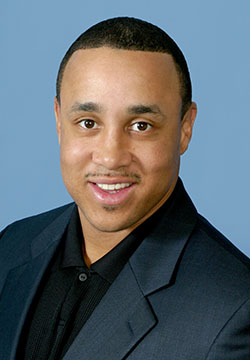 Nothing has come easy for former NBA player John Starks. Not drafted out of college in 1988, Starks worked to make a name for himself in the Continental Basketball Association and World Basketball League before earning his big break with the NBA's New York Knicks in 1990.
Knowing there are no guarantees in the NBA, Starks continued to pour his time and efforts into becoming an asset to the Knicks. In 12 years he scored more than 10,000 points.
Now in the business world, Starks is involved in several athletic ventures and leads his own foundation. He says he's applying lessons learned by playing at the highest level to this next phase of his career.
Lesson 1: Set Up Your Shot
"A big part of success comes down to daily and year-long goal setting," Starks says. "In the NBA and in my business ventures, I need to have those concrete goals. When I attain them, it's the greatest feeling in the world. But if I don't, it pushes me to work harder. You never want to fail on the court, and it's the same with my businesses. Back then, you had teammates relying upon you to be your best. Now, you have employees who depend on you. Knowing others rely on me to be successful gets me to put in the long hours and sleepless nights."
Starks says playing in the NBA enabled him to see how planning for the future was important, as those big-money basketball contracts don't last forever. While there are stories of players lavishly spending and losing tens of millions of dollars, Starks says he knew that a more conservative approach would set him up for life after basketball.
"I was married and had a son when I came into the league, so I was more grounded. I saw how the single guys with millions of dollars would do whatever with it. But I had to think about my family. By age 30, I started seeing things from a business perspective. I knew that's where my life was headed."
Lesson 2: Pass the Ball
Starks says he worked closely with a financial advisor who was a friend of the family. The advisor suggested he set aside a percentage of his paycheck for savings and investments, while also developing a budget and game plan so he wouldn't spend blindly on things he didn't need.
While that plan allowed him to retire comfortably in 2002, Starks says the NBA couldn't teach him every lesson about the harsh realities of the business world. As a professional athlete, you have employees who take care of the details while you focus solely on the game. Things change quickly when you enter the real world, he says.
Lesson 3: Make Plans for After the Buzzer
"I remember the first time I went to a doctor after I had stopped playing and he told me I didn't have insurance so I needed to get COBRA," Starks says. "I was told it was going to cost $3,000 per month, and I was like, 'What?!' The real world hits you hard, and there are lessons you only can learn when you are on your own."
Starks says the best thing he did when transitioning to the business world was to start immediately rather than waiting several years to switch gears.
"I made mistakes when I first started, but I was young enough to learn and recover," Starks says, adding that one of the most important lessons he learned is to consult with professionals in your business area before jumping into a venture.
Lesson 4: Start a New Game
Starks says he understood the patience necessary to wait the four to five years to be awarded a patent on the technology used in one of his products. Otherwise, he may have become frustrated with the process, which then could have led to knee-jerk decision-making.
He advises dedicating yourself to ventures about which you're passionate. It has served him well from his playing days in the 1990s to his current business endeavors.
"I played with a passion in the NBA. Now, I work in areas that excite me and give me a reason to get out of bed every morning. That's where I find value."
Michael Austin runs Basketball Coach Weekly while also serving as a contributing editor for This Is AFCA (American Football Coaches Association) magazine.