Small Business
Manage Your Business
How MZ Wallace built a handbag concept into a lifestyle brand
From humble beginnings, MZ Wallace founders illustrate the ideas and deliberate choices behind their fashion success
By
Rebecca Dalzell
Posted: 05/08/17
Updated: 05/22/18
This story is part of The Pursuit, a series in which small business owners share insights on how they build their enterprises—and follow their dreams, brought to you by Chase for Business.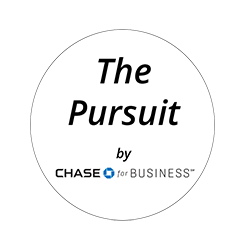 "We're interested in style, not fashion," says Monica Zwirner, describing why MZ Wallace, the handbag company she and Lucy Wallace Eustice launched in 2000, has such staying power. MZ Wallace—a combination of the founders' names—isn't aiming to be on top of the trends, but to outlast them. At their own retail shop, online and in department stores, designs from 10 years ago are still top sellers, with devoted fans buying more than one in different styles and colors.
The pair's initial idea—create an affordable, stylish but practical, lightweight bag—has turned into a powerful lifestyle brand that appeals to working women, travelers, and fitness enthusiasts.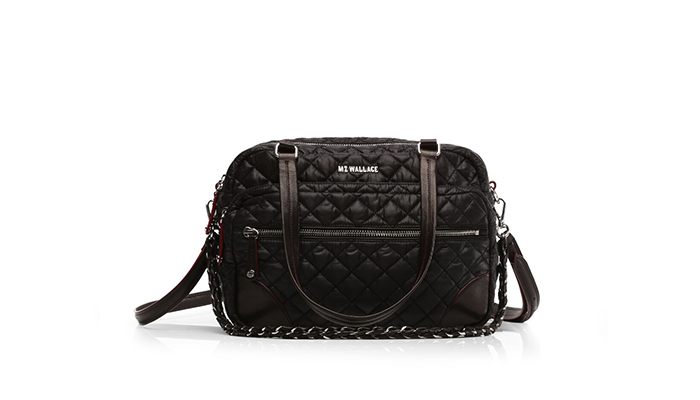 The two native New Yorkers first crossed paths 30 years ago, when Zwirner was working as a fashion stylist and Eustice managed Manolo Blahnik's retail store. They lost touch, and then bumped into each other in 1999, while shopping. They talked about their small children, and lamented that the only options for a bag that could carry both a computer and children's snacks were often found at places like office supply stores. With no one in the accessories market meeting the needs of women like themselves, and with plenty of fashion and design experience under their belts, the two took a leap of faith.
"We thought, 'okay, we're going to try this,'" says Zwirner, as she sits back in the company's airy showroom in New York's trendy SoHo neighborhood. They agreed to invest a relatively small amount of money, and try building the business for a year. Eustice had just left a job with a difficult boss, and recalls thinking, "If I'm going to crack my molars again from stress, it's going to be for something real—not because someone couldn't get a shoe for a fashion shoot."
As the two mapped out a direction for the company, and a design, they decided to ditch the traditional fashion brand route of selling to department stores. "I remember sitting in my apartment and Lucy saying 'I think we should open a store,'" says Zwirner. "I said 'you're insane we don't even have a product.'"
But Eustice convinced Zwirner that the best way to know whether or not their idea worked was to sell directly to the customer at their own retail store. "We've done everything you're not supposed to do," laughs Eustice. There was no business plan. They didn't even have their first tote bag when they signed a one-year lease for a shop in SoHo.
The two women agreed to share design, marketing and oversight of the company's daily operations. And with a shop to fill, they finalized their design concept. Though the company now uses their own custom-made nylon, for their first bags, they first picked Cordura nylon, the kind used to make kids backpacks. "The idea was to take something really industrial and then pair it with something very refined," says Zwirner who says they stitched the nylon together with fine Italian leather trim. Suppliers were skeptical. "The leather vendor would say 'you're wasting your money and time, don't put this with that cheap nylon.'"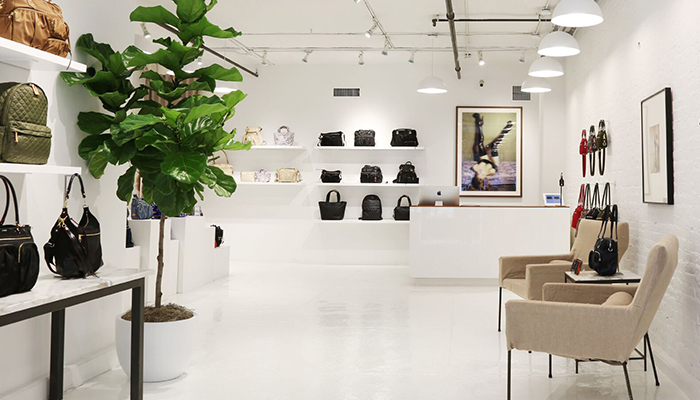 The two started with totes, and constructed pockets inside for makeup, keys, subway cards and phones. ("The pockets we designed 18 years ago are pretty much the same," points out Zwirner.) Initially, the unique combination of high and low materials made them hard to sell beyond their own retail stores. "Buyers would say 'you're too expensive for nylon,'" Zwirner says. "But we knew, because we had our own retail, that people wanted what we were doing."
Unlike most brands trying to define themselves, Eustice and Zwirner have never advertised. They rarely offer discounts, which keeps margins strong. They built a customer base through word of mouth, press coverage, and, later, their own website and social media channels. And they listen closely to those customers. When customers asked for outside pockets to grab things effortlessly, and cross-body straps to make running around town easy, both ideas were quickly incorporated into designs. Eustice says the company has been profitable since 2009. And over the past three years the company has seen double-digit growth, despite slowing sales in accessories overall.
Now, the women have 35 employees, and are carefully thinking through expansion plans. Chase, they say, has been a key financial partner. "We're able to pick up the phone and talk to them," says Eustice. "Whether you're borrowing money or not, your bank is your partner."
Going forward, Zwirner and Eustice plan to keep designing bags that meet the needs of a woman on the go, strategically expanding their stores and leveraging that online presence. "We feel like we've only scratched the surface in terms of brand awareness," says Eustice. "There's a big world out there."
Rebecca Dalzell is a Chase News contributor. Her work has appeared in The Washington Post, New York magazine, Travel + Leisure, TimeOut and other publications.