Small Business
Sustaining Growth
Startup Week Highlights Innovative Dallas Entrepreneurs
From Legal Career to Fashion Startup, a Bold Transition
By
Jayme Rutledge
Posted: 04/23/15
Updated: 11/10/17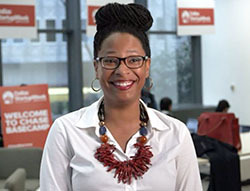 A comfortable career as a lawyer wasn't enough for self-proclaimed shopaholic Leah Frazier. Her love of fashion prompted the 32 year old to branch out from the courtroom to the catwalk.
Frazier admits the transition to fashion entrepreneur -- she became a blogger and is now editor of DFW Style Daily -- didn't result in immediate success. "I didn't know what to do as far as business stuff," she says. "I learned the hard way."
Guiding entrepreneurs through those early pitfalls is the focus of Startup Week in six U.S. cities organized by Seattle-based non-profit UP Global and sponsored by Chase.
The inaugural Dallas Startup Week, held the first week of March, connected local entrepreneurs and startup companies with investors and mentors through free discussion panels and networking events. More than 2,700 people participated in the week's programming.
"Our goal is to give access to entrepreneurship to anyone who wants it," says Matthew Helt, UP Global Startup Week program manager. "We hear from smaller communities that they feel isolated. They have no one to talk with."
Startup Week provides access to entrepreneurs like Frazier, who had no experience in fashion when she dove into the industry five years ago via her blog, Beauty4Ashes, and a side venture as a stylist.
Frazier juggles her full-time job as an attorney for photographers while managing DFW Style Daily, plus her personal blog and stylist business. As a Startup Week panelist, she advocated cultivating multiple streams of income.
"As an entrepreneur you have to do that, because if one thing fails or doesn't work out, you need to be able to know the rent is going to get paid," she said.
Taking Your Business to the Next Level
Knowing when to diversify or expand your entrepreneurial endeavor hinges on timing. When Gary Torres and Teena Nguyen left architecture careers in 2011 to launch Nammi, a Vietnamese fusion brand among the first gourmet food trucks in Dallas, the obstacles were staggering.
"It's a grind," Torres told the Startup Week audience, referring to the day-to-day operation. He and Nguyen battled numerous problems – strict regulation, limited locations, adverse weather and frequent employee turnover – that were compounded by perpetual, and often expensive, vehicle repairs. They also fought against the old notion that food trucks are filthy "roach coaches" teeming with germs.
Adding a brick and mortar location eased some of the team's logistical issues. But the move to a permanent space happened only after the food truck showed tangible growth. At first, Nguyen and Torres struggled to clear $400 per day. Word of mouth and regular use of social media gradually fueled a steady stream of banh mi lovers for two- and three-hour stretches.
"The biggest motivation for us had to be when we saw our growth and the best day we had, and said, 'This is what we want everyday,'" Nguyen says.
A second permanent Nammi location is slated to open at the newly renovated Dallas Farmer's Market this summer.
Steer the Course to Business Success
Success for Nguyen and Torres, like Frazier, stems from logging countless hours over several years building their brands.
The secret, Frazier says, is taking action. "Go and get after it," she says. "No one has all the time in the world to read all the books and get all the advice." She got after it by pursuing relationships with key players by networking at regional industry events in Houston and Dallas, she says.
"I would sit down with designers and say, 'Teach me textiles. Teach me sewing. Teach me design,'" says Frazier. Being open to learning the foundations of the industry helped her build legitimacy as a fashion writer.
Adept management of social media is also crucial. Nammi trained customers to rely on its Twitter feed, updated daily, for information about the truck's location and operating hours.
Frazier, in her role as editor, receives hundreds of emails everyday. She says she's more likely to pay attention to designers or boutique owners who contact or tag her through social media.
Her advice: Stand apart from the competition with a clearly defined and cleverly packaged message, whether the focus is on a product or yourself. Frazier suggests that designers wear their products, whether it is an outfit or jewelry. Nammi's truck, which has a custom logo wrap, functions as a mobile billboard.
Above all, don't be afraid to ask questions. "We've all been there at one point in time," says Frazier. "You have to find people that you trust."
Jayme Rutledge is a freelance journalist whose work has appeared in the Dallas Morning News, Dallas Observer, Dallas Hotel Magazine, DriveTheDistrict.com and other publications.