Small Business
Managing a Small Business
The Office Isn't Necessarily an Office Anymore
Shared Spaces Create New Ways to Spend the Working Day
By
Elizabeth Millard
Posted: 05/01/15
Updated: 11/10/17
When Adam Wahlberg decided to leave his position as a magazine editor and start his own small independent publishing company, he knew that he'd be the only employee for a while. He also knew he didn't want to work from home.
"The distractions would be too much," he says. "But at the same time, it would have felt strange renting an office just for myself."
Wahlberg isn't alone in facing that quandary. As more people venture out on their own, they're finding that the old models — home or rented office space — aren't their only options. Wahlberg decided to use CoCo, a co-working space in Minneapolis just four blocks from his condo.
Not only does he save money with the arrangement, since he goes just three days per week, he says he also appreciates being able to work around other people without having to park himself at a coffee shop. "The moment I step through the door, I'm ready to work," he says. "Coming here inspires me.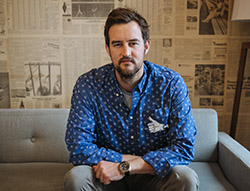 Office Vibe, Plus Coffee
Co-working spaces like CoCo, which now has four locations, are compelling for solo entrepreneurs and small companies. They can provide the office atmosphere that some crave for productivity, without the expense of renting an entire office.
Wahlberg says he appreciates that CoCo often offers networking opportunities and workshops, but he tends to take advantage of the vibe more than the services. Also, "there's free coffee," he adds with a laugh.
The desire for a work-based atmosphere full of camaraderie is fueling a shared-workspace surge. Places like WeWork, Grind, Citizen Space and Workspring offer amenities ranging from concierge services to gourmet coffee and snacks, and even free beer in some locations. People can usually rent space on a tiered pricing system, opting for a just a few days per month or a full-time arrangement if needed.
"A lot of our members used to run businesses out of their homes," says Miguel McKelvey, co-founder and chief creative officer at WeWork. "After moving into a WeWork space, they tell us the difference is night and day for them. Being part of a community of other excited entrepreneurs allows them to collaborate on a whole new level, both in person and via our digital member network."
With meeting rooms, private office availability, plenty of networking and comfortable common areas, these spaces are particularly popular with telecommuters, new startup companies and one-person operations like Wahlberg's. "Being able to have this kind of option is perfect for work/life balance," he says.
Have Wi-Fi, Will Travel
Some solo entrepreneurs and telecommuters enjoy more solitude when they work, but still don't want to deal with the distractions at home or the expense of office space. That's when it's time to get creative.
For Mike Healan, a partner in a Boston law firm, a desire to travel around the country led to taking on a lighter workload and buying a retro Airstream trailer. He packed up his dog, minimal belongings and plenty of technology tools before hitting the road. He drove each morning to a new RV park or scenic spot and set up his "workstation" in the afternoons, using the small table in the trailer as a desk. A satellite-based internet connection made it easy to get online.
"Because of the nature of work these days, when so much can be done over email or through collaborative tools like Google Docs, you really can get just as much done outside of an office as you can sitting at a desk," he says. "In fact, I felt like I was even more productive, because I didn't have interruptions or meetings."
For one-on-one calls or conferences with his team, Healan was able to use Skype or Google Hangouts. Meetings often started with jokes about his new, fast-growing beard. "I think the office environment is still valuable for many people," he says. "But with always-on connections, there's never been a better time to redefine what 'office' means to you."
Photos: WeWork/Lauren Kallen | Elizabeth Millard is a freelance writer whose work has appeared in Entrepreneur, BusinessWeek and Delta Sky Magazine, among other publications.