Your Life
Sports and Entertainment
High-Tech Rockettes: New York Spring Spectacular at Radio City
Technology Meets Traditional Stagecraft
By
Matthew Rothenberg
Posted: 05/01/15
Updated: 11/10/17
The Statue of Liberty. The Empire State Building. The Rockettes at Radio City Music Hall®.
Whether you're a local or a tourist, some Manhattan institutions are built to last. Innovating them requires a deft touch and an understanding of what endears them to generations of visitors.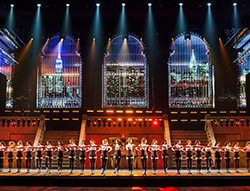 The Rockettes have achieved that iconic status with the Radio City Christmas Spectacular, which began back in 1933. Chase is proud to be a sponsor of it since 2010. But until the launch of New York Spring Spectacular in March, the troupe had not staged an event for spring in many years.
So how do you honor a spectacular theatrical tradition while creating a whole new experience? By pairing technological wizardry with the Rockettes' more than 85-year commitment to family fun.
"We've been thinking for many years about how to extend the Rockettes experience outside of Christmas — and extend people's love and passion for one of the world's most beloved dance troupes," said David Goodman, president of productions and live entertainment at Madison Square Garden Entertainment, which produced New York Spring Spectacular in conjunction with Weinstein Live Entertainment.
The production pairs the Rockettes with marquee stage performers, including Tony Award-winner Laura Benanti and dancer and Emmy Award-winning choreographer Derek Hough; voice talent and video cameos by celebrities such as Whoopi Goldberg, Tina Fey, Amy Poehler, Bella Thorne, Donald Trump and New York sports stars; and a breathtaking assortment of puppetry, interactive lighting effects and set changes that bring New York's landmarks to life on the Radio City stage.
"We've brought in different things that attract different generations: people who love dance, spectaculars or interactive technology," said Goodman. "This is the first time we reached out to talent outside the Rockettes. It reinforces the Rockettes as spectacular, but it's unlike what you see at Christmas. It's exciting to give people a reason to come back at a different time of year."
In one feat of crowd-pleasing technology, the audience is outfitted with LED wristbands that light up in sync with the action.
The plot of New York Spring Spectacular, which pits a kindly New York tour guide named Bernie against a shiny virtual-reality replacement, lets the company play with technology and traditional stagecraft.
"There's definitely this pull and tug between analog and digital that clearly manifests itself in all our lives," Goodman said. "Going down to its core, the message resonates universally with old and young."
What's more, Goodman said, the audience experience outside Radio City Music Hall includes social media featuring behind-the-scenes views and even a drone flight to take in the spectacular venue. "We leveraged social media to spread word of mouth about the show," Goodman said, "and create the most talked-about live experience in New York."
Transforming the project from a one-page treatment to a multimedia spectacular required MSG to gather a global team of technical talent. "I literally flew around the world three times to work with the people who helped create this show," Sedwick said. "We had to explore, push envelopes, look at different technologies and consider how they work for us."
Sometimes that meant finding experts who could collaborate in new ways. Sedwick cited the kites that hover above the audience during a Central Park scene: "We found one company that creates flying objects and another that uses GPS technology for guidance," Sedwick said. "They'd never worked together before, but we put them together."
Another example is a show-stopping, 26-foot-tall Statue of Liberty that combines puppetry and animatronics and was created in Australia by The Creature Technology Company. "When we came up with the idea of this giant puppet and having her speak, we had to ask, 'Who is capable of doing this kind of work at this kind of scale?'"
"We had seen The Creature Technology Company's 'Walking with Dinosaurs.' They'd done things to that scale, but they had never integrated lip-synching." Combining the Australian company's technologies with those additional requirements took a year, Sedwick said.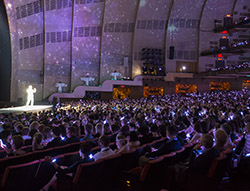 Another technical triumph, Sedwick said, was creating a 90-foot, 500-gallon rain shower on stage. "That was a lot of fun," he said. "Making it rain is one thing, but it's a whole other challenge to control the water and dry it so the cast can dance on it a few minutes later."
Producing the show night after night requires a backstage team of more than 100, from the fifth floor to the sub-basement beneath the stage. The technical systems reference a "master clock" that keeps them in sync to within a millionth of a second.
Many of the effects in the show have only become possible recently. "A whole new world has opened up in the past couple of years," Sedwick said. "It's a ton of fun."
Photos: MSG Entertainment | Matthew Rothenberg is a veteran journalist who has written about careers, lives and technology for more than two decades. He is the co-author of "You're Better Than Your Job Search", a real-world guide to advancing your career in the 21st Century. *Debit cards are provided by JPMorgan Chase Bank, N.A. Member FDIC Credit cards are issued by JPMorgan Chase Bank, N.A.