Bold Leaders
Leadership
Faith, Sleepless Nights Bring Businesses Success
Entrepreneurs Describe Challenges and Breakthroughs
By
Jayme Rutledge
Posted: 05/01/15
Updated: 11/10/17
Three decades ago, Carmen Montalvan and her husband, Marcos, used $150,000 of their home equity to fund their family's fledgling ethnic-food distribution business.
"We gambled," says Montalvan, who remains at the helm of the company's sales today. "We had enough faith in what we believed that we knew we were going to make it. And we did."
Montalvan's journey from mom-and-pop to multimillion dollar business was a highlight of a panel discussion with fellow business owners Angelle Albright (Chemo Beanies) and Kim Houlne (Working Solutions) at the JPMorgan Chase Women's Business Symposia in Dallas earlier this year. Though each woman hails from a vastly different industry, their stories share a common thread: Each identified a problem and delivered a solution to an underserved market.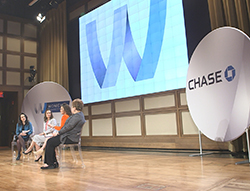 "Shark Tank's" Lori Greiner
Finding market gaps is something the event's keynote speaker, serial inventor Lori Greiner, delights in doing. Greiner, the charismatic "warm-blooded shark" from ABC's Shark Tank, knows a thing or two about carving out a niche. Known as the "Queen of QVC," she has created and launched hundreds of products and owns an impressive 120 patents.
Greiner says her first "Aha!" moment came in the summer of 1996, when she dreamed up her first jewelry organizer while chatting with a friend. By the end of that October, Greiner had the product stocked at JCPenney for the holiday season, all without prior business or manufacturing experience. "I got the fever," Greiner told the audience after her first product was so successful on the market. "I loved making products."
Passion Drives Success
Having a passion for your product is vital, says Albright, a breast cancer survivor who founded Chemo Beanies, a stylish, slip-on head cover designed for women undergoing chemotherapy treatments. The beanie was born in late 2010 when Albright's sister Danielle was diagnosed with breast cancer, five years after her own bleak Stage 3B diagnosis. Albright remembered too well the frustrating, fruitless search for a head scarf that was easy to put on, didn't fall off, provided sufficient coverage and above all, looked chic.
"There were a lot of sleepless nights," she says of the company's early days. "But we believed in our product. If you're just trying to make a product to get rich or make money, you're probably going to fail."
Chemo Beanies found a niche because it solved the issue of covering a patient's bald head in an efficient yet feminine way. "We're trying to make women feel better and ease their burden," says Albright. As a personal project, Albright, now 10 years in remission, designs and sews custom beanies for brides undergoing treatment.
From Retail to Wholesale
The Montalvans, Cuban refugees who emigrated as children to the United States, also capitalized on a market gap when they found out their adopted city of Ontario, California, was home to a community of South Pacific islanders. The couple realized some of the Caribbean foods they sold in their grocery store were also popular in the South Pacific. But importation sources were scarce, so they seized the opportunity to shift into a distribution center.
It took convincing, but Marcos persuaded Carmen to stop worrying about finances and invest in a buying trip to New Zealand, Australia and Fiji, with their young daughters in tow. Their initial order of 20 cases of New Zealand corned beef snowballed into a $15 million operation that now spans three warehouses and a USDA plant.
Their 1,000-square-foot store grew into a multimillion dollar company, Carmen says, due to the couple's shared vision. "We didn't have a business degree, we didn't have a marketing degree," she says. "We had the common sense to understand that the South Pacific islanders were hungry for their homeland foods and nobody was doing anything about it."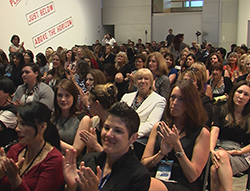 Risk and Reward
Embracing a certain amount of risk can be a smart business move. "I was really afraid of failure my whole life," says Albright. "I only wanted to do things that I knew I would be good at. I knew I didn't know how to run a business." Business degree or not, the proof is in the numbers. In four years, the company has sold more than 100,000 beanies.
Providing a solution that makes everyday life easier is part of Kim Houlne's vision, too. "You don't know how successful you are until you've made a difference in someone's life," she told the audience. Houlne's Working Solutions virtually staffs contact centers for big names like Nine West and Stub Hub with home-based customer sales and service agents. Employees highly value the flexibility that working from home offers, Houlne says.
Albright and the Montalvans are past recipients of Chase Mission Main Street Grants. The program nurtures small businesses with financial awards and other support to help them reach the next level. "Women are one of the fastest growing segments of small business owners," says Laura Miller, Chase Small Business Card President, who doubled as panel moderator. "We try to create environments where women feel like they can be successful."
The right combination of work and determination can make it happen. "Bringing an invention to life isn't the only entrepreneurial path to bliss, or the only path to happiness and success," Greiner writes in her book, Invent It, Sell It, Bank It. "It just happens to be a wonderful and rewarding one for those with the stamina, determination and courage to pursue it."
Jayme Rutledge is a freelance journalist whose work has appeared in the Dallas Morning News, Dallas Observer, Dallas Hotel Magazine, DriveTheDistrict.com and other publications.