Small Business
Inspiration
Inspired By Mom, Impacting the World
Three Successful Business Leaders Share the Lessons They Learned
By
Gina LaGuardia
Posted: 05/01/15
Updated: 11/10/17
It's been said that you eventually turn into your mother, which is just fine for Lara Galinsky, Elaina Watley and Nadine Levitt.
With accomplishments that range from getting underrepresented children into educational programs, to helping entrepreneurs launch businesses designed to change the world, to creating an app that harnesses the power of self expression through music, these women thank their moms for shaping their ambitions.
Now, as mothers themselves, these professionals hold tight to the ideals of motherhood they learned as daughters and say they're making it their life's work to pass such passion to their own children.
For Elaina Watley, there is always more work to do. "My mom pushed me to work hard and never give up," says the founder and CEO of Brand Infinite. "She would tell me I did a good job, but that the job isn't done."
Watley says her mother's mantra propelled many of her passions, including her ambitious interests in pursuing medicine, international business, and law during her college days. After her roommate at University of Miami asked for her help with a paper on entrepreneurship, however, Watley says her focus became clear.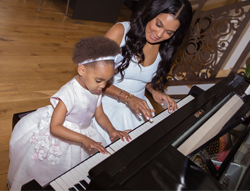 "I was always intrigued by the aspect of packaging deals, selling a company and walking on a red carpet," Watley says. She worked at the Creative Artists Agency in Los Angeles for four years before deciding to embark on her own. "I thought, 'I am going to be an agent. I'm going to change the way people see the world, and make sure role models are role models.'"
While her career has her brokering deals and negotiating contracts with a number of true role models, she's applying her passion to establishing a STEM (science, technology, engineering, and mathematics) program for the Victor Cruz Foundation.
"I feel like I can't sleep at night now; I have a duty to get this done," she says. She attributes much of her motivation to a conversation at the White House Science Fair with the President, the Vice President and the U.S. Chief Technology Officer about why it's so important to expand STEM, especially within underrepresented youth populations.
The program syncs with Watley's desire to encourage excitement about education, starting with her 3-year-old daughter, Kennedy.
"When I was growing up, we didn't have social media to distract us. Now, these kids have standardized tests and they don't have much creative learning," says Watley. Her mother was a teacher, and her family life was focused on collaborative learning principles.
"My mom would take me somewhere to show me what she wanted to teach me," says Watley. "Now, if I'm reading my daughter a book, and I have an opportunity to take her somewhere and bring the book along, I do it."
Watley says she's so committed to inspiring her daughter's love of learning that she set up much of her house with her daughter in mind.
"Kennedy is the epicenter of my world. I made our home an environment where she could learn, with an English station, a math station, an art station and more."
Watley also recalls how her mother instilled the notion of constantly seeking ways to help others. "When I got an A on a test, my mom would remind me to help the other kid who didn't get an A on her test. Hopefully I can teach my daughter that as well."
Watley says she has also learned lessons from her daughter. "Being a mom has taught me to be patient. Many of the deals I've done in the last two years have come out of being patient."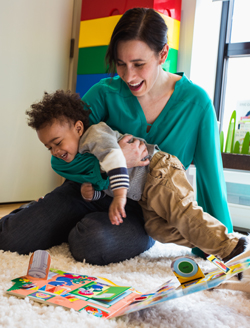 Putting Others First
Lara Galinsky, senior vice president of Echoing Green, says she won the "work-life-job career lottery," from the family she was born into and from her work family.
In her role at the nonprofit, Galinsky is instrumental in the yearly selection of 40-50 organizations that will receive funding to bring humanitarian ideas to fruition. It's a task she says is both inspiring and humbling. "I meet with people who are doing social change work that is fulfilling. We have incredible hope and innovation right in front of us."
Echoing Green was built upon the same values that Galinsky brings home to her 2-year-old son, Azaiah. "They are based on investment in people and the belief in change," she says. "It's about facing problems and doing something about them."
The nonprofit's ideal was not a new one to her, however. "I grew up thinking that everyone can and should make a difference," she says. "It was in the DNA of my upbringing." She recalls seeing her mother's intense determination in her own career and at home. "I thought it was just normal that most of your waking hours were to be spent doing work to advance society."
Galinsky describes her mother as a pioneer, an author, a photographer and more. "I saw her leave a job to launch an organization, raise me and write a book while taking photographs. Her example was this incredible portrait of achievement. She said 'I'm going to create the life I want.'"
Galinsky says her mother and her father were shining examples of how you must use what you have – your time, talent and skills – to make a positive impact. She wrote about that philosophy in two books that have become cornerstones of Echoing Green's mission: Work on Purpose and Be Bold: Create a Career with Impact.
"Boldness is having the self-confidence to drive the impact you want to have on your world, your family and your loved ones," says Galinsky. "The world is your corner to light up, and boldness is required to get there."
The light of Galinsky's world, Azaiah, has taught her much about learning to lead with love, both at home and at work. She recalls a time they went head to head in a battle of wills.
"Azaiah wanted to exit that subway door and I wanted to exit the other one. I stopped a moment and thought, 'Is it giving in to give him his way, or is it this amazing fulfillment of something he wanted that he can get?'"
Though it's something she doesn't do all the time, Galinsky chose to go Azaiah's way that day, explaining how the subway scenario made her realize something valuable about leadership. "You have to think about what your employees need and what will motivate them, then apply the knowledge of where they are in life."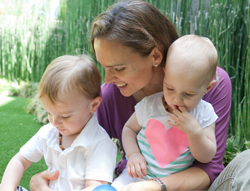 Finding Time for Family
Nadine Levitt went from being a lawyer to acting to singing opera, then on to become a patent holder and start her own record label. Now, she's developing a next-generation music app, Wurrly, while raising two young children.
Levitt says that pursuing a career while staying present with her 3-year-old son Lucas and a 1-1/2-year-old daughter Ariella is all about maintaining balance. It's a lesson her own mom continues to teach her to this day.
"My mother is the person who brings presence to my life in the sense that she can just put her hand on my lap to remind me to take a breath," says Levitt.
"I've always had a very type-A personality, even as a child," she says. "At 3, I would be perfecting something on the piano and my mom would say 'Enough, go out and play!'"
These days, Levitt makes sure to incorporate play time with her kids even in the busy midst of launching Wurrly, an app that enables users to customize songs on a smartphone.
"Every single day, my kids ask to go up to my home office for music hour," says Levitt. "Lucas is obsessed with it. He can take my phone, choose a song and sing away, and he loves that he can hear it back."
"Self expression in video has been captured by YouTube, self expression in photos has been captured by Instagram, but self expression through music has never really been tapped into," says Levitt. "That's what Wurrly is. An app that can customize the song to fit me rather than me customizing the song."
Throughout her professional life, which brought her from her home country of New Zealand to the United States, Levitt says she has always customized her goals to further her dreams. "My mom and dad brought us up to believe that any dream is possible as long as we put a plan in action."
She says her mother continues to inspire her. "My mom loves life and lives it wholeheartedly. That's something I'd like to make sure my kids see in me."
Photo: Elaina Watley with daughter Kennedy, and Lara Galinksy with son Azaiah. Photo by Joshua Estes/JerseyCityPhotographers.com | Gina LaGuardia is a freelance journalist whose work has appeared in BELLA Magazine, ReadersDigest.com, iVillage, Huffington Post and other publications.