Bold Leaders
Inspiration
Emeril Lagasse's Recipe for Inspiration
What He Learned in the Garden as a Boy Fuels His Passion for Helping Kids
By
Jennifer Bryer
Posted: 05/01/15
Updated: 11/10/17
Emeril Lagasse knows a good recipe when he sees one. The multi-talented chef, TV personality, hospitality icon and cookbook author started in his mother's kitchen and grew his culinary passion to a 12-restaurant empire.
When he isn't busy filling the stomachs of his hungry guests, he's putting kids in the kitchen through his philanthropic foundation. The 2013 recipient of a James Beard Humanitarian Award recently explained how fond experiences in his childhood garden motivated him to create an organization that has raised millions for children.
What sparked your initial interest in cooking?
My mom was really the inspiration, and I was about 8 years old. I remember having a family vegetable garden in the yard, and my dad was also part of a farm. I took these amazing vegetables that I harvested and asked my mom what we should do with them and she said, "Well, let me teach you how to make a vegetable soup." Then, at 10 years old, I started washing pots and pans at a neighborhood bakery. When I was about 13 years old, the Portuguese bakers took a liking to me so they began teaching me about baking.
How did you choose to pursue a career as a professional chef?
Music, cooking and sports – those were the three things that made me get up and go. I was probably 6 when I started taking music lessons. I played in various types of bands, but it was almost junior high when I realized I would have to make a [career] decision, so I decided to go to a culinary high school. I think I got into the high school because of my music background – they needed a band leader. I started cooking in high school and working in local restaurants, and that's what really started the career.
You went on to make quite a name for yourself in the culinary world. How did you develop your craft?
First of all, I had great mentors. Secondly, I worked in one of the oldest restaurants in New Orleans, Commander's Palace, and really began to embrace the culture of the city. I think if you can understand the food then you can start to understand the people, and if you understand the food and the people, then ultimately you can understand the culture. The culture of New Orleans became magical to me because of its European influences, which is a little bit of [my heritage], the musical influences, the food influences –, all of the elements that were important to me and to the culture of the city really began to embrace me and I embraced it.
I read you went out of your way to submerge yourself in the culture of the city, spending your free time with local farmers and fishermen to learn about ingredients. Do you think that has contributed to your success?
No question about it; to have great cuisine you have to have great ingredients. For me, even though the food scene in Louisiana in the 80s was amazing, I felt from my travels that there was a lack of certain modern-day products. So I began a farm-cooperative and began to start working with local fishermen and farmers. I began a program at Commander's Palace where everything came totally from scratch, and this was really the backbone and foundation of what Emeril's was to the city of New Orleans.
You had a successful career at Commander's Palace as executive chef and general manager, but eventually left to launch your first restaurant, Emeril's. What was that transition like?
Well, it was very scary, and basically I had no money. On top of that, I was being stubborn. I wanted to do this restaurant in the Warehouse District, which didn't even have streetlights [at the time]. But now it has become one of the most successful neighborhoods in NOLA, and Emeril's is a major anchor 25 years later, so it turned into a magical time.
You're a successful entrepreneur with a dozen restaurants. You have numerous cookbooks and cooking shows, and you're also an active philanthropist. Explain the mission of the Emeril Lagasse Foundation.
The foundation was established in 2002, and the mission is to support non-profit organizations with educational initiatives that really create opportunities for children, especially from disadvantaged circumstances, to realize their full potential. So far we've distributed more than $6 million in grants for children's charities. We have projects, and my really exciting one is the Edible School Yard started in New Orleans. We actually have five of them.
We have outdoor classrooms, gardens, fresh food cafeterias and a teaching kitchen at these schools, and we're teaching kids about the difference it makes when food goes from soil to table, and they learn the whole process.
We have a four-year culinary arts program for high school students that we started at the New Orleans Center for Creative Arts, the Emeril Lagasse Foundation Hospitality Center at Café Reconcile, where the students prepare healthy foods and learn about the hospitality business. We have a special needs program at St. Michael's Special School, equipped with an accessible learning kitchen, which teaches these special kids both commercial skills as well as home skills, so that if they get a chance to work, they have the commercial skills to not be intimidated. They also learn the home skills to cook, do their own laundry, iron, etc. It's a very versatile program.
What inspired you to launch your foundation?
When I started this I said to myself that if I could touch one person, to change their life and make them a little bit better, that would be an amazing accomplishment. Now, to see the number of children we're impacting, it makes me want to expand what we're doing. What's happening with these children's lives is what I'm really blessed with – it gets me out of bed in the morning.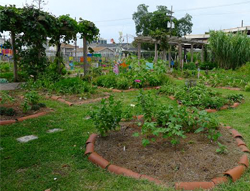 Tell me why you're so passionate about the Edible School Yard project.
It goes back to, sort of, a light bulb going off when I was at Commander's Palace, when I was building the backbone of my career and the foundation of who Emeril was going to be. It dawned on me why this passion of the soil was so important to me ... I began having flashbacks about being a young boy and having that garden and farm where I could see my dad and my uncle raising hogs, goats and vegetables. That's when I realized why it meant so much to me to want to make my own goat cheese, to make my own andouille sausage and to raise my own hogs. That was the beginning foundation, but the soil connection never left me, whether it was when I began to educate myself about winemaking in France or start this Edible School Yard for a bunch of kids in a bad neighborhood.
What's next for your foundation? Do you have plans to expand beyond New Orleans?
I think when you look at leaving a legacy and when you think about making an impact, it all comes down to these teaching kitchen gardens. They work. We have statistics. We see the impact that it makes on the school and most importantly on what the kids put in their bodies through the fresh food cafeteria. We're beginning a project now in Orlando and we're looking at some other locations. When the day is done, it still goes back to core values. It's really about education, mentoring, having passion and creativity, pride, self-discipline ... and I think that inspiration and formula, like a great gumbo or a great soup, is going to inspire people in years to come. I really believe that.
What lessons have you learned from running your restaurant franchise that transferred to running a successful foundation?
It's similar to how I look at running my restaurant group. I relate it to a football team – you've got to have great players. So, in the foundation's perspective, you have to have great people, a great board. You can't have everybody be the all-star running back. You've got to have a wide receiver. You've got to have a great tackle. It has to be balanced. It's the same way I look at running the restaurants. It's a team, and all I am is the quarterback who's trying to win the game.
Do you pass these lessons down to your own children?
They're super involved – my younger children in particular – with what my wife and I do with the foundation and running the restaurants. Like, last week, I couldn't keep my son out of the kitchen. He just turned 12. He expedited every service. He's learning how to cook and do pastry and he understands the hospitality business. It's an incredible learning experience, and by being a part of it, not being taught, it influences him. When somebody at 12 years old can look at you and say, "Hey Dad, maybe in a year or two I should start a children's part of the foundation for you," that's amazing to me.
That must be a proud moment for you as a father.
Yes, indeed.
Visit the Emeril Lagasse Foundation website to learn more.
Jennifer Bryer is a Senior Marketing Strategy Associate on the Corporate Brand Team at JPMorgan Chase.