Community
Sports and Entertainment
Beyond Hot Dogs: The Changing Baseball Fan Experience
Entertainment, Food Trucks and Shorter Games Cater to Today's Fan
By
Esther Schindler
Posted: 05/01/15
Updated: 11/10/17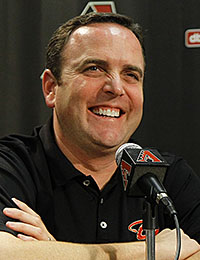 When the roof first opened 17 years ago at Bank One Ballpark – now Chase Field – in Phoenix, going to a baseball game anywhere in the United States was about, well, baseball. The signage told you the score and in which inning the teams were playing. The food options were hot dogs, popcorn and peanuts. You might hear an organist play between innings.
Today's baseball fans expect more – a lot more. And, explains Derrick Hall, president and CEO of the Arizona Diamondbacks, the fan experience has grown to meet and exceed their expectations. "Chase Field isn't just a place to play baseball. It's a full entertainment venue," Hall says.
With people living an always-on lifestyle, glued to smartphones and posting photos with their social media check-ins, baseball teams are adapting to changing behaviors.
"Fans expect to be entertained from the moment they arrive until the time they leave," Hall says. "The reality is, fans have grown accustomed to having their desires or preferences catered to." Hall, who cut his teeth working in the Los Angeles Dodgers organization, is happy to comply.
Entertainment All the Time
During slow periods when nothing's happening on the field, such as pitching changes, between innings or the half hour before the game, the Diamondbacks ensure there is always something to look at, with in-game hosts acting as masters of ceremony. Between innings there's a "Legends Race" featuring animations of former stars, another race in which kids dress up in hot dog outfits while condiments "race" around the scoreboard, the popular "Kiss Cam" (with an occasional marriage proposal) or a contest that lets a fan try to win a $100 gift certificate by catching three fly balls.
The huge scoreboard (once the biggest in baseball) is dubbed "dbTV," and displays baseball bloopers, player information and updates from the team's minor league affiliates. Fans are encouraged to tweet #GoDBacks or #BeatLA and see their posts appear on the screen. If you share a photo, it might be displayed between innings.
For that social sharing to work, the team has to embrace mobile technology. All of Chase Field has Wi-Fi support. The "Ballpark" app from Major League Baseball lets you see replays and baseball stats; it also lets you order food from your seats.
Hall emphasizes that the game is not lost in the "entertainment." Baseball game attendance has always been more than the players on the field. "It is a family sport wherein people connect," he says. You can keep score. You can sing along to "Take me out to the ball game." You can sit and talk (or not, which is why baseball games are a great first date). Going to a game with family and friends is a time to impart knowledge, if not wisdom: few things are as delightful as listening to a father explain to his 9-year-old daughter why that catch was considered a double play.
Players Engage With Fans
Twenty years ago, when the Diamondbacks were a new Major League Baseball franchise, perhaps a player would take it upon himself to visit with fans before the game and sign a youngster's ball.
Today, knowing how much fan engagement is valued, says Hall, all of his team's players are encouraged to go down the line after batting practice to sign balls and take selfies with fans. Many take the engagement outside the park, too, through the team's extensive social media presence (including Hall himself).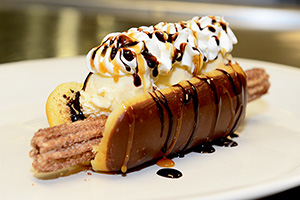 Food Choices: Way Beyond Peanuts and Hot Dogs
In 1989, a Los Angeles sports reporter ranted about the "moral outrage" of selling sushi at a ballgame in San Diego. But food tastes change, as consumers demand everything from gourmet to vegan to gluten-free diets, and here, too, baseball is innovating.
Chase Field includes a range of food options, with new additions this year including Lo-Lo's Chicken & Waffles, America's Taco Shop, Paradise Valley Burger and Zoyo Neighborhood Yogurt, as well as a food-truck alley. Along with offering diverse food choices, the team supports local businesses by inviting them to sell at the games.
Attending a game has to be a good value, too. "I challenge our people to make the fan experience affordable," says Hall. For example, Chase Field allows fans to bring in their own food and water (some other ballparks don't). The team also offers budget-priced food items (such as a $1.50 hot dog) and a block of seats that include an "all you can eat" menu.
Not that everyone is looking for cheap eats. "Last year, we sold 10,000 of the D-Bat dog," says Hall, referring to the $25, 18-inch corn dog wrapped in bacon and stuffed with cheese and jalapeños. "And when we announced the Churro Dog a few weeks ago, it trended on social media worldwide." The Churro Dog is a warm cinnamon churro served on a donut bun and topped with Zoyo Neighborhood Yogurt, whipped cream, caramel and chocolate sauces. At the first game of the season, it sold out by the seventh inning.
Managing the Pace of the Game
Another effect of the fans' changing expectations is that baseball is changing on the field, too. "Keeping someone's attention for three hours can be difficult," Hall says.
Several changes are being tested this year to speed up the pace of the game, such as prohibiting players from walking away from home plate between pitches and limiting the time pitchers have to warm up. The changes will be evaluated to make sure they don't give a team an unfair advantage. "I do think it's a smart move as an industry to address time of game," Hall says.
Hall points out that, 50 years ago, baseball was considered one of the top sports in the United States. And that the same is true today.
His goal: "We have to make sure we are mentioned in the top three, 50 years from now."
If you're in Arizona, join the Diamondbacks for Throwback Thursday games this season at Chase Field. Buy a ticket to any Thursday game using your Chase credit or debit card to get a voucher you can redeem for a Diamondbacks throwback t-shirt.*
Esther Schindler is a freelance journalist who has been writing about technology and community since 1992. Her name is on the cover of a dozen books, most recently The Complete Idiot's Guide to Twitter Marketing. During baseball season, you'll find her at Chase Field in section 119. Subject to availability. Terms, conditions, restrictions apply. *Debit cards are provided by JPMorgan Chase Bank, N.A. Member FDIC. Credit cards are issued by JPMorgan Chase Bank, N.A