Your Money
Understand Your Finances
Savings Diaries: To build a budget that works, dig into your data
By
Rhyanne Guerrero
Posted: 04/16/18
Updated: 10/14/19
This is part of Savings Diaries, an original series in which people share how they try to reach key savings goals during 2018. It is part of a broader Chase initiative to encourage more Americans to save money.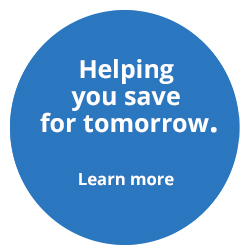 As a former science teacher, I am a total numbers person. When in doubt, I go to the data.
When my husband Raul and I began our spending and savings makeover, we started with a huge spreadsheet. We mapped out the timing of our fixed bills and set most of them on auto-pay from our checking account.
We then agreed on methods for paying for all of our variable and incidental costs. Some are paid out of our personal accounts, such as dinners (if we choose not to cook) and personal expenses such as gym memberships.
In January we cut about $1000 from our monthly spending. Much of that was grocery costs, which we probably sliced in half, to close to our goal of $400 a month. We also reduced incidental spending by about 75 percent, and wound up with an extra $800 in our checking account. This month was a win!
A spending strategy starts to pay off
Having clear procedures for how we use our credit cards has helped a lot. Each card is tied to an area of spending, and we treat them like debit cards—meaning we need to pay them in full at the end of the month. We are using our grocery card for legitimate grocery purchases, and eating out only on special occasions. Purchasing items online helps us decipher between need and want. No more impulse buys for me!
We did not pay any interest on our credit cards this month, and we earned more than $60 in various rewards. The only card that has a balance has a zero percent interest rate, which we are on track to pay off over the coming year. We think of that payment as one of our fixed bills, which helps us set aside that money each month.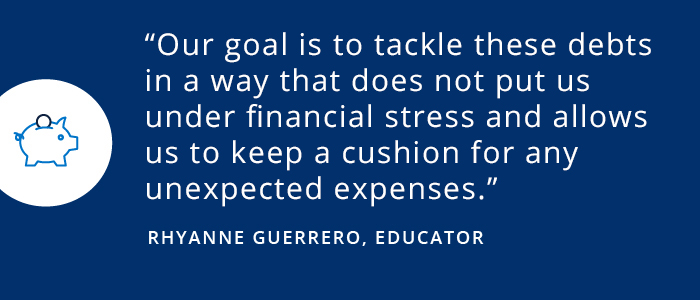 To take it a step further, we identified payoff amounts for our vehicles and student loans. Our goal is to tackle these debts in a way that does not put us under financial stress and allows us to keep a cushion for any unexpected expenses.
Setting up a retirement plan
One of the goals I set last month was to move forward with retirement contributions. Starting this month, I'll be contributing five percent of my salary to my company 401(k) account, which allows me to get the full $200 monthly match. In addition, Raul and I took steps to consolidate retirement accounts and pensions from former employers. In the coming month, we will look at how best to invest this money.
The importance of partnership
This project has prompted a lot of conversations and questions between Raul and myself. Besides taking a closer look at our finances, we've also examined the way we break down our financial responsibilities.
I have been the primary organizer in the family, and I take care of all the bills. That responsibility goes well with my type-A personality. However, I realized that it doesn't make sense to have the information hidden away and inaccessible. What would happen to my family if something happened to me? Would all of the necessary information be accessible? This month, Raul and I reviewed all of our financial accounts and account information. Going forward, I am hoping that we can keep looking at our finances together. That will ensure that sure we are both aware of our status, and spread the mental load across the partnership.
On a final note, we did a few fun things this month. Given our progress in savings, we chose to invest some money in improving our health. Since having our son Dizzy, Raul and I have not had a lot of time for personal hobbies. We scheduled time with a personal trainer and for various exercise classes. We also made plans for our first family vacation with both sets of grandparents. Now we have another goal to save for this year!
Plans for next month: start saving for our family vacation, continue to track our spending, work toward paying off our highest balances, and finish consolidating retirement accounts.
Rhyanne Guerrero is a Chase News contributor.