Small Business
Manage Your Business
Women small business owners see opportunity
By
Amanda Reaume
Posted: 05/01/17
Updated: 11/10/17
Chase created a snapshot of the business environment with the 2017 Business Leaders Outlook by surveying 950 sole/primary business decision-makers at enterprises with revenue of $100,000 to $20 million.
Dr. Gena Bofshever, a chiropractor in Fort Lauderdale, Florida, is a small business owner who loves a challenge.
"I love the high I get from meeting my goals, and then setting new ones," says the owner of Dr. Gena Chiropractic. "I have to think on my feet a lot, but it's fun because there are always new challenges."
Her confidence proved typical of Chase's female small business clients who responded to its 2017 Business Leaders Outlook survey. The 950 male and female business owners surveyed said they feel optimistic about their company's and industry's performance over the next 12 months. But male owners were more likely to feel confident about the national economy.
The survey of businesses with revenue of $100,000 to $20 million found several areas in which women business owners' views differ greatly from those of male owners. Here are some themes that stood out as being particularly important to women business owners:
Small business challenges
Running your own business means dealing with a myriad of challenges on a daily basis. For both groups, top concerns are growing sales/revenue, uncertain economic conditions and taxes.
However, compared to male counterparts, female business owners were more likely to list cyber security and a limited supply of candidates with the right skill set as top concerns. Male business owners, meanwhile, were more likely to choose health care costs and regulatory requirements as challenges.
When it comes to areas were they could use help, both groups say marketing; yet female business owners are more likely than male owners to mention assistance with financial management.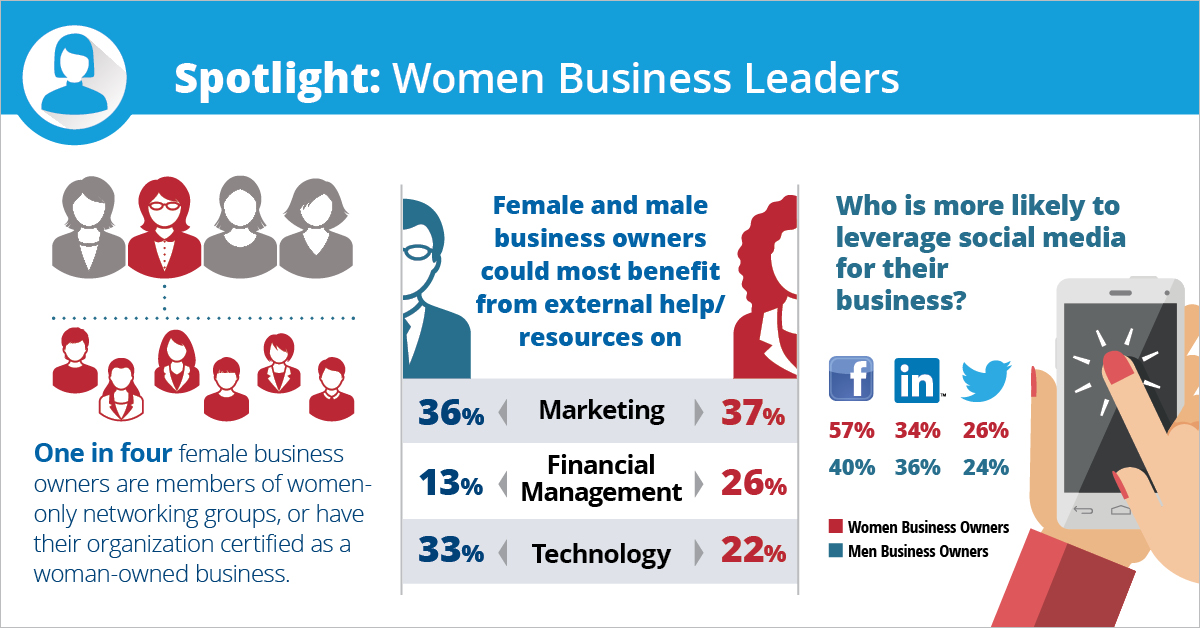 An optimistic outlook
Women business owners said they were generally optimistic about their businesses; the majority expect company revenue to grow over the next 12 months.
That's also consistent with Dr. Gena's expectation for her chiropractic practice. "I'm extremely optimistic," she says. "We're continuing to expand our team this year to meet our customers' growing interest in more natural forms of healthcare."
Employee management strategy
The survey suggests that female owners employ slightly different strategies when attracting and retaining talent. Female business owners were more likely than male owners to say they motivate employees with holiday perks, vacation time and stock options. Separately, when asked about projections for employee compensation in the next 12 months, male owners were more likely to say they are planning to increase compensation.
"I've been an employee and I know what it feels like to not be appreciated," Dr. Gena says about why she offers such great benefits to her staff. "I never want any of my staff to feel that way. I want excited and motivated people because that's how our business will continue to be a success."
Social media savvy
Female business owners show strong enthusiasm for using social media to benefit their business. For example, female owners were more likely than male owners to say their company currently uses a Facebook page.
Dr. Gena says she gets a number of new clients from sites like Yelp and Facebook and loves using social media. "At least once a day, we're posting pictures or testimonials with our patients," she says.
2016 presidential election and regulations
The majority of male and female business owners feel the new US president and his administration's policies will have a positive impact on their business.
While both groups want the government to focus on lower tax rates and reduced credits and deductions, female owners were more likely than males to want the government to focus on creating and fostering a skilled workforce - a desire that fits with their interest in hiring skilled job candidates.
Plan for continued growth
While there are challenges to being a small business owner, many of the women surveyed believe, like Dr. Gena does, that the sacrifices they make for their businesses are worthwhile.
For Dr. Gena, that includes bringing on new clinicians and possibly expanding to another location in the future. "Over the next year, we want to essentially double our practice," she says.
View the 2017 Business Leaders Outlook report for small business here.
Amanda Reaume is a Chase News contributor. Her writing has appeared in Time, Forbes, USA Today, and Fox Business. She is the author of a personal finance book for millennials, "Money Is Everything."