Your Life
Dining and Drinking
Breaking Down the Bubbles: A Guide to Sparkling Wine
By
Samantha Lande
Posted: 04/11/16
Updated: 02/28/18
Chase Sapphire Preferred® is a sponsor of Vegas Uncork'd, a celebration of wine, food and spirits in Las Vegas, Nevada.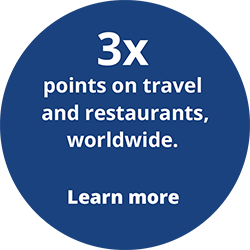 Las Vegas is about to get tastier as Vegas Uncork'd, one of the country's premier food and drink events, invades the Strip. The weekend is filled with culinary delights from chef-studded brunches and dinners to sessions by master chefs on topics like sushi rolling and caviar pairing.
It opens with the Saber-Off kickoff celebration on April 28th at the Venetian hotel, usually reserved only for Bon Appétit editors and participating chefs. This year, Chase Sapphire cardmembers have exclusive access to the champagne toast and the opportunity to rub shoulders with top-notch chef talent. In preparation, renowned sommelier Belinda Chang of Chicago's Maple + Ash (and former champagne educator for champagne powerhouse Moet & Chandon), gives the scoop on the best of bubbly from champagne to cava, and everything in between.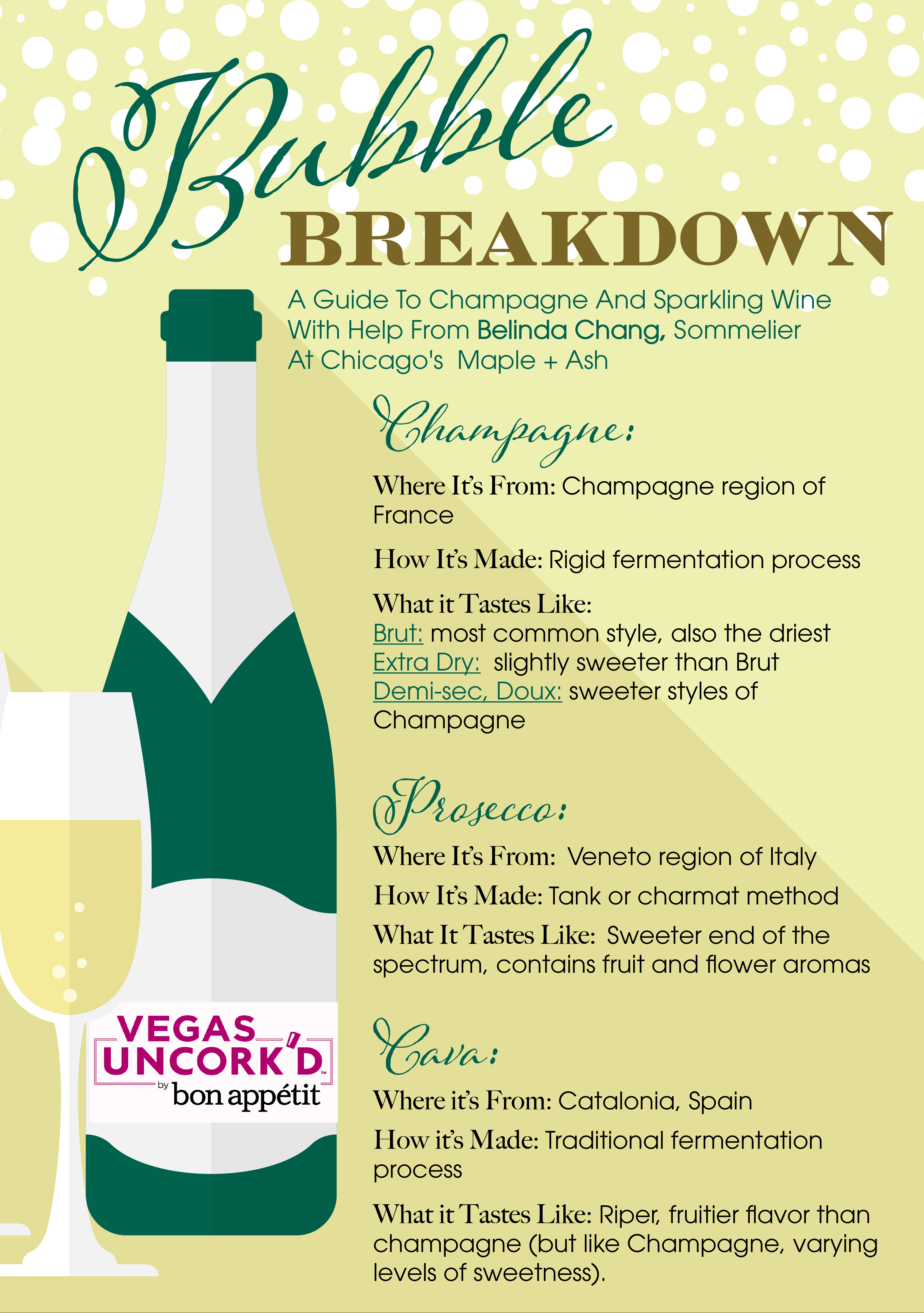 Champagne
Perhaps the most well-known of the sparkling wine varieties, champagne hails from France, specifically from grapes grown in the Champagne region. It sets the bar for all other sparkling wines with its long history and rigid fermentation process.
Belinda's Picks:
Classic: Gosset Brut Excellence NV
Gosset is the oldest Champagne house, founded in 1584, and is known for an ultra racy, crisp house style due to their policy of not allowing the base wines to go through the malolactic fermentation process in which malic acids in the wine are converted into lactic acids that make it taste "buttery". I love the Brut Excellence as an aperitif, as it definitely whets my appetite and keeps my palate alert.
Premium: Serge Faust Carte d'Or Brut NV
This is a rare blend for the Champagne region, where most winemakers use a blend of Chardonnay, Pinot Noir and Pinot Meunier grapes. This family owned Champagne house chooses to focus on the Pinot Meunier grape for this blend and the result is a vinous, luscious, rich style that I sip on daily.
Luxe: Egly-Ouriet Rosé
Egly-Ouriet vineyards are in the heart of Champagne's Pinot Noir country in the village of Ambonnay. This grower uses 60 percent Pinot Noir and 30% percent Chardonnay in this blend, with 30 percent older reserve wine that add the brioche-y, spicy complexity and lingering finish. Instead of a flute which crowds the wine, drink this in a proper wine glass to truly experience the artistry. You will thank me!
Prosecco
Champagne may be the most well-known of the bubbles, but there are solid sparkling selections from other parts of the world. Prosecco is Italy's sparkler, made with grapes found north of Venice. The process to make most Prosecco – via the tank or charmat method– is less intensive as the second fermentation takes place in a sealed tank rather than the bottle. Because this is a less expensive and less time consuming process, the resulting wine often starts at a lower price point.
Belinda's Pick:
Classic: Bele Casel Prosecco Asolo Extra Dry NV
While many producers make millions of bottles a year in industrial settings, this one takes a different approach. With vigorously high standards in the vineyards and extended, slow fermentations that give complexity and more flavor to their wines, Bele Casel makes even the most jaded Champagne lover ask for a second glass.
Cava
Cava, which hails primarily from the Penedes area in Catalonia, Spain, uses the same production method as Champagne, and its bottles similarly have varying levels of sweetness.
Belinda's Pick:
Classic: Raventos i Blanc de Nit Rosé
Pepe Raventos is a revolutionary: He decided to withdraw from the Cava appellation in Spain and file for a new one, Conca del Riu Anoia, because he wanted to fight for higher quality and wines that are better. I love his Rosé Blanc de Nit. It's a dry, precise, fresh sparkling rosé that belongs on every wine shelf for its compatibility with everything from oysters and shellfish to roasted chicken and steak tartare.
Methode Champenoise
Sparkling wines that use the same fermentation method as Champagne, but aren't from a specific region like cava, are often designated Methode Champenoise. You'll find many of the American sparkling selections in this category.
Belinda's Pick:
Premium: Schramsberg Blanc de Noirs Brut, California 2011
The Davies family has long been dedicated to making the best U.S. sparkling wines in the classic method used by their counterparts in Champagne. Their Blanc de Noirs is one of my favorites not only because it's a feat of winemaking to make a white wine from red wine grapes (by removing the skins), but also because it's a juicy, toasty sparkling wine on the palate with pretty red fruit notes on the nose.
Chase Sapphire® offers many exclusive culinary events to card members where they can sample and learn about wines. Learn more about upcoming events at chase.com/SapphireOnLocation. Not yet a cardmember? Explore the premium travel rewards of Chase Sapphire Preferred.
Samantha Lande is a freelance writer and content producer with work featured in Eater, The Food Network, Time Out and other publications.