Your Money
Credit & Debt
Denying Yourself of Fun? You're Not Alone
Posted: 04/07/16
Updated: 11/10/17
According to a Chase Freedom Unlimited Card survey, nearly all Americans want more fun in their lives, but only half of them think they are having enough of it.
Whether you're taking a few extra minutes in the morning to kick-off the day with your favorite freshly brewed coffee, enjoying some time to bond with family, or brightening a coworker's day with a bouquet of flowers, there are unlimited opportunities all around to add fun to our day.
According to a recent Chase Freedom Unlimited Card survey, 97% of Americans say that having fun in daily life is important, but still, half admit that they're not able to make it an active priority. And more than half (60%) feel limited in their ability to have fun.
"If we focus on boosting fun and happiness in our lives, even in little ways, research suggests we can end up more productive, charismatic, energetic and innovative," said Dr. Seppälä. "The Chase Freedom Unlimited Card survey results suggest that there are unlimited opportunities for fun in everyday moments, experiences and things."
Fun doesn't have to be expensive or grandiose, in fact, the survey revealed that most Americans believe it's more important to have small moments of fun in our day, and it doesn't have to cost a lot. More than three quarters of Americans said that a $1 to $5 purchase can change their day from bad to great. In fact, sometimes a daily win doesn't have to cost anything at all.
Here's more about what the Chase Freedom Unlimited Card survey uncovered about how we feel about fun: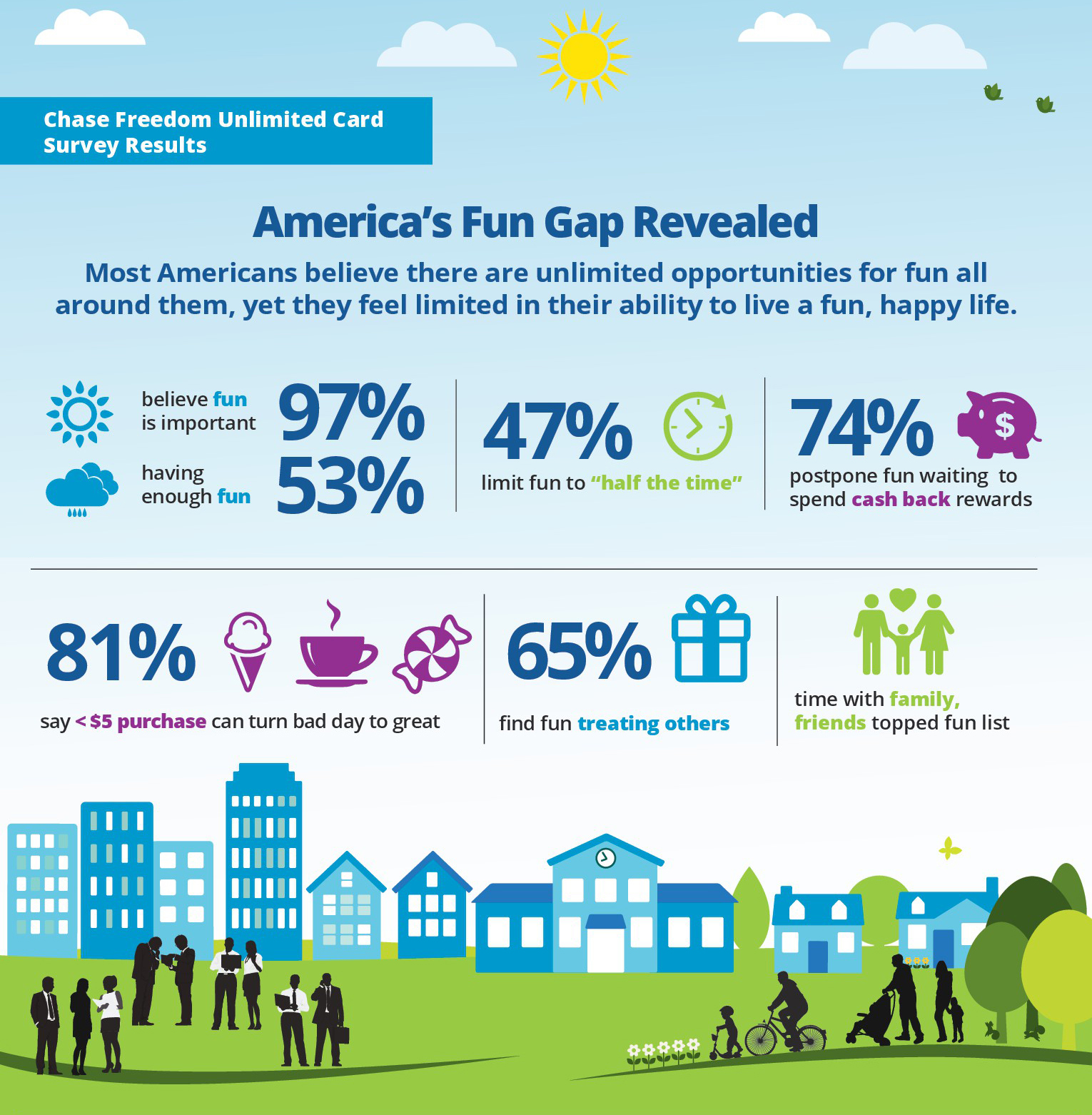 Chase is even creating a Chase Freedom Unlimited Fun Barometer, which will be a proprietary social listening platform that will measure America's stress and fun levels.
So, where does one start to form habits of fun in their day-to-day routines? Dr. Emma Seppälä shares the following five tips:
Enjoy a walk. Studies show that taking a walk around elements of nature – even on a tree-lined, city street – can significantly decrease stress, which leads to more fun in your day.
Treat yourself. If you enjoy chocolate chip cookies or a scoop of gelato, indulging in your kind of fun can help lead to a more enjoyable day.
Pay it forward. 65% of Americans said that doing something nice for someone else elevates their mood and makes the day more fun.
Treating your case of the "Mondays". Americans believe Monday mornings are the least fun and tend to be the most dreaded time of week. Take time to have gratitude for something fun on Mondays to set your week off to a great start.
Create a fun memory. People often value experiences more than materials, so if a friend wants to go rock climbing or explore a new city, give it a go. Reflecting on fun memories sends a shot of dopamine to the brain and makes us happier.
There are so many simple ways to take advantage of fun opportunities all around us.
More than 1,000 Americans ages 18+ participated in the Chase Freedom Unlimited Card survey conducted by ORC Research, the research firm conducting CNN's political polls throughout the U.S. Presidential election.
Dr. Emma Seppälä is a well-being expert, author of The Happiness Track and science director at Stanford University. She's studied the science of fun and happiness extensively.
Click here to learn more about the Chase Freedom Unlimited.