Your Money
Understand Your Finances
Smart ways to spend a tax refund as your life changes
By
L.E. Walcutt
Posted: 04/02/18
Updated: 04/16/18
This article is part of a broader Chase initiative to encourage more Americans to save money.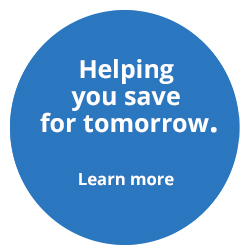 Marc Scribi's life has changed a lot over the past few years. He got married in March of 2016, and he and his wife are expecting their first child this year. With all these life events, he may have new priorities about what to do with any tax refund he gets.
"When thinking about taxes, do an early review," says the 28-year-old of Waltham, Massachusetts, who is also a certified public accountant. "Think about the big life changes: did you get married, did you have a child, did you move into a new home?"
A lot of people will get tax refunds this year, and as your life evolves, so will how you spend—or save—those extra funds. Here are a few ideas about what to do with a tax refund, depending on where you are in life.
Plan for the future
Jason Klein, a certified financial planner with Allied Wealth Partners in Parsippany, New Jersey, says that before you make any decision about a windfall, you should look at your financial life in a holistic sense.
"Don't increase your spending just because you have extra money," he says. "Try to live the same way, but put it away where it can grow."
Klein says that saving for retirement is a great place to start. If you have a 401(k), consider saving up to the company match.
Pay off student debt
If you feel weighed down with debt, you're not alone. American student debt exceeds $1.4 trillion, with the average 2016 graduate owing around $37,000. The good news is that if you're consistently paying your monthly minimum, you may see a refund in your taxes this spring.
You may receive an IRS Form 1098-E, Student Loan Interest Statement, from your student loan servicer toward the beginning of the year if you paid interest on your student loan payments.
Klein says that if you get a refund, try to save at least up to the match of your 401(k), and balance with paying off some student debt.
Buy a home
The average age that an adult buys their first home hasn't changed much in over 40 years, according to the National Association of Realtors Profile of Home Buyers and Sellers.
If you think you may buy a home in the near future and will need cash available for withdrawal, consider depositing potential refund money into a high-interest savings account. Compared to leaving refund cash sitting in a checking account, these types of accounts can potentially grow in value.
Individuals looking to save on tax obligations for the upcoming year should consider timing when buying a home.
"If you buy a home in January, you'll pay a full year's mortgage interest expense," says Marc Scribi.
Klein says that often after people buy a home, they tend to have a lot of credit card debt. Therefore, prioritize paying down the higher rate debt you may have acquired while moving and getting settled in your new home.
He also says to be careful about taking on too much new debt as a homeowner.
"For example, sometimes when you buy new furniture, you'll have a year with no interest payments," he says. "You still have to pay off the balance on anything you've financed, so be sure that's cleared up before you splurge on anything."
Plan for your family
Of the 2.6 million marriages in 2016, millennials are the largest group, with 27 percent of adults 18-35 tying the knot. The IRS suggests that if names have changed, they need to match social security records. Also make sure address changes (filing form 8822) are properly documented, and update your W-4 form with your employer to update tax withholding status.
If you get a refund, the knee jerk reaction is that you want to save it for your children's education. But again, Klein says to look at your financial picture in a broad sense.
"You can borrow for college but you can't borrow for retirement," he says. Although some people bristle at the idea of student loans, Klein says that students will have a long time to pay them off, if they have to use them.
If your retirement planning is solid, then Klein says that a 529 plan is a great investment vehicle for education because the funds can be used for both college and private school, and can grow tax-free.
The views and opinions expressed in this article are those of the authors and do not necessarily reflect the official policy or position of JPMorgan Chase & Co. and its affiliates.
JPMorgan Chase & Co., its affiliates, and employees do not provide tax, legal or accounting advice. You should consult your own tax, legal and accounting advisors before engaging in any transaction.
The information expressed is being provided for informational and educational purposes only. It is not intended to provide specific advice or recommendations for any individual. You should carefully consider your needs and objectives before making any decisions. For specific guidance on how this information should be applied to your situation, you should consult your adviser.
Investing involves market risk, including possible loss of principal, and there is no guarantee that investment objectives will be achieved.
Depending upon the laws of the home state of the customer or designated beneficiary, favorable state tax treatment or other benefits offered by such home state for investing in 529 plans may be available only if the customer invests in the home state's 529 plan. Any state-based benefit offered with respect to a particular 529 plan should be one of many appropriately weighted factors to be considered in making an investment decision; and you should consult with your financial, tax or other adviser to learn more about how state-based benefits (including any limitations) would apply to your specific circumstances.
JPMorgan Chase Bank, N.A. and its affiliates (collectively "JPMCB") offer investment products, which may include bank-managed accounts and custody, as part of its trust and fiduciary services. Other investment products and services, such as brokerage and advisory accounts, are offered through JPMorgan Securities LLC (JPMS), a member of FINRA and SIPC. Annuities are made available through Chase Insurance Agency, Inc. (CIA), a licensed insurance agency, doing business as Chase Insurance Agency Services, Inc. in Florida. JPMCB, JPMS and CIA are affiliated companies under the common control of JPMorgan Chase & Co. Products not available in all states.
INVESTMENT AND INSURANCE PRODUCTS ARE:
• NOT FDIC INSURED • NOT INSURED BY ANY FEDERAL GOVERNMENT AGENCY • NOT A DEPOSIT OR OTHER OBLIGATION OF, OR GUARANTEED BY, JPMORGAN CHASE BANK, N.A. OR ANY OF ITS AFFILIATES • SUBJECT TO INVESTMENT RISKS, INCLUDING POSSIBLE LOSS OF THE PRINCIPAL AMOUNT INVESTED
L.E. Walcutt is a Chase News contributor. His work has appeared in Forbes and the World Economic Forum.