Your Money
Planning Your Future
Leaving a Legacy For The Next Generation
By
Darrah Feldman
Posted: 04/08/16
Updated: 11/10/17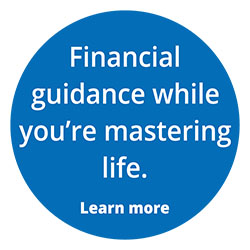 Darrah Feldman is a marketing manager for Chase Wealth Management, where she oversees thought leadership insights and perspectives. Here, she highlights her recommendations for leaving a legacy for your children.
When it comes to deciding how, when and with whom to share your wealth, careful planning is essential for a smooth and successful transfer of assets. Today, the technical process of passing on assets can be accomplished relatively simply. Passing on your personal values, however, is a more nuanced exercise that requires a deep understanding of what drives your family. Proactive planning and discussion among family members can help prepare you and your loved ones for a smooth transfer of wealth and values.
Talking to your children about money: An essential first step
It is important to initiate discussions about money with your children at an early age. Teaching even young children about money – saving, earning, budgeting, investing and charity – is one of the most important responsibilities you have as a parent. After all, these lessons may not be taught in school, and are often critical to communicating your family's values to your children. No one can shape, influence and strengthen the financial habits young people develop better than their parents.
It is crucial to establish an ongoing dialog with your children on the issue of financial responsibility. Many parents of teens and tweens find it just as difficult to discuss money as it is to talk about about the dangers of drugs or sex. The reality, however, is that most children are curious about the concept of money and will accept education and guidance from their parents. As teenagers, kids often begin to perceive personal financial responsibility as a symbol of adulthood and independence.
Make it a priority to talk about money with your children often and early. While at the dinner table or on a vacation, focus your family conversations on the importance of hard work and giving back to others. The returns on the time and energy invested will be invaluable to your child and you.
Instilling your values in the next generation
Intergenerational transfer of wealth is more than just a way to transfer your assets. By leaving money to your children, other family members and charitable organizations, you are, hopefully, perpetuating your family's values and culture. Discuss your legacy, family history and important family stories. What have been the most important values in your family? What is the most important value you can pass on to your children? It's often those values that will guide your children's financial behavior. The culture of shared family history and identity will create a sense of responsibility, productivity, and appreciation of the opportunities that come with wealth.
Communication is key. At an early age, begin by explaining to your child what it means to live within one's means. Discuss how there are limits to spending, no matter what you, as a family, may have. Explain to your children the difference between wants and needs. This will promote wise spending habits as they become young adults. By encouraging thoughtful spending, you can teach children the value of budgeting—to avoid spending everything they may have today—so they can accumulate more money to spend on bigger, more meaningful things they may want in the future.
The ability to set and fulfill personal goals is central to appreciating the benefits that come with money. Teaching your children to identify and pursue their own goals, both financial and social, will promote motivation and a sense of responsibility for their future. Avoiding this topic may lead your children to assume they never need to worry about money and may leave them unprepared to make important financial decisions. Educating your children will empower them.
Passing on your legacy: Charity and your children
Charitable giving is a powerful force within the United States. On average, Americans give close to $358 billion to charities annually, according to 2014 data. For many families, giving becomes a tradition – a way to contribute to their communities, make a difference in other people's lives and pass on their values to succeeding generations. Following a few relatively simple steps will help ensure that values are instilled in your children at an early age:
First, work together with your child to draft his or her personal mission statement. Have your children reflect on the needs of their community and how they, as community members, can contribute to help meet those needs. Help them identify the special skills or talents they possess that can be used to make a difference.
Second, be a role model for your children. When parents donate, volunteer or participate in charitable organizations, kids can often see first-hand the impact it can make in the world. In fact, bring your children along when you do charitable work. It could be a life-changing experience for them.
Third, allocate some family funds to teach your children the decision process behind charitable donations. Use their allowance to teach financial responsibility and giving. An allowance can teach every child, even the very young, the concepts of charity, saving, planning, and responsibility. Consider creating three separate "accounts" with each allowance payment—1/3 for daily spending needs, 1/3 for long-term needs (including a car, college expenses, a vacation with a friend, a graduation trip) and the last 1/3 for charitable contributions. When children donate their own money, no matter how much it is, they feel greater ownership over their decisions.
Intergenerational transfer of wealth extends far beyond financial implications. Planning begins with creating an environment in which your entire family can talk openly about issues surrounding wealth, values and charity. Once you, as a family, define your goals and values, your Advisor can help create a strategy to help ensure your assets will be used to support them. By doing so, your values and family legacy can best be passed to succeeding generations.
Investing involves market risk, including possible loss of principal, and there is no guarantee that investment objectives will be achieved.The information expressed is being provided for informational and educational purposes only. It is not intended to provide specific advice or recommendations for any individual. You should carefully consider your needs and objectives before making any decisions. For specific guidance on how this information should be applied to your situation, you should consult your financial advisor.
Securities and investment advisory services are offered through J.P. Morgan Securities LLC (JPMS). JPMS, a member of FINRA and SIPC, is an affiliate of JPMorgan Chase Bank, N.A.
INVESTMENT PRODUCTS:
NOT FDIC INSURED • NO BANK GUARANTEE • MAY LOSE VALUE
Darrah Feldman is a marketing manager for Chase Wealth Management, where she oversees thought leadership insights and perspectives.