Your Money
Money Lessons
Financial Planning Mirrors The Golf Course
Invest in Your Portfolio Just as You Invest in Your Golf Game
By
Michael Austin
Posted: 04/04/16
Updated: 02/09/18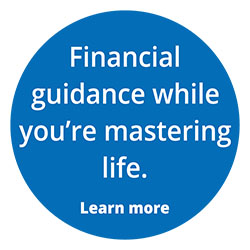 When Kyle Moore was in eighth grade, he was a talented golfer … and he knew it. In fact, like many teenagers, he thought he knew it all. Luckily, he had a supportive mother who understood if he wanted to take his game to the next level, he needed help.
"My mom made an appointment with a local pro and I begrudgingly went. I ended up improving a lot and those lessons changed my life," says Moore, who eventually played at Northwestern University and had a five-year pro career. Moore now serves as a certified financial planner at Pitzl Financial in the Twin Cities area of Minnesota.
Moore sees a lot of similarities between his teenage self on the golf course and people attempting to manage their money on their own.
"A lot of people go the do-it-yourself route when it comes to financial planning and investing, but they run into the danger of not knowing the questions to ask themselves," Moore explains. "And, what you don't know can hurt you severely."
Have a Strategy, Track Your Progress
Anything worth doing, whether it's saving for your future or playing a round of golf on the weekend, is worth investing the time to develop a strategy.
"Some people come to me with their portfolios and they aren't sure what they want to do. They haven't given it any thought," Moore says. "It's just like the weekend golfer who wants to go out and have fun, but also expects to perform at a high level without putting in the time to work on his or her game. The expectations are out of sync with reality."
A sound strategy also means coming into that golf round with a specific plan of attack, Moore adds, such as aiming for the fat side of the greens on approach shots or hitting putts a tad shorter rather than blasting them past the hole.
When you've developed your strategy, the only way to get better is to chart your progress. Scott Spann, who lives in Charleston, S.C., and works for the Financial Finesse group, holds a Ph.D. in personal financial planning and has 15 years of experience to his credit. He says he used to be a 5 handicap on the golf course and sees similarities to improving your golf game and your investment performance.
Spann says golfers measure their successes and failures by saving old scorecards or calculating their handicap. The same goes for investors.
"Do a net-worth analysis, make a personal-spending plan, calculate a debt-to-income ratio, have funds available for emergencies, develop a savings rate (as a percentage of your income) or use a financial-confidence rating," Spann advises.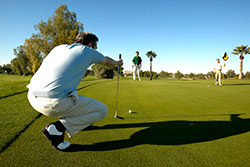 Manage Your Margin of Safety
Golf courses feature rolling hills, sand traps and water hazards as impediments to inhibit your progress, so too does the financial world, and investors must be prepared when outcomes are not in their favor.
"There is a 'margin of safety' on a golf course. Say there is a flag next to the water. If you aim directly at the flag and are off just a little, you increase the probability of going into the water and are looking at a big number (high amount of swings) for that hole. Professionals look at the flag, calculate the risks, and hit the ball to the part of the green away from the water where there is a lower probability of taking a big number," Moore says.
"The same holds true for financial planning … there is a margin of safety you must build into your life. Taking on a mortgage that doesn't allow you to save for a potential disaster — for example — destroys your margin of safety."
Earn Small Rewards Along the Way
Every weekend golfer knows the reward for being on the course doesn't necessarily mean shooting a low score. It's more about spending time with friends, enjoying the outdoors and nailing a good shot once in awhile. These are the little perks in exchange for your time.
Spann says investors need to think about their money management in the same light—find little rewards along the way. Everyone always focuses on the big picture and end game, and while long-term goals are essential, Spann explains, build in small bits of positive reinforcement to keep you motivated.
He says the next time you are ahead on your personal budget or pay off a loan, reward yourself.
"Have dinner at a favorite restaurant. Take a special weekend getaway after reaching your emergency-fund goal," Spann says. "Or, watch a movie with your spouse only after having a financial talk or reviewing your budget together."
INVESTMENT AND INSURANCE PRODUCTS ARE:
• NOT FDIC INSURED • NOT INSURED BY ANY FEDERAL GOVERNMENT AGENCY • NOT A DEPOSIT OR OTHER OBLIGATION OF, OR GUARANTEED BY, JPMORGAN CHASE BANK, N.A. OR ANY OF ITS AFFILIATES • SUBJECT TO INVESTMENT RISKS, INCLUDING POSSIBLE LOSS OF THE PRINCIPAL AMOUNT INVESTED
Asset allocation/diversification does not guarantee a profit or protect against a loss
https://www.irs.gov/retirement-plans/plan-participant-employee/retirement-topics-401k-and-profit-sharing-plan-contribution-limits
The information within this document is being provided for informational and educational purposes only. It is not intended to provide specific advice or recommendations for any individual. You should carefully consider your needs and objectives before making any decisions. For specific guidance on how this information should be applied to your situation, you should consult the appropriate financial professional.
JPMorgan Chase & Co., its affiliates, and employees do not provide tax, legal or accounting advice. This material has been prepared for informational purposes only, and is not intended to provide, and should not be relied on for tax, legal and accounting advice. You should consult your own tax, legal and accounting advisors before engaging in any financial transaction.
JPMorgan Chase Bank, N.A. and its affiliates (collectively "JPMCB") offer investment products, which may include bank managed accounts and custody, as part of its trust and fiduciary services. Other investment products and services, such as brokerage and advisory accounts, are offered through J.P. Morgan Securities LLC (JPMS), a member of FINRA and SIPC. Annuities are made available through Chase Insurance Agency, Inc. (CIA), a licensed insurance agency, doing business as Chase Insurance Agency Services, Inc. in Florida. JPMCB, JPMS and CIA are affiliated companies under the common control of JPMorgan Chase & Co. Products not available in all states.
Michael Austin runs Basketball Coach Weekly while also serving as a contributing editor for This Is AFCA (American Football Coaches Association) magazine.