Bold Leaders
Leadership
Will.i.am Transforms a Community Through Education
Innovative Educational Programs Give Kids a Strong Boost
By
Lauren Coulston
Posted: 04/03/15
Updated: 11/10/17
For seven-time Grammy award-winning musician will.i.am, a recent trip to the World Economic Forum in Davos, Switzerland, was much more than a chance to mingle with the elite at a fancy event. It was a chance to help the children of Los Angeles.
Davos was a stop along will.i.am's quest to transform lives through his i.am.angel Foundation. Was he there to raise money for the foundation? "That's the wrong reason to go to Davos. You want to go to Davos because there are people there who have tools and skills you can bring to these kids who have been left behind," he says.
Will.i.am started the i.am.angel Foundation in 2009, but was giving back long before that. He began with toy drives sponsored by his band, The Black Eyed Peas. The scale of his philanthropic endeavors grew larger with Grammy fundraisers, efforts to help families in financial trouble stay in their homes, and a scholarship program that sent four high school students to their dream universities, as seen on The Oprah Winfrey Show.
But will.i.am says he was looking for a way to make a sustained impact: "For us to continue to advance, we need to empower the youth of today with the skills and opportunities they need to become the innovators of tomorrow." So he focused on the area where he grew up: Boyle Heights in East Los Angeles, after two defining experiences.
The first came in 2005, as he helped with tsunami relief efforts in Indonesia. "Through this work, I reflected that there's a tsunami every day in the ghetto where I come from, but it's not a tsunami of water. It's a tsunami of neglect. Neglect of opportunity, education, life skills, survival skills."
The second came a few years later as he sat next to General Colin Powell at an event. He remembers asking the general for advice on how to keep young people engaged in their communities after Barack Obama's 2008 presidential campaign motivated many of those young people to become involved. "He said, 'If I were you, I would focus on my neighborhood because that's something you can do on your own with the power of you.' "
"I was so excited," will.i.am says. "I asked the right question that gave me the direction to focus my foundation on Boyle Heights."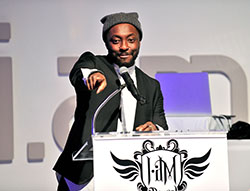 Will.i.am and the i.am.angel Foundation are working to transform the Boyle Heights community through charitable activities and programs that provide college scholarships (i.am Scholarship), financial literacy and home mortgage assistance (i.am Home), and college preparation and student life (i.am College Track).
Beyond giving kids the tools to get into college, i.am.angel is training students to earn jobs after they graduate. The programs have a heavy focus on traditional subjects such as science, technology, engineering, arts, and math, as well as robotics, Geographic Information Systems, and language. In a collaboration with the U.S. Department of State's 100,000 Strong initiative, which supports Chinese language instruction in public schools, the top achieving students are sent to China every summer to enhance their Mandarin skills.
And the programs are focused on academic performance, will.i.am says: "We use grades as currency."
To the kids, these programs are making a significant difference, led by someone they know as one of their own.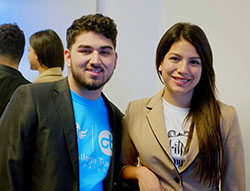 At TRANS4M 2015, a fundraising event for the i.am.angel Foundation, some of the program's top achieving students showed off their robotics, app development, 3D printing and GIS mapping projects made possible by the foundation. Their excitement was palpable. Ismael Soto spoke of how i.am College Track "has been a life changer, really there through the tough times to keep me on track – they want us to be the best and to change the statistics." He says the program helped him discover a passion for robotics and technology that he otherwise wouldn't have found.
Susana Celis, a student in i.am College Track, hopes to be the first in her family to go to college, and she has her eyes set on Ivy League schools and a career as a film producer. She started the program in eighth grade with a 0.75 grade-point average, and now as a junior she attributes her 4.0 GPA to the mentoring she receives. "My advisor was so happy, she barely knew me at the time, and she took me out to celebrate! It feels like family, a community."
Photo: Jerod Harris/Getty Images | Lauren Coulston is Vice President of Content Solutions in the Brand Marketing Group at JPMorgan Chase. She has written for The Huffington Post and Boomer Market Advisor.