Your Money
Learning to save
The Masters Are Here: New Chase Commercials Highlight Superstars
Ads feature Serena Williams, Tim Morehouse, Joel Silverman & The Rockettes
By
Michael Fusco
Posted: 04/03/15
Updated: 11/10/17
What do tennis superstar Serena Williams, fencing champion Tim Morehouse, Hollywood animal-trainer-of-the-stars Joel Silverman and the world-famous Rockettes® have in common?
They are all masters of their crafts, and they're also the stars of a new Chase Mastery campaign that highlights their remarkable achievements in their respective fields: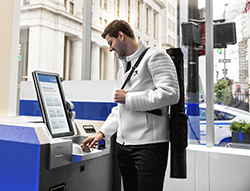 Tim Morehouse, a two-time individual U.S. national fencing champion, didn't even take up the sport until he was in high school. In fact, he says he initially joined the fencing team in order to get out of gym class, but quickly fell in love with the ancient sport. Tim is the founder and CEO of Fencing in the Schools, a program dedicated to bringing the sport to low-income communities.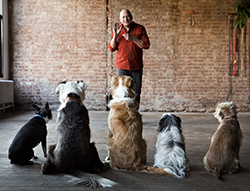 Joel Silverman, a world-renowned professional animal trainer, says he originally dreamed about working with animals at the young age of 13 and started training his dog Shadow at that time. He has trained a variety of animals, including killer whales and dolphins. His own dog, Duchess, is featured in the new Chase ads jumping up and snatching a receipt from an ATM. Joel says he taught Duchess that amazing feat in just two days.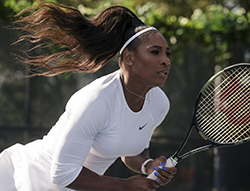 Serena Williams started playing tennis at the age of 3 and now holds the most major singles, doubles and mixed doubles titles combined among active players, male and female. Serena is also a certified nail technician. You'll see her custom Chase blue nail polish in the new TV commercial.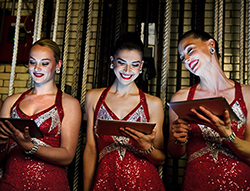 The Rockettes have been performing at New York City's Radio City Music Hall® for more than 80 years and debuted their New York Spring Spectacular in March. Leading up to their Radio City Christmas Spectacular® they practice six days a week, six hours a day. They do more than 200 performances per season, kick more than 200 times in a performance, and have up to five shows in one day.
In the new commercials, these stars — who have spent many years perfecting a craft — show how easy it is to master digital banking at Chase.
The goal of this campaign is to tell engaging stories that highlight how easy and convenient it is to perform everyday banking transactions like depositing checks through our Chase Mobile App® or at one of our more than 13,000 deposit-friendly ATMs," said Donna Vieira, chief marketing officer for Chase Consumer Banking.
As part of this campaign, Chase has unveiled a series of TV commercials and digital, print and in-branch ads. You can watch the commercials and exclusive extended versions now on the Chase YouTube channel. And for a limited time, Chase is offering free downloads of the MoZella song "Can't Get Enough" featured in the Serena Williams commercial.

To learn how you can easily master digital banking services, visit the Mastery site and follow Chase on Facebook and Twitter.
Michael Fusco is the head of external communications for Chase's Consumer Banking business. Chase Mobile® App is available for select mobile devices. Enroll in Chase OnlineSM and download the Chase Mobile® App. There is no charge from Chase, but message and data rates may apply.