Your Money
Understand Your Finances
What stay-at-home dads should know about the workforce
By
L.E. Walcutt
Posted: 03/26/18
Updated: 06/19/18
This story is part of The Pivot, an original series about how people navigate the age of episodic careers. It is presented by Chase.
After Gary Baker was laid off from a human resource position at a truck parts company, he took time to plot his next career move, and to care for his young daughters.
That was 17 years ago. "My wife and I didn't think it would go as long as it did," says Baker, who lives in Raleigh, North Carolina.
Over the years, he picked up part-time and volunteer positions, but mostly dedicated his time to being available for his kids while his wife worked. As his oldest daughter, now 22, moved out of the house and his youngest began her senior year of high school, Baker, 53, decided to return to the workforce.
Baker's situation is increasingly common, and represents a larger shift in American society. Compared to two decades ago, the United States Census Bureau estimates the number of stay-at-home fathers has increased fourfold: from 49,000 in 1996 to 209,000 in 2016.
The Pew Research Center also found that it's becoming less common for men to be the sole breadwinner of a family.
Prepare for time away
For stay-at-home fathers who will return to the workplace, preparation is key.
"Let your boss know how you want to pace your career upon your return," says Dr. Kenneth Matos, vice president of research at Life Meets Work, a professional coaching company. He recommends reviewing your organization's paternity and extended leave policy before a stay-at-home stint.
That's important because more companies are offering fathers paid paternity leave, which can be used when the child is born or parsed out over time. According to a survey by the website Fatherly, the average amount of paid paternity leave offered by top companies has increased from four weeks in 2015 to 11 weeks in 2017.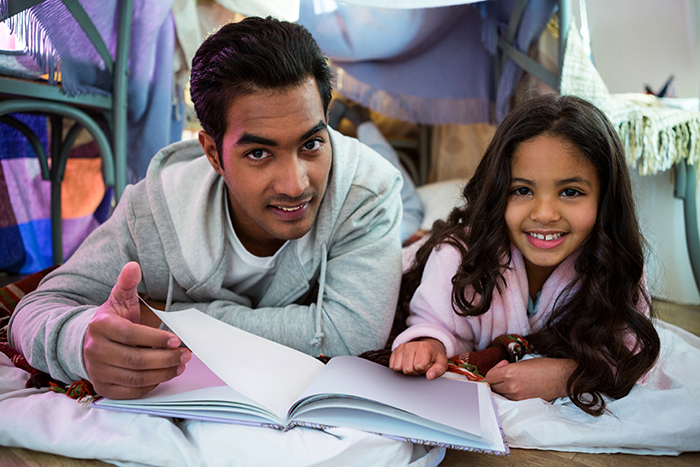 "You may want to jump straight back in or you may want to go a bit slower for a year as your family continues to adjust," Matos says.
Nathaniel Bates, 35, is an electrician for television and movie sets in New York City. As a freelancer, a flexible schedule allowed him to take off three months after his first child was born last year.
"A friend put it well, 'When you have a kid you care about your job so much less than you did before, but you also need your job more than you've ever needed it before,'" says Bates.
He and his wife decided it was important for at least one of them to be with their newborn during the first six months. They devised a plan: his wife Katherine, a nurse, would take the first three months, followed by him taking the following three.
Bates says his expenses went down at least 40 percent while he was on leave, mostly because having an infant changes your lifestyle.
"Assuming you're not ordering out and cooking your own food, you're not going to movies, concerts, not going out on a Friday or Saturday. Your social life and social expenses go way down," he says.
Keep in touch
The initial process of finding a job again "was really frustrating," says Baker. After a few months of applying for jobs, all he received from employers was radio silence.
He landed his first full-time job from a connection he'd met while working a part-time job. The position wasn't what he wanted to do, but steady work on his resume, he says, made him more enticing to employers.
The key to a successful stay-at-home dad to workplace transition, Baker says: "Don't lose touch. A good network of friends and co-workers are going to help you find a meaningful job."
The revolving door of a stay-at-home dad
Mark Egerman of Brooklyn, New York, recently started his second stint as a stay-at-home dad. When the 35-year-old's first child was born in 2015, it coincided with the sale of his restaurant payment app company. As CEO, he planned to take off three to six months to help care for his newborn. But once his company sold, he was in a position to take an indefinite leave.
After his wife Alisha returned to work after taking off four months, Mark spent a year where his only job was a stay-at-home father. During that time recruiters reached out to him while he figured out his next move.
In November of 2016, Egerman accepted a position working as a product manager for Google. His second child was born in June. Since Google has a flexible paternity leave policy, he can split up his 12 weeks to be at home.
"A lot of companies provide paternity leave. In reality, though, there's a problem that employees are not comfortable taking their full leave," says Egerman.
But modern paternity leave doesn't mean being completely disengaged from the office. Even while he's out, Egerman can still check emails and stay in the loop, while spending time with his children.
L.E. Walcutt is a Chase News contributor. He has written for Forbes and the World Economic Forum.