Small Business
Managing Your Business
Spring clean your business to promote growth
Purging to promote productivity
By
Michelle Seitzer
Posted: 03/25/16
Updated: 02/21/19
Spring is coming, so you're flipping mattresses and clearing out the garage at home. But will you give your business that same thorough cleaning?
Here are a few efficiency-boosting techniques that can help your business reap benefits year-round: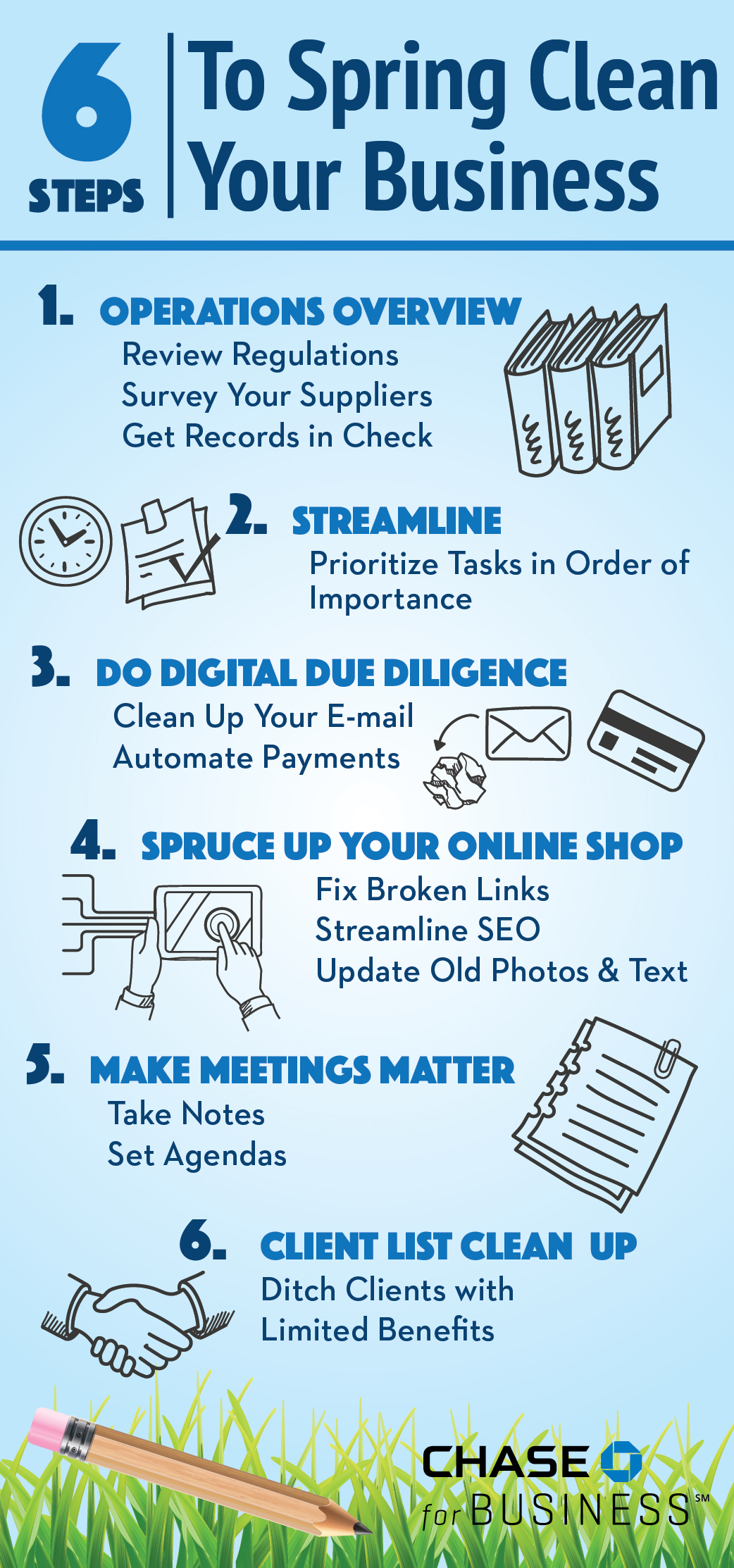 Do an Overview of Operations
Ensuring that your business is running smoothly is not a once-a-year event, says Joseph Camberato, president of National Business Capital. "Routine stock-taking will help you identify potential weaknesses in time to remediate," says Camberato. In other words, knowing your business is key to identifying and resolving issues— and perhaps even preventing them.
He recommends a review of these functions to ensure optimal performance:
Regulations: Have there been any changes to government regulations relating to your business, such as OSHA or federal tax code updates?
Merchandise or services: Can you save money by changing suppliers?
Business records: Can you quickly assemble reports from your data to show prospects, partners, lenders, or the IRS?
Prioritize Your Tasks
Streamlining operations takes time—something that most business owners would rather spend on acquiring more clients, boosting sales or increasing production. But all of these functions are vital for growth, so think strategically about prioritizing tasks in order of importance.
"We try to carve out time to work on the business not just in the business," says Dr. Kristen Bentson, chiropractor and nutritionist. "It's hard to do because it takes away from time we can offer appointments to our patients. But it's totally necessary to staying afloat."
For Bentson, patient care comes first, so tasks like referrals, pre-authorizations and follow-up calls are considered "Urgent: Important." From there, she and her husband, also a chiropractor, triage their business housekeeping accordingly. "Less Important: Not Urgent" tasks—such as cleaning out the break room, document shredding, or painting, get completed when there is time.
Streamline Technology
Technology may improve our lives, but it can also add another level of maintenance. Case in point: email. It's a quick, easy way to communicate, but one busy week can send your inbox tally into the hundreds, or even thousands. Services such as Unroll.me can automate unsubscribing from junk or unwanted email, and combine your favorites into one daily digest email.
And when it comes to password retrieval, services such as Keeper or LastPass help businesses monitor passwords across servers and devices. Some also issue breach alerts.
Find ways to digitally automate things wherever you can. "If I had a full year of marketing ready to go and each month—just push one button and it happens—this would free up so much office time for me," says Autumn Cardacin, owner of Dance Class II, a studio in the Greater Philadelphia area.
Spruce Up Your Online Shop
With so many businesses operating primarily online, it's crucial to take stock of web inventory—both content and products.
"A well-thought-out site audit can dramatically increase traffic and raise your profile," says Chris Huntley, owner of Huntley Wealth & Insurance Services. As part of this process, Huntley and his team fix broken links, streamline SEO, update old photos and do a review of each blog article.
Candice Galek's team at Bikini Luxe, a Miami-based swimwear retailer, regularly combs through their website to remove sold out or older products. "This is important not only for tax purposes, but to clear out styles that will quickly become outdated," adds Galek, the company's CEO and founder.
Make Your Meetings Matter
Elene Cafasso, president of Enerpace, Inc. Executive Coaching, believes in spring-cleaning actual meetings. "I instruct my over-busy, over-scheduled clients to refuse any meeting requests that don't provide a purpose, an agenda and some information about what role they need to play that necessitates them being there in person."
Compiling meeting notes and an action item summary after each meeting are another great efficiency technique, says Cafasso. "It gives non-participants a way to weigh in if needed."
Cull Your Client List
Have clients who are taking up valuable time and energy with almost no return? Refer them elsewhere, suggests Alison Kero, owner of ACK Organizing. "Choosing to spend your time focusing on pleasing the clients who love your business will ensure you have plenty more of them to come in the future."
Michelle Seitzer is a freelance writer whose retirement/elder-care focused content has appeared on USNews.com, ReadersDigest.com, HuffingtonPost.com and AARP.org. She also writes about her international adoption experiences on ParentSociety.com.