Your Life
Sports and Entertainment
From Wall Street to the Ice: NHL Coach Jon Cooper's Path
By
Bryan Burns
Posted: 03/25/16
Updated: 11/10/17
Jon Cooper didn't set out to be an NHL hockey coach. He didn't even plan on becoming a championship-winning junior league hockey coach.
A native of Wilcox, Saskatchewan, Cooper started out on Wall Street, then pursued a career in law—with hopes of maybe becoming a sports agent. Instead, he wound up as a public defender in Lansing, Michigan. And that turned out to be Cooper's way into the world of professional hockey, where he now coaches the Tampa Bay Lightning. JPMorgan Chase is the official financial sponsor of the Tampa Bay Lightning and the team's home venue, the Tampa Bay Times Forum.
Cooper's success is a story of taking a leap of faith; of trusting the sound of your true calling. "In the end, you've got to look yourself in the mirror, and you never want to walk away saying, 'I wish I would have just done it my way,'" he says. "If your way doesn't work, you wake up in the morning and say, 'Maybe it didn't work out, but at least I tried.'"
Cooper's route to coaching the NHL's Tampa Bay Lightning began in a courtroom - while working as a public defender in Judge Thomas Brennan's District Court in Lansing, Michigan. He was playing hockey with Brennan, on a team called the Legal Eagles, when Brennan asked him to consider coaching his son's high school team at Lansing Catholic Central.
At the time, though, Cooper had zero hockey coaching experience. "I was a little bit apprehensive, but I thought, what a fun experience it would be," Cooper says. "And I always wanted to get back into hockey, somehow, some way."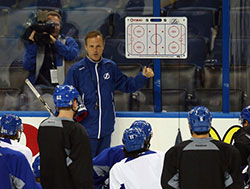 From Side Job to Full Time
At first, Cooper practiced law 60 to 70 hours a week and coached Lansing Catholic Central 15 to 20 hours a week. In his first season, he led Lansing to its first regional title in over two decades. That led to a second season. Two years and three teams later, Cooper was coaching 60 to 70 hours a week and practicing law 20 hours.
Cooper's star was rising. He joined the Metro Jets of the North American 3 Hockey League, in the Detroit suburbs, and led them to a championship win. After that, an opportunity came up to coach the Texarkana Bandits, a tier II Junior A team in the North American Hockey League. At this point, Cooper had to make a choice: continue practicing law or take the full leap into the hockey arena. Cooper chose the ice.
"I thought, I can't pass this opportunity up," Cooper remembers. "Was it nerve-racking? Was it a little scary? Were there uncertainties? There's no question. But I was standing at the end of a diving board thinking, 'Are you just going to walk off and climb down the stairs or are you going to jump in the pool and see how warm the water is?' And I decided to jump in."
Cooper's splash into hockey would go on to make waves through junior and pro hockey leagues. Cooper won two league championships with the Bandits in his fourth and fifth seasons after the team moved to St. Louis. He then joined the Green Bay Gamblers of the USHL before the 2008-09 season and won a championship there in his second year. In fact, Cooper remains the only coach to win a championship at all three tiers of U.S. junior hockey.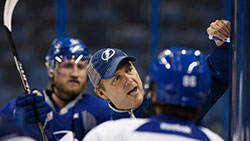 Into the Pros
In 2010, Tampa Bay Lightning GM Steve Yzerman and assistant GM Julien BriseBois reached out to the rising star, asking if Cooper would be interested in coaching their minor league affiliate in Norfolk.
"I never wanted to leave the places I was at," Cooper says. "I was always just approached because of the success our teams had. But pro hockey was never a consideration. I thought, 'I'll coach junior and maybe go get a college job at some point, get a great tuition plan for my kids.' I was perfectly happy with that, until Steve Yzerman and Julien BriseBois called. And that was the day of, 'Oh wow, maybe there is another path I can take.'"
In his second year at Norfolk, Cooper's team won the AHL league championship Calder Cup and set a league record by winning 28 consecutive games. Near the end of his third year in the league—now with the Syracuse Crunch—Cooper was tapped by Yzerman to take over as head coach of the Lightning.
Cooper has guided Tampa Bay to the playoffs in each of his first two full seasons with the team, taking the team all the way to the Stanley Cup Final last season. Along his meteoric rise to hockey's pinnacle, Cooper has learned one valuable lesson.
"I always felt like maybe I didn't approach things truly the way I wanted to because I was maybe trying to please other people," Cooper says. "If I could give my younger self one piece of advice, it would be to believe in yourself and don't change your approach and beliefs for what other people are telling you."
For more information on the Tampa Bay Lightning, visit the team's official page here.
Bryan Burns provides in-depth coverage for the official web site of the Tampa Bay Lightning and is also the main contributor for the team's game programs and its annual year book.