Your Life
Dining and Drinking
Eco-Friendly Eateries Offer More Green on the Menu
Spend Your "Green" at One of These Green Restaurants
By
Traci L. Suppa
Posted: 03/25/16
Updated: 11/10/17
Embracing an eco-friendly lifestyle doesn't mean giving up on eating out. Across the country you can find sustainable restaurants, from "fast casual" to fine dining as people look for restaurants with lighter carbon footprints.
"People are more educated, and there are a lot more options," says Michael Oshman, CEO and founder of the Green Restaurant Association. "They're easier to find, and people are a lot more committed than they were ten years ago."
Since 1990, Oshman has worked with thousands of restaurants to adopt green business practices, including waste reduction and recycling, water and energy efficiency, and sustainable food sourcing. These five restaurants put some extra effort into their environmental practices, meaning your meal will be made with fresh, local and seasonal ingredients.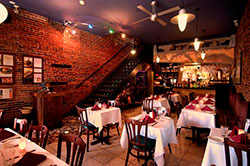 Taranta, Boston
At Taranta, an Italian-Peruvian restaurant in Boston's North End, the tomatoes on your insalata caprese are carefully-sourced, the pan-roasted petto di pollo is all-natural chicken and the Lomito de res en Costra de Cafe Espresso is antibiotic and hormone-free beef tenderloin. Chef and owner Jose Duarte is a vocal proponent of the Fair Food Agreement, an industry-wide pledge to only buy from producers that pay farm workers fairly and provide safe working conditions.
Duarte has adopted 45 environmental, conservational and social practices, but he says he's convinced the most important thing he can do is compost and recycle. "The restaurant and foodservice industries are among the top energy consumers and waste producers," he says. Taranta sends its food scraps to a local farm, where it's composted and used as crop fertilizer.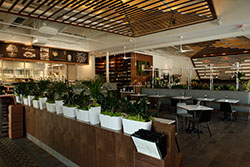 Ruggles Green, Houston
"We feel it's very important to operate as sustainably as possible, and provide great-tasting food and service to our guests," says Federico Marques, co-founder of Ruggles Green, a collection of five "fast casual" eateries in Houston, where he is widely heralded as the "Green Guy." To that end, the menu features local, organic food, with gluten-free and vegetarian options, including salads, sandwiches, burgers, tacos, pizzas, and pastas, as well as biodynamic wine and beer.
All locations use conservation systems, including 100 percent wind power and LED lighting systems. Extending into the community, the company has supported Trees for Houston for the past two years, an organization that plants thousands of trees across the city every year for their environmental benefits. It also gives the nonprofit a percentage of its Earth Day sales.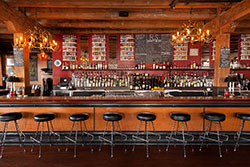 Red Stag Supperclub, Minneapolis
When you order the six-ounce top sirloin at the Red Stag Supperclub in Minneapolis, rest assured that it only traveled 46 miles from Peterson Limousin Beef to reach your plate. The veggies in your side dish were probably picked from the restaurant's own garden plot by the on-staff farmer.
When the Red Stag opened in 2007, it was the first LEED-CI registered restaurant in Minnesota, meaning that construction met several green design benchmarks for commercial interiors set by the U.S. Green Building Council. It was built primarily of salvaged materials and Forestry Stewardship Council-certified wood. It's entirely lit by LED lights, and it's a zero-waste business, composting most of its trash.
Bell Book & Candle, New York City
At Bell Book & Candle in Manhattan's West Village, dishes served at dinner—or the popular Sunday brunch—make the most of what's in season. Summer is the time for zucchini flowers stuffed with goat cheese, while late winter offers rock shrimp fettuccine with peas, fava beans, and chanterelle mushrooms.
Locally-grown food is as close as the roof. There, Chef John Mooney keeps an aeroponic tower garden, a soil-free system of towers that grow 60 percent of the herbs and vegetables used on his contemporary American menu. There are four varieties of cherry tomatoes and Nasturtium, several types of lettuces, peppers, eggplant, cauliflower, and plenty more.
Uncommon Ground, Chicago
You'll also find a garden on the roof of Uncommon Ground in Chicago—it was the first certified organic rooftop farm in the United States—along with four active beehives and five solar panels. Taking its commitment to the next level, the company also operates Greenstar Brewing, Illinois' first certified organic brewery.
Using 100 percent organic malted barley and hops, brewmaster Martin Coad crafts eleven beers, including black currant Kolsch and "Peace, Love & Flipflops" summer wheat ale. The beers pair well many of the items on the brunch, lunch and dinner menus at the Edgewater and Lakeview locations, including the Korean-spiced fried calamari and the bacon-wrapped meatloaf.
Through commitment and creativity, these and hundreds of other restaurants are making it easy to find conscientious cuisine.
Traci L. Suppa is a writer and blogger specializing in travel, food and lifestyle topics. Her work has appeared in The Valley Table, Hudson Valley Wine, Long Weekends, AAA Home & Away, WomansDay.com, CBS.com and more.