Your Money
Understand Your Finances
JPMorgan Chase's head economist sees bright outlook for consumers
By
Jim Glassman
Posted: 03/24/17
Updated: 11/10/17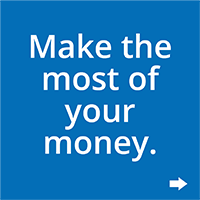 American households are on more solid footing than ever before, and a consumption boom may be underway.
Stronger household finances are laying the foundation for a sustained boom in consumer spending. The improving job market has lifted incomes across the board, while shrinking debt burdens and falling energy prices are freeing up disposable income. The stock market's rally and real estate's recovery have helped households more than regain the wealth erased by the recession, placing American consumers in a stronger position than ever before. And since consumer spending accounts for nearly 70 percent of American gross domestic product, a sunny outlook for the nation's consumers could boost overall economic output in 2017.
The consumer's share
In the post-war decades, consumer spending's share of GDP climbed in tandem with workers' wages and productivity. Fifty years ago, consumer spending accounted for only 59 percent of the total US economy; by 2007, it was closing in on 70 percent. The steady rise in household net worth and taming of inflation made Americans more comfortable spending a greater share of their income, and consumer activity rose as the household saving rate fell from 10 to 5 percent.
It wasn't until the 2008 financial crisis that people began to express serious doubts about the sustainability of consumer-driven growth. For a decade, households had funded their growing expenditures with speculative wealth created by the housing bubble. Many economists believed that $3 trillion in underwater mortgage debt would send consumer spending's share back to pre-1980s levels, slowing growth and prolonging the recession.
However, consumer spending proved surprisingly resilient, dipping briefly to mid-2000s levels before resuming its climb as the mortgage crisis receded. Today, household income trends are unambiguously positive, and consumer spending's share of the economy is once again pushing toward 70 percent.
Rising disposable income
Since the end of the Great Recession, the recovering labor market has generated a steady rise in income, providing consumers with more money to spend. Last year, the economy created an average of 200,000 jobs monthly, sending more workers home with paychecks than ever before. The gradual tightening of the labor market is now beginning to push wages higher as well, and last year's 2.5 percent wage growth will likely accelerate further as full employment approaches. Now, rising incomes should produce stronger consumer spending, as households begin to make more nonessential purchases with their growing paychecks.
Low energy prices are also providing a windfall for discretionary consumer spending. After the 2015 oil glut, energy prices have stabilized at historically low levels, and efficiency gains have kept fuel and electricity costs at a record low for American consumers. In 2014, energy outlays accounted for 5 percent of household budgets; today, they only demand 3.75 percent. The relief from falling energy prices has produced a surge in discretionary consumer spending, a sign that Americans are willing to spend their newly available income.
Support from record household wealth
Improving household balance sheets are helping consumers feel more comfortable spending—rather than saving—their rising income. Household net worth has reached an all-time high of $90 trillion, driven by rising real estate values and a booming stock market. As a proportion of income, net worth has more than recovered its recessionary losses, and today's housing prices are in alignment with historic norms.
Household debt has also fallen back relative to income over the past decade, placing consumers on firmer footing. The average household's debt now totals approximately 102 percent of annual income, the lowest level since early 2002 and down sharply from the 130 percent average debt load at the height of the housing bubble. Thanks to historically low interest rates, the cost of servicing debt is at an all-time low as a portion of income. The lower share of monthly budgets devoted to mortgage payments is yet another factor freeing up cash for discretionary spending.
The US economy is driven by consumer activity. With households feeling more secure in their financial position and incomes on the rise, the stage is set for a prolonged surge in consumer spending. A surge in consumption could spur growth in the coming years, driving higher demand for goods and services—and higher wages for those who provide them.
Jim Glassman is a Managing Director and Head Economist at JPMorgan Chase.