Small Business
Success Stories
theSkimm: Entrepreneurs Take the Media Spotlight
Journalists Build a Passionate Audience
By
Jennifer Bryer
Posted: 03/12/15
Updated: 11/10/17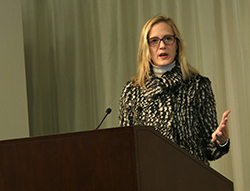 Recently named to the Forbes 30 Under 30 list and backed by celebrity investors like Chelsea Handler and fans like Oprah Winfrey, the founders of theSkimm have made a name for themselves in a short amount of time.
"If you were to look at our bookshelf a couple years ago, it was the LSAT, GRE, The Secret," says cofounder Danielle Weisberg, "We were definitely having a quarter-life crisis."
Today, she and Carly Zakin are running theSkimm, a daily email newsletter that arrives early in your inbox and delivers a crash course on buzzworthy topics. It's designed to ensure that no matter what conversation you encounter throughout the day, you're ready for it.
In December 2014, Zakin and Weisberg announced that they had more than 1 million active readers and had raised $6.25 million in financing to expand the business.
The two co-founders recently spoke to the JPMorgan Chase Marketing & Communications Team about how two friends-turned-business-partners went from quarter-life crisis to owning the media spotlight. Here are some highlights from their interview with Lois Backon, Head of Corporate Partner Marketing.
You both were working as producers at NBC News prior to launching theSkimm. Why did you walk away to start your own company?
Weisberg: We were both working at 30 Rock and loving what we were doing, and then we actually became roommates. So we were in this tiny apartment, and we would talk about what we were seeing in the industry, which was scary. The next five to 10 years of our career path weren't so certain anymore. Jobs we thought we were going to have no longer existed. I wanted to create a career path for myself that could stand the test of time while continuing to do what I loved.
Talk to us about the ideation of theSkimm and how it came to be.
Weisberg: Our girlfriends are really smart, and they have fantastic jobs – which means they're short on time. And we found they had really basic questions about what was going on in the world, from what's happening in Syria to why is the government shutting down. And we realized that they weren't watching what we were producing for a living. So we took a step back and started thinking about the habits of this audience. There wasn't anyone giving them real news in a way that fit in with their lifestyle, so we saw this void in the market and wanted to create a product this audience liked and wanted to come back to.
Did you have any idea it would make it this far?
Weisberg: It was a terrifying experience, to go into your boss's office, sit down and quit. Our parents — they gave us hugs and said "We're sure this will all work out. But if it doesn't, just remember you quit your job." And we were first-time entrepreneurs without a business background and no safety net. And that's why I think we started growing so fast, because we literally had to go get jobs, two months after we started, if we didn't get traction.
With endless content, how do you decide what you put in to the newsletter?
Zakin: If we feel it is conversational, we write about it. And that's really our filter. As for the personality behind the newsletter, it's meant to sound like the friend that you go to when you have questions. They're a little bit sarcastic and always seem to have a comment about everything that's going on … that friend that we all have that ... tells it like it is.
How do you perfect the voice of theSkimm?
Zakin: We only have two writers on our team, because we have such a curated and specialized voice. And one of the first things we did with them was to make sure they felt comfortable with each other. We were two friends that wrote on our living room couch every day … so the first thing we did with them is, we said, "Okay, what do you do with your best friend?" And one of them said, "I get manicures." And the other said, "I go to this wine bar." And so, we sent them out with our credit card, and we said, "Go do those things." The way we inspire creativity is to break down any walls on our team so they're comfortable.
So the voice is astounding and everybody's relating to it, but at the same time you're aggregating factual content.
Zakin: First and foremost we're journalists, but we're also part of the female millennial demographic we're targeting, so we see ourselves as translators.
Weisberg: We decided we didn't want to be everything to everyone. So we chose a really specific audience and wanted to create a product which was meant for them. And we're really excited that 20 percent of our user base is men, and that [we attract] different age groups, which love the same product.
Do you credit the targeting of female millennials for your reported 45% open rate (which is very good for an email newsletter)?
Zakin: The reality is, when we launched, we thought we were going to have eight different versions of theSkimm, which was a terrible idea and I'm so glad we're not doing that. But I think we've been pleasantly surprised by how much people relate to this specific voice and it just so happens to be the one we're writing for a specific demo in mind … and we're fortunate that people outside of that demographic love theSkimm for a variety of reasons, but that's a bonus. That's like icing on the cake for us. Our job, every day, is to write for a very specific audience and hope that they open. So absolutely, I think that contributes to our engagement.
So you've been building this audience which has really transformed into a community, and you've been partnering with some pretty big names.
Weisberg: From the beginning, we were lucky to have brands that we wanted to work with come to us and say "How can we work with you guys?" And going back to our open rate, it shows the kind of traffic that we can drive. We actually crashed Vogue's website when we worked with them, which was a personal high! And someone told us we gave them their Oprah moment, which was really astounding as a growing brand.
So you gave them their Oprah moment, but you've had your Oprah moment!
Zakin: Oprah gave us our moment. We teamed up with [Oprah Winfrey's OWN TV network] to produce these web videos around the midterm elections, and they were our exclusive partner to publish. And we didn't want to work with OWN, which is a weird thing to say, unless we knew that Oprah genuinely liked our product. So what we said is, "Could you please pass on theSkimm to Oprah? If she likes it, organically, then we would love to do this." We actually got to meet her, and she said, "You really do make my mornings better. You make me feel smarter in the mornings."
Quite the compliment. And the videos were great! But I noticed you don't have video content on theSkimm. Can you chat more about that? I also heard you may be entering the mobile space, so what's next for theSkimm?
Weisberg: We love video, but I know that I don't wake up and turn to my phone and watch video on it. I'm sure that pretty soon we will … but as a start-up you unfortunately have to think about things in terms of six months to a year-and-a-half. Two years is like, "Whoa!"
As for mobile, we are definitely looking at it. We're taking our time and coming up with a strategy that we're really excited about. This is going to be a really big year for our company as we continue to grow and bring the voice of theSkimm to different platforms.
Zakin: We've created a voice and a community which can live on any platform. So whether it's video, whether it's mobile experience, we created those very intentionally, knowing they had shelf life elsewhere.
Lastly, how have your lives changed personally since launching theSkimm? When do you sleep?
Weisberg: We sleep when we can; someone is always up when the newsletter goes out. So it's a schedule and there are different shifts – we have it down to a science now!
Zakin: We each found a different inner-confidence [through] becoming businesswomen – and different areas in business that we're passionate about. I think we realized how much our lives changed during fundraising, when we'd get asked, "Do you guys just want to write and we'll get you business people?" And we were like "No, this is our business. And we are the business people."
Visit theSkimm to learn more about it and sign up.
For everything your business needs in one place, from news and expert tips to valuable products and solutions, visit chase.com/forbusiness.
Jennifer Bryer is a Senior Marketing Strategy Associate on the Corporate Brand Team at JPMorgan Chase.