Your Money
Celebrate Life Moments
When retirement arrives before you're ready
Finding an encore career after an earlier-than-expected retirement
By
Tamar Snyder
Posted: 03/19/18
Updated: 01/07/20
This story is part of The Pivot, an original series about how people navigate the age of episodic careers. It is presented by Chase.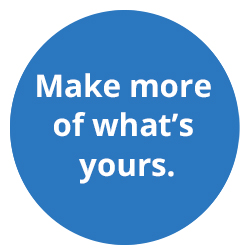 When Paul Dillon retired from an accounting firm at age 61, he couldn't have envisioned his second act: working to drive entrepreneurship among veterans.
The former US Army Reserve 1st Lieutenant had fought in the Vietnam War, but spent his career in the private sector, advising corporate clients. When a larger company acquired Dillon's firm, he accepted an early retirement offer with a generous perk: paid health insurance for life.
Suddenly, he had the freedom to choose his next career. "I knew I wasn't going to sit on the back porch, looking at the trees and squirrels," he says. But he didn't know what his encore career would—or should—look like.
Dillon is not alone in this struggle to find meaning—and a paycheck—after an earlier-than-expected retirement.
Forced retirement more common than you think
Americans are living longer, and in many cases may not be financially or emotionally ready to retire. And while 50- and 60-somethings are living highly productive lives, they may find themselves suddenly forced out of the labor force—partly because of ageism, a health crisis, or a host of other reasons.
Nearly half of current retirees were essentially forced into early retirement, up from 37 percent in 2007. Many had to quit because of health problems or disabilities, and more than a quarter were forced to retire because of changes at the company, including downsizing or closure. Early retirement is a shock to most workers, since 75 percent don't plan to retire until age 65, or later.
Forget "finding your passion"
Dillon encourages fellow early retirees to supplement their income post-retirement by finding something they're good at, and enjoy. He won't use the phrase "finding your passion," however.
"What if your passion is basket-weaving or bird-watching?" he says. "It's okay to be a dreamer, but you have to be practical." Flexibility is also key. "If your first idea doesn't pan out, try a second idea. If that doesn't pan out, try a third idea," he says.
Following his own advice, Dillon accepted a position with a Chicago business media outlet to research programs providing support to veterans, as well as local companies that hired veterans. That position led him to co-teach a course about veterans at the University of Chicago. At the time, Chicago was launching a business incubator. Dillon encouraged the city to foster entrepreneurship among its sizable veteran population by creating a veterans' incubator known as Bunker Labs. (JPMorgan Chase has worked with Bunker Labs.)
When Dillon moved to North Carolina to be closer to his grandchildren, he started Bunker RDU, a support program for aspiring veteran entrepreneurs. Now, he spends his days as a subject matter expert on veteran entrepreneurship—enabling him to do good among a vulnerable population while also bringing in a paycheck.
Create a retirement income plan
In the face of an early retirement, putting your financial affairs in order—rather than ignoring them—is a critical first step. "Getting a realistic picture of your financial situation can play a huge role in managing your emotional response to your new reality," says Dave Buckwald, a certified financial planner in Cranford, New Jersey.
"Many retirees are living on what they want to live on, and crossing their fingers that they won't outlive their savings," he says.
A creative leap leads to a paycheck—and fun
For Lee Gale Gruen, retirement came at the age of 60, after reaching her maximum pension amount. Suddenly, she had lost her identity as a Los Angeles county probation officer. For 37 years, she supervised probationers and wrote reports to assist judges with sentencing.
While the 75-year-old's income hasn't decreased much since retiring, thanks to her pension, she says, "I had no clue what I would do—it was a real shock."
A friend told her about a school in Santa Monica that offered classes for seniors. She looked through the catalog and picked something that sounded interesting. She thought she would be analyzing poetry in class. She didn't realize it was an acting class.
Gruen soon became a paid senior actress, appearing in several commercials. One of her favorite roles was playing a sassy granny on a comedy network television show.
Finding joy, excitement and satisfaction post-retirement
Gruen found her second act by accident. But she encourages fellow retirees to come up with their own second acts by thinking carefully about everyday activities that give them joy, and purpose.
It's also important to lower your expectations when it comes to salary, she says, adding that many retirees need to get used to making a lot less money than they had before retirement. "A job is not necessarily just to make money," she says. "It should also be stimulating, and give you the opportunity to meet and talk to people instead of sitting at home in front of the TV."
Tamar Snyder is a Chase News contributor. Her work has appeared in the Wall Street Journal, and Inc.