Your Money
Understand Your Finances
Living well—but not too expensively
By
John Schneider and David Auten
Posted: 03/09/18
Updated: 06/25/18
This is part of Savings Diaries, an original series in which people share how they try to reach key savings goals during 2018. It is part of a broader Chase initiative to encourage more Americans to save money.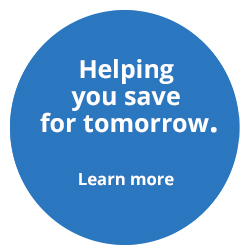 Well, we're into the year, and closer to our 2018 goals of saving $10,000 in each of our company-sponsored retirement accounts and another $10,000 for an all-cash vacation later this year.
In January, we shared our saving goals, and an explanation of why we chose them. Having goals isn't enough, though. We also need strategies to increase our chances of success. Creating systems to regularly chip away at our goals will make achieving them more likely and easier.
Focusing on our hopes and dreams
True commitment isn't new to us. It was one thing to say, nearly 13 years ago, that we'd like to pay off our $51,000 in credit card debt. It was another thing to do it. The challenges don't disappear. It's hard to eliminate years of bad habits and replace them with good ones. But, it's possible.
As you'll learn, we love motivational quotes, and Jim Rohn was a master of them. He said once about success, "The bigger the 'why' the easier the 'how'." The question we've asked ourselves is, why is saving for retirement and travel important to us, as a couple.
We had $51,000 in debt in our 20s and 30s, because we were spending to make up for painful experiences in our youth and living up to other peoples' expectations. Even today, kids struggle with being lesbian, gay, bisexual, transgender, or queer.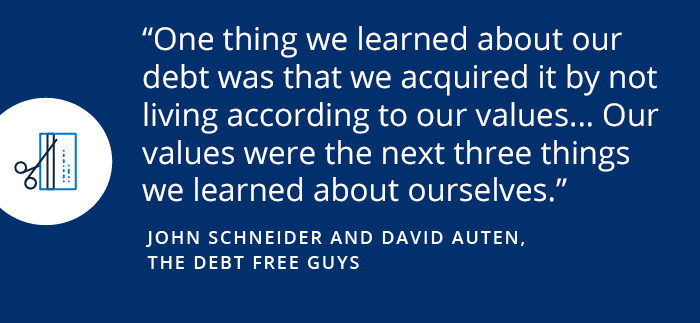 One thing we learned about our debt was that we acquired it by not living according to our values, because we didn't know what our values were. Our values were the next three things we learned about ourselves.
First is giving back to our communities, LGBTQ and straight. We've been given so much; it's our responsibility to give back more. Second is saving for a comfortable retirement. We did learn something in our years of working in the financial services industry, and we don't want to put ourselves in a precarious situation when we're older. Finally, we want to travel more.
To gain and keep momentum with our savings goals, we'll maintain a focus on our hopes and dreams, as we did to become debt free.
Systematizing our savings
Another important lesson we've learned is that systematizing our money management makes managing money easier. So, where possible, we'll systematize our savings objectives.
We have two businesses—our blog, the Debt Free Guys, and a podcast, "Queer Money"—and the pay is irregular. Until our income is consistent, we'll take 24 percent of every check our businesses get and put 8 percent toward each goal-specific account: our two company-sponsored retirement accounts, and one travel savings account.
Having a process for every time we receive a check for our businesses will simplify our savings. When our incomes become more regular, we'll set up automated processes to make this saving easier.
Living not-so-expensively
When we decided to become debt free, we knew we'd fail if we didn't have a fun quality of life. This is when we learned about living and spending not-so-expensively.
For most things, there are comparable, less expensive versions. For example, there's an expensive face scrub and wash by a big brand we love. We've found a store-branded face scrub and wash that doesn't cost as much, and is just as good. Multiply this strategy for ten or 20 purchases a month, and we're saving big.
Changing our eating
Our biggest recurring expense has been food. We avoid fast food and expensive restaurants and, instead, go to a few quick-casual restaurants that are a bit healthier and not-so-expensive. At some of these restaurants, the meal sizes are large enough for us to split, which helps cut costs.
To reach our savings goals, we cook at home, and in bulk. We won't eliminate the quick-casual restaurants because they're helpful in a pinch.
We'll return to being meticulous about creating a weekly grocery list and menu based mostly, if not only, on sales items. Our local grocery store offers both the previous and next weeks' sales items on Wednesdays. So, we'll limit grocery shopping to Wednesdays and avoid buying non-sales items.
We'll decline RSVPs to expensive dinners out and opt for hosting potlucks at our place and visiting friends and family at their places.
Finally, we're eliminating alcohol from our diets for 30 days. We're doing this to fatten our wallets and shrink our waistlines. The latter is a whole other diary entry.
Finding the fun, free and cheap
When we were paying off debt, we were extra-conscious about eliminating expensive social activities, like going to the theater or to concerts.
Because our 'whys' to achieve our savings goals are big, we'll eliminate such expensive activities again. We'll be more conscious about spending our money on fun, free and cheap activities we can find.
Stay tuned.
John Schneider and David Auten are Chase News contributors. Their work has appeared in Business Insider and Forbes.