Your Money
Understand Your Finances
5 ways to financially survive—and thrive—during an employment gap
By
Kelly Kearsley
Posted: 03/09/18
Updated: 09/24/18
This story is part of The Pivot, an original series about how people navigate the age of episodic careers. It is presented by Chase.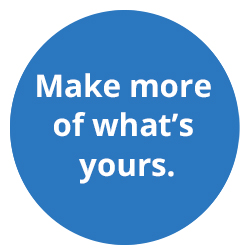 After 13 years as a newspaper reporter, Lisa Kremer needed a new challenge. She'd never planned on having the same career forever, and wanted a job that would allow her to improve the lives of other people. Kremer frequently heard law school was one of the most difficult academic mountains to scale—and that only made it more appealing.
But, at 35 years old and with two young children, Kremer didn't fit the traditional law student profile. Her salary made up half the family's income, making the mid-life career transition a bit dicey, financially.
"I wanted to make it work and stay in our house, eat the same food, and be able to afford a movie every once in a while," she says.
The key to Kremer's success was crafting a plan and sticking to it. Whether you're stepping out of the workforce to go back to school, start a business or care for family members, there are ways to prepare so that you can survive—and even thrive—during a planned employment gap.
Here are some tips to help you survive—and thrive--during an employment gap:
1. Make a realistic financial plan
Brian Cochran, a certified financial planner with John Moore & Associates, in Albuquerque, New Mexico, says the biggest mistake most people make is planning for everything to go smoothly. "Rather than painting a big, beautiful picture for how everything will turn out," he says, "you want to prepare for the unexpected financial shock, and do some risk management."
If, for example, you're quitting your job to start a business, consider what types of side gigs or extra work you could take on to bring in extra cash if it takes longer than expected to generate revenue. Cochran also suggests practicing living on your new budget before you leave your job.
2. Reduce your expenses—and plan for new ones
One way to prepare for additional expenses is to reduce current ones. The most effective way to do this may be to focus on your biggest ticket items: housing and transportation.
As Kremer planned to enroll in law school, she realized she would incur additional costs not included in her original budget. For example, she needed extended child care in case she or her husband couldn't pick up their children in the afternoon. Her commute from Tacoma, Washington, to the University of Washington, in Seattle, would mean purchasing a bus pass, or paying for gas and parking if she drove.
"Kicking a latte habit is much less impactful than getting rid of a big car payment or down-pricing your housing situation," Cochran says. For instance, moving into a smaller home could not only reduce your mortgage or rent, but also decrease what you spend on utilities, maintenance and even furniture.
3. Get your family on board
If you have a partner and/or family, then a planned employment gap affects more than just you, of course.
"If you're making a transition like this, you need to be 100 percent aligned with your spouse on why you're doing this, what it entails, and what they need to do to make it happen," says Summer Robbins-Sudder, who made the transition from working as a New York City fashion designer, to Portland, Oregon, florist.
Robbins-Sudder was her family's breadwinner. Having the support of her husband, who stayed home with their children, was critical. "He was the one that said, 'You can do this,'" Robbins-Sudder recalls. "But we also discussed that I had 18 months to try it, and if it wasn't working, I'd need to go back to my former career."
4. Give your savings some love
Throughout Kremer's career, she contributed the maximum amount possible to her retirement accounts. In the year before she went to law school, however, she reduced her contributions to just enough to get her employer match—and put the rest in savings. Cochran says boosting up any cash reserves is a great idea. So is securing a home equity line of credit in case you need some extra liquidity.
Also, in most cases, you should avoid tapping into your retirement savings.
"My general rule is that if you have to dip into your retirement savings, you probably can't afford what you want to do," Cochran says. "That doesn't mean you can never do it, but it may mean you need to wait."
5. Envision your exit
Before diving into her transitional gap, Robbins-Sudder took an internship with a florist. The insights from this experience informed Robbins-Sudder's business plan.
For Kremer, advice from an expert helped her prepare for her eventual foray into a new field: In her first month of law school, one speaker told students they should be working on securing their first job for at least one hour each week.
"I really took that to heart," Kremer says. To that effect, she scheduled meetings with attorneys she knew, and joined an organization that supports women lawyers in Washington state. Eventually, Kremer accepted a job at a firm in her town the fall before she graduated.
Since then, she has been made a partner at the firm.
Kelly Kearsley is a Chase News contributor. Her work has appeared in The Wall Street Journal, CNN Money, Money Magazine, and Runner's World.