Your Money
Education Savings
How to Save for College and Retirement Simultaneously
Chase Private Client Offers Tips on Balancing 2 Major Savings Goals
Posted: 03/12/15
Updated: 11/10/17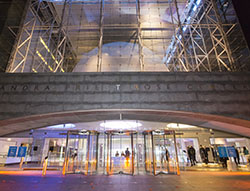 Many parents today face daunting savings goals, planning for retirement while trying to build education funds for their children at the same time.
On a recent evening, 230 guests joined Chase Private Client at the American Museum of Natural History for dinner and a panel on how to manage those two goals at once.
Amid the astrophysics exhibits of the museum's soaring Dorothy and Louis B. Cullman Hall of the Universe, retirement and college planning specialists suggested that some families approach the dilemma the wrong way.
"[People] say, 'I'm going to save for my children's education. And once that's accomplished, then I'll think about my retirement.' And that is a mistake," said Peter Wall, Chief Market Strategist for Chase Private Client. "The long-term is your friend."
With tuition costs having risen dramatically in recent decades and a retirement nest egg having to last longer as people live longer, saving simultaneously is the best strategy, Wall said.
For one parent in attendance, the savings challenge felt especially daunting: "I'm a 24/7 single mom," said one Chase Private Client. "I have the same goals as anybody else, but maybe a little more so because I don't have the security of another half or anybody else that is making contributions."
Wall recommended saving as early as possible in order to capitalize on compounding growth for both goals, and then capitalizing on all available tax-advantaged accounts by maximizing retirement contributions to IRAs and 401(k)s, and college contributions to a 529 plan.
Michael Conrath, 529 program director for JP Morgan Asset Management, laid out the tuition challenge: Four years at a typical public college costs $80,000 today, while it can cost $180,000 at a private one. For a baby born today who attends college at age 18, the costs will likely be more than double those amounts.
It's a misconception that saving or investing hurts one's chances of receiving financial aid, Conrath said. Instead, income is the biggest determinant of aid; second are assets, but only 5% of assets in the parent's name are counted when determining the family's expected share of costs. "If the parent holds an account for a child, a college-saving account, only 5 cents of every dollar is included in that federal aid formula. You are better off saving and investing than sitting on the sidelines," he said.
As for loans, 71% of the Class of 2014 graduated with debt, Conrath said. On average, "they're starting their adult life with $30,000 in debt," he said. "It's always better as a rule of thumb to save and invest and earn interest, than to borrow and have to pay back interest."
A great way to invest for college, Conrath said, is a 529 plan, which offers flexibility along with tax advantages. At the federal level, you contribute after-tax dollars, but down the road, when you withdraw the money, you won't pay any taxes on the earnings. Some states also offer tax deductions for the money you contribute.
An advisor, Conrath said, can be a valuable partner in sorting out the challenges. "An advisor can really help you navigate how to save for both goals in tandem and how to fit it within your overall plan."
For estate planning purposes, 529 plans enable efficient transfer of wealth to children and grandchildren, the speakers said. Not only is a dollar invested in a 529 plan a dollar removed from your estate, but tax laws allow you to put significant amounts of money into a 529 plan.
"We found investing for the long term is your biggest ally," Wall said. "So what we advise clients to do is to identify their goals, and try to create a plan to invest in both of those goals at the same time."
Another Chase Private Client attendee, an entrepreneur and single mother, said her advisor helped her figure out a savings plan. "Blending the two together, my own retirement and my son's education, was something that I was finding a little tricky," she said, "but [my advisor and I] figured it out."