Your Life
Dining and Drinking
Two chefs on fine dining in the modern world
Professional foodie Adam Golberg talks to two legendary chefs, Eric Ripert and Daniel Boulud, about innovation in the kitchen.
By
Adam Goldberg
Posted: 03/04/19
Updated: 05/23/19
Chase Sapphire's Chef Showcase with Eric Ripert and Daniel Boulud is part of the Chase Sapphire® Private Dinner Series, which features curated dining experiences with world-renowned chefs in acclaimed restaurants across the country. Explore the premium travel and dining rewards of Chase Sapphire.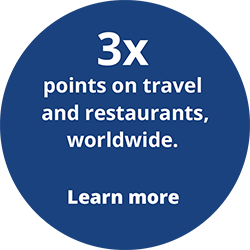 From Michelin-minted restaurants uptown to hidden favorites tucked away in Little Italy and Chinatown, New York City has long been considered one of the fine dining capitals of the world. But recently, fast casual eateries and social media fads like matcha-flavored doughnuts have stolen focus in the culinary world. In fact, there have been no new Michelin three-star restaurants added to the dining scene in the past eight years.
And so the obvious question: Is fine dining dead?
Well, if you ask famed chefs Daniel Boulud and Eric Ripert: Not even close. Like every other type of restaurant, they're doubling down on innovation.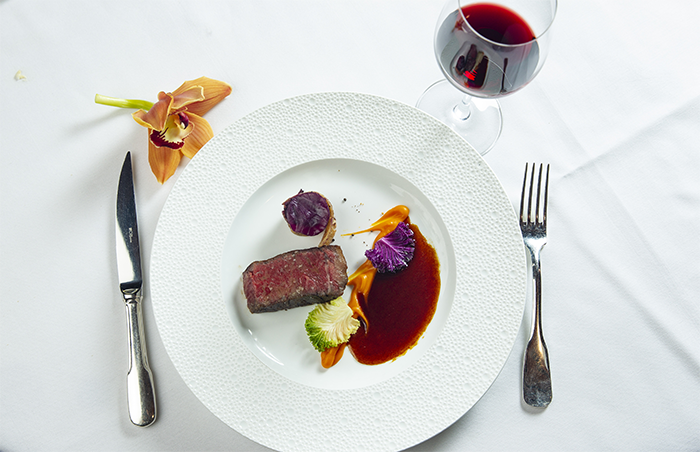 "We are constantly changing, constantly reinvesting in our process, and those little changes keep us relevant," says Chef Boulud.
Chef Ripert agrees: "I think it's our passion, curiosity, and lifestyle. We are exposed to so many creations, ingredients, and restaurants. It's great inspiration."
The two chefs have seen the evolution of the fine dining scene. Last year marked the twenty-fifth anniversary of Chef Boulud's flagship restaurant Daniel and 2019 will mark the twenty-fifth anniversary of Chef Ripert taking over the kitchen at Le Bernardin. As two of New York's longest-running and highly-rated fine dining chefs, chefs Boulud and Ripert have managed to stay at the top of nearly every list throughout twenty-five years of change.
And at a recent, exclusive dinner for Chase Sapphire cardmembers, the two legendary chefs worked together to prove there's plenty of innovation to go around.
Both chefs cited travel as their main source of inspiration, and both brought up Japan as the country where they feel the most inspired, likely because of the country's propensity for high quality seafood products with minimalist preparation techniques. "My mind is very Japanese-influenced right now," Chef Ripert says.
That inspiration was clear in Chef Boulud's first dish: A flash-roasted Maine lobster served with a butternut squash "spaghetti" tempura in a rich sauce Américaine. It was essentially raw lobster, crispy tempura, and a wasabi salad brought together by a classic velvety tomato and white wine sauce. The Maine lobster was made exceptionally sweet and creamy through his delicate preparation.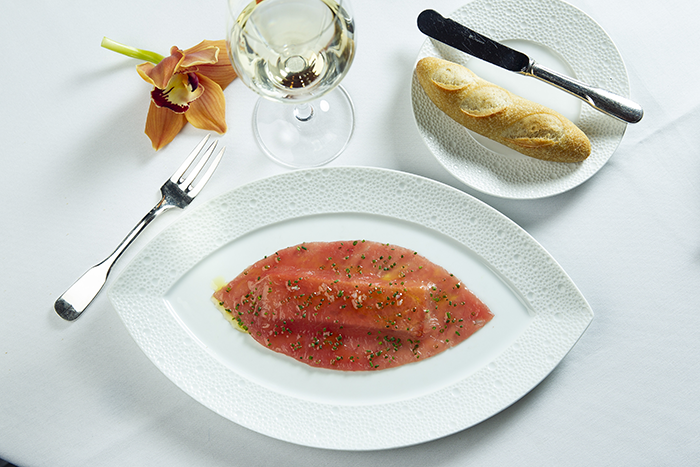 Meanwhile, Chef Ripert pounded thin sheets of tuna sashimi, draped them over creamy foie gras terrine and toasted baguette crisps, and finished the dish with chive and a splash of lemon and olive oil. The rich textures of tuna and foie gras contrasted nicely against the chive and crispy baguette. This dish exemplifies Chef Ripert's seafood-focused cooking, as the tuna is front and center with the foie gras playing a supporting role to enhance the tuna's natural flavor.
Other highlights of the night included Chef Ripert's sautéed Dover Sole with an almond-matsutake salad in a soy-lime emulsion and a Wagyu strip loin with smoked brisket and braised red cabbage, courtesy of Chef Boulud.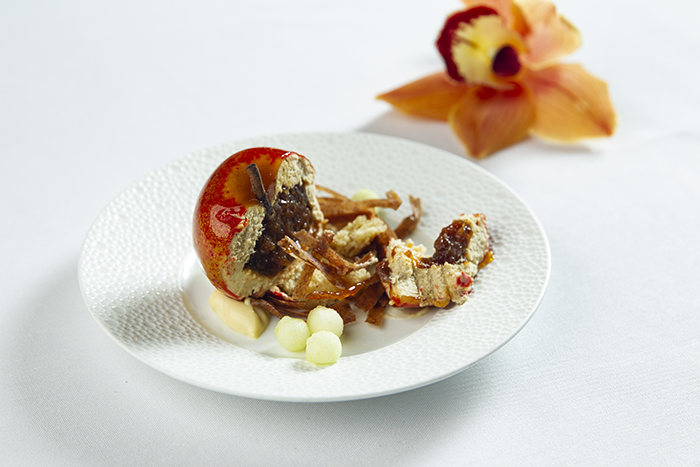 To finish the meal, desserts were served in unison by pastry chefs Thomas Raquel of Le Bernardin and Ghaya Oliveira of Daniel. Chef Raquel's dessert—brown butter mousse and apple confit in an Armagnac sabayon—was impressively indistinguishable from a shiny red apple. But when cut open, the interior was light and airy like a sponge cake. Oliveira's dessert, a small bite of hazelnut-infused chocolate and caramel praliné, topped off the meal with a dark, creamy note.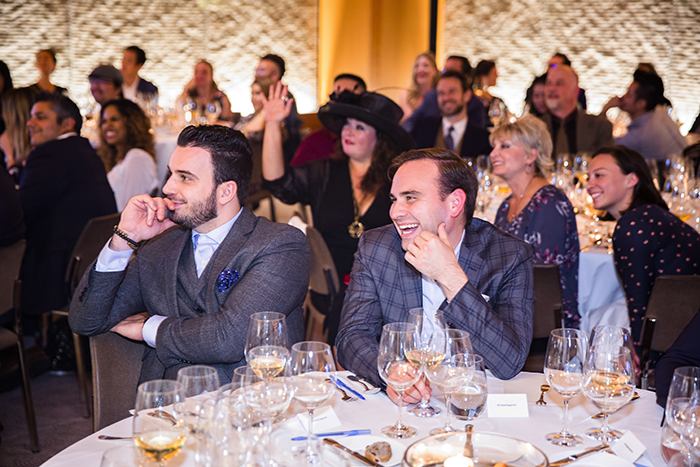 But just as notable as the "greatest hits" dinner menu was the chemistry between chefs Ripert and Boulud. The two finished each other's sentences while sharing backstories and inspiration for each dish. After all, sauce Bordelaise or tuna carpaccio tastes best when sweetened with innovation.
Adam Golberg is a Chase News contributor.