Your Life
Celebrate Life Moments
How one entrepreneur made a space for home, and work
By
Jackie Lam
Posted: 03/10/17
Updated: 06/27/18
What makes a home truly unique is the homeowners who occupy them. In this series, House to Home, presented by Chase Home Lending, people showcase how their love is expressed throughout their household. Whether it is centered around family, hobbies or careers, this series proves that homes are made, not built.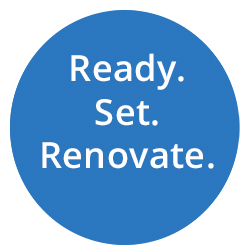 When Sheeva Sairafi began her search to buy her first home in 2015, she wanted a house where she could not only live, but would serve as a space to showcase products from her socially-conscious home accessories business, Local + Lejos. Sairafi wanted a space to experiment with how new products—created by skilled women in developing countries—might be used in customers' homes, as well as a place to work, and entertain.
While Sairafi was eager to move, there was no deadline. "I wanted something that didn't feel new, and that had character," explains the 30-year-old entrepreneur. "A house should make you feel welcome, like a friend you want to hang out with." After about a year of making the rounds of Sunday open houses, and submitting offers that ultimately fell through, she came across a classic Spanish-style house in Culver City, California.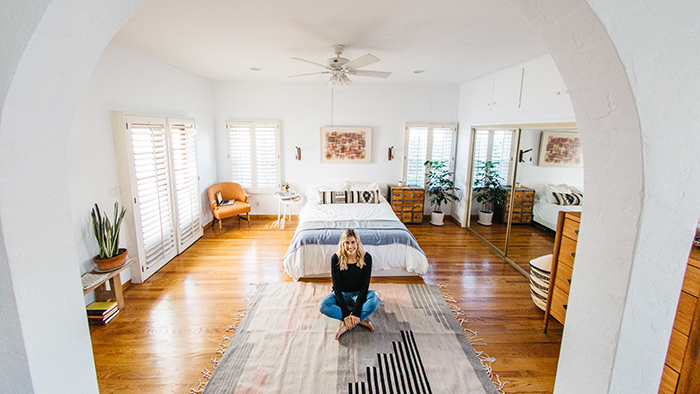 "It felt like being in a movie," Sairafi laughs as she recalls first stepping foot in the master bedroom, which has majestic arches. "I felt an immediate connection. I knew this was the place I was going to be." She felt compelled to write a letter to the owner about why she thought she would be a good fit for their house. "I could tell that the house meant a lot to them," recalls Sairafi. "So I told them what I was working on, and about the parts of the house I felt most connected to."
The letter may have resonated with the owner of the house, because Sairafi's offer was accepted.
Minimal work
While the home was in good shape, the rooms had dark walls, giving the house a Gothic feel. Sairafi wanted her home accessories—eclectic, one-of-a-kind items she's collected from outdoor markets, vintage stores and her travels—to pop, so she painted most of the rooms white.
As you enter Sairafi's house, you'll find clay pots given to her from the women of Santa Maria Atzompa in Oaxaca, Mexico, sitting on a bookshelf, along with an antique vanity tray. Hung on walls, and perched on tables, are illustrations of plants, maps and photos, including a few of the women's Kwizera Cooperative of Rwanda, another group Sairafi works with. In the dining room, a wooden dining table discovered at a vintage sale is one of the items she brought from her old apartment. "I wanted my home to have a mix of old and new things," she says.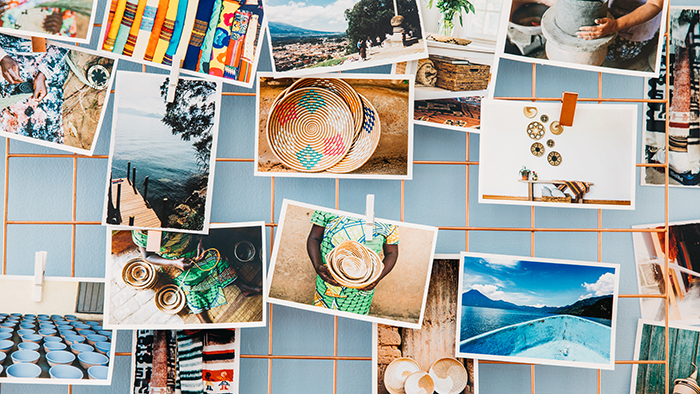 Small succulents sit in neat rows on a tray in the corner of her living room. A pair of throws in teal and blue are hung on the rungs of a copper ladder. "I wanted it to feel authentic to me," says Sairafi. "I didn't want it to feel full of things you could buy anywhere." Small woven bowls and trays in different sizes and geometric designs, made by the women's cooperative in Rwanda, are hung on a wall in a configuration Sairafi says she is constantly changing. "I like to move things around and give things a fresh feel," says Sairafi. Smaller versions sit on side tables, to hold jewelry and watches.
"I wanted the house to feel cohesive, light and airy" says Sairafi. Only two rooms have bright walls, with coral in the second bedroom, and sun-gold in the kitchen. "It was a compromise with my parents, who said the white walls reminded them of a hospital," she laughs.
Testing grounds
In her home office, Sairafi added a large whiteboard that spans the length of one wall. On it, she notes ideas, deadlines, and priorities. At Local + Lejos's, her office is used for meetings, calls and team tasks. Here, amidst a pile of handwoven rug samples from Mexico, and rows of hand-blocked table linen samples from India hanging from a copper rack, she can focus on launching new products. "My home office serves as a calm space where I can have uninterrupted time to myself," says Sairafi. "It's where I can do creative work."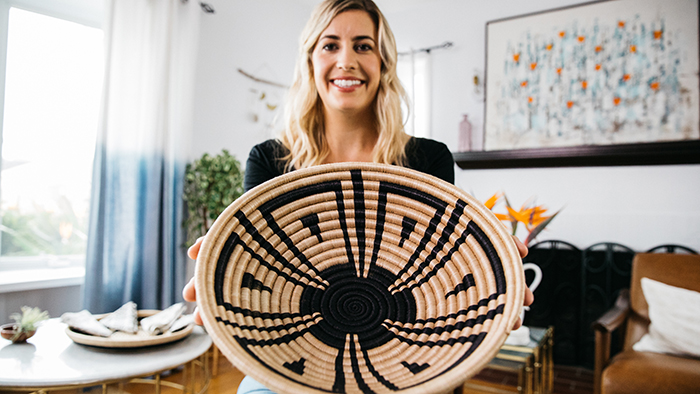 And it's a place to recover from traveling to her suppliers in Guatemala, Cambodia, and India, where her company is committed to helping women develop skills to eventually run their own small businesses.
Lately, Sairafi has been planning pop-up shops, and expanding her line of products. She wants her home, like her business, to be continually evolving. "I want it to be something that feels full—but not too full," says Sairafi. "Creativity still needs to happen. I never want it to feel fully finished."
Jackie Lam is a Chase News contributor.