Bold Leaders
Success Stories
Misty Copeland, on how ballet shaped her life
By
Rebecca Dalzell
Posted: 03/07/16
Updated: 11/13/18
When Misty Copeland takes the stage as a principal dancer for American Ballet Theatre, she exudes confidence and poise. It's hard to imagine her as an awkward, painfully shy child who dreaded getting called on in class. But she says she used to be "terrified of judgment, being seen and having a voice."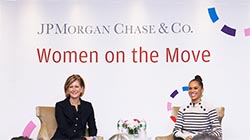 Ballet changed that. Raised by a single mother in San Pedro, California, Copeland was the fourth of six kids and says she spent most of her childhood hiding behind her siblings. "I never really had dreams of becoming anything," she said at a recent JPMorgan Chase event in support of its "Women on the Move" initiative. "Probably the one thing that I thought I wanted to be was Mariah Carey." Something about the singer's music touched a nerve and "made me want to dance, create, and choreograph."
Copeland's mother was stunned when her anxious 12-year-old daughter decided to audition for the middle school dance team. For tryouts, Copeland choreographed a routine to a George Michael song. The coach suggested she try ballet, because her body was perfect for it: long legs, a short torso, narrow shoulders and flexible hips. "If I had started at a young age, like in Russia, that's how you get accepted into schools," she explains. "It's not about your musicality or instincts, but it's literally measuring your bones."
Starting ballet at 13, Copeland got a relatively late start (many professionals begin at seven or eight), but her teacher saw potential and pushed her to train. When she looked in the mirror at the studio, wearing a leotard and tights, it was "the first time that I realized, 'oh my gosh, you're beautiful, you're strong, you're good.'" Four years later, she was in New York City dancing for American Ballet Theatre.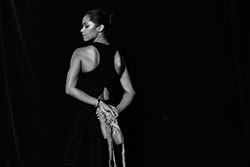 Breaking Ballet Boundaries
In August 2015, Copeland became the first African-American woman to be named a principal dancer for ABT. When she arrived in New York 15 years earlier, "I was the only black woman in the company of 80 dancers." Surrounded by such talented ballerinas, she grasped the magnitude of her achievement and its symbolic power. "It gave me a different purpose and path. I realized what I could do and what my voice could say."
Copeland, now 33, has watched ballet slowly open up to black dancers, thanks in part to her luminous presence and strong work ethic. Today, she says, "I know for sure that there is a future for black women in classical ballet."
To come so far, Copeland had to put in long, grueling hours in the studio. "Mentally and physically, dancers push themselves in ways that I think most human beings can't tolerate," she says. With its demanding training, ballet taught her technique and focus, and keeps her grounded. "It creates a certain type of person," she says. "I think the ballet world shaped who I am as a woman."
There have been times when she wanted to quit, "because I felt like I wasn't going to succeed in a fair way and go as far as I knew my talent could take me." Feeling isolated, she thought her skin was too dark or her body too muscular. But she wanted to prove to herself that she was more than that scared little girl in San Pedro. "This is your way to be able to see the world and get out of living in a motel with your mom and five siblings," she says she told herself.
Discipline and Determination
So when Copeland was injured at 29 and told she would never dance again, she would have none of it. With six stress fractures, she was out for a year at a crucial time in her career, having been given the title role in Stravinsky's Firebird, an unofficial audition for a principal dancer appointment. "If you're not a principal dancer by 29, it's usually not going to happen," she says. "In ballerina years, that's very old." She danced two painful shows before having surgery.
After recuperating, she carried on. Though she couldn't jump fully, she still went onstage and performed, this time with an understanding of the limitations of her body, and a renewed sense of purpose. "My director said, 'your growth artistically is more than when you left the stage after this injury,'" she remembers. "That meant so much to me because that was my goal."
Now Copeland is a celebrity. She has graced magazine covers and talk shows and starred on Broadway. But she is still intensely disciplined. "There's no way around the hard work," she says. "It doesn't matter how famous you are or how many Twitter followers you have in the classical ballet world. It's what you present on the stage."
Rebecca Dalzell is a journalist and historian. Her writing has appeared in The Washington Post, New York magazine, Travel + Leisure, Time Out and other publications.