Your Money
Understand Your Finances
To thrive financially, choose your spouse carefully
By
Tonya Rapley
Posted: 03/01/18
Updated: 10/08/18
This is part of Savings Diaries, an original series in which people share how they try to reach key savings goals during 2018. It is part of a broader Chase initiative to encourage more Americans to save money.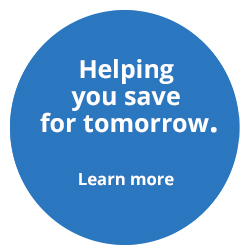 Your significant other is one of the biggest financial decisions you'll make. Your partner's money management habits—and past money decisions as an individual—can have a major impact on your quality of life, and the financial choices that you make as a couple. So choose carefully. Real talk.
When my husband, Khomari, and I first decided to date exclusively, he'd already started planting roots for his film career. But he hadn't paid attention to his finances. He had no savings, hadn't filed his taxes ever, and his credit score was in the high 500s. I started a blog, My Fab Finance, during the second year of our relationship and was eager to share all that I was learning with him. My goals were clear: build my savings and credit. His needs were different.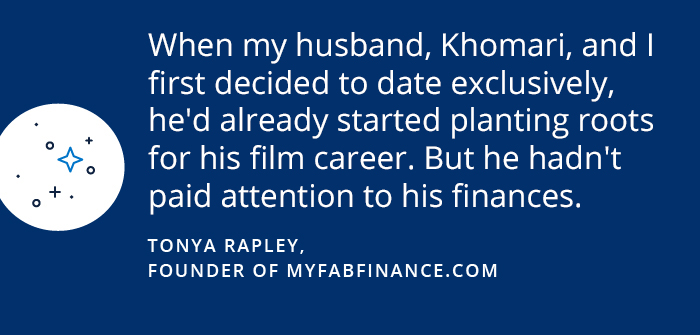 We needed to set Khomari's financial foundation, and so created a plan to increase his income, which had been inconsistent and relatively low-paying for his skillset. Once Khomari increased his income, we began to build his savings account. Khomari was ecstatic when he accumulated $5,000 in his savings account, because it was the most he'd ever saved. We did this by opening a savings account at an institution other than his primary bank. The goal was to discourage unplanned savings transfers from his checking account to savings account. Now, with his savings in check, we focused on building his credit.
When we reviewed his credit we realized that he essentially had no credit other than a collection item that was the result of an unpaid, canceled gym membership. He was virtually debt free, because he chose not to go to college—he didn't want student loan debt. So, he taught himself to operate cameras, and edit video. But the truth is, it takes debt to build credit, and so we started off with an entry-level credit card that was willing to take a chance on Khomari, despite his low credit rating.
In the next year, we used Khomari's credit cards responsibly, with the main goal of building his credit. Within one year Khomari's credit score rating had increased to 702. This is where the temptation reared its head: Khomari began to open lines of credit without my knowledge, including at the jeweler where he bought my engagement ring. Khomari proposed in late 2014, and paid my ring off in just six months, and this increased his score to the mid-750s. All of this freed up his income, and helped him pay for our $13,000 destination wedding in cash.
It was wonderful to implement what I had been learning and teaching others for someone who was so close to me. It required a lot of trust on his end and brought us closer together. I also saw Khomari mature, and take on more of a leadership role in our household. Shortly after we began his credit building journey we also filed his taxes for the first time.
These steps increased his financial confidence. And it helped us begin to work on our financial goals, as a couple.
In 2016, Khomari made his biggest purchase yet. He financed two cameras to build his film business. Before buying his own cameras, Khomari would have to rent cameras each time he had a freelance job, and that became costly: $500 to rent a camera for two days. Khomari financed two cameras for $16,000. He has been paying it off regularly, and has a remaining balance of $5,600 that we would like to eliminate by June.
These cameras have been a great investment. So was our move, last year, from New York City to Los Angeles. While Los Angeles is an expensive city, it's the perfect place for a filmmaker.
The wonderful thing about our money management behavior is that we are both very focused on carrying our weight in the marriage and understand that our individual decisions affect our marriage.
Conversations about money and transparency have always been a part of our relationship. We keep each other motivated as well as regularly discuss our individual finances as well as our household finances. We maintain separate accounts and deposit money into our household account to cover our expenses.
Now that we are planning to make one of the biggest purchases of our lives—buying a multi-family unit building—we plan to continue to establish weekly money dates, on Sundays. These dates are important, because not only do we review our finances, we will use them to plan for upcoming purchases and handle the items that can easily go overlooked—like parking tickets and upcoming trips. We have to hold each other accountable so that we each make separate decisions that keep our collective goal in mind.
Financial goals aside, we also understand that as a young couple, it's important that we have fun and enjoy one another. We don't want to become so fixated on our financial goals that we fail to see each other and our needs. Travel is wonderful for our relationship, and we're taking advantage of deals to snag affordable trips together. We also try to go on dates at least once every two weeks and find affordable gifts that make each other feel special.
They say that money issues are one of the leading causes of divorce. Knowing that, we want money to be just another aspect of a strong, trusting marriage. We don't expect each other to be perfect, just committed.
Tonya Rapley is a Chase News contributor. Her work has appeared Forbes, The Root, Essence, Refinery 29, and Mic, among other media outlets.