Small Business
Success Stories
Fish-Out-of-Water Businesses: Bringing New Ideas to New Places
Build Relationships and Educate Customers
By
Nancy LaFever
Posted: 02/26/15
Updated: 11/10/17
When your new business brings a new idea to town, you have to sell that idea to the community before you can succeed. Here's how two entrepreneurial endeavors got off the ground:
New Tastes in Town
Small business owners Sean and Shannon Staneart are growing a wine and craft beer store in an unusual place: Rather than selling in an urban shopping district or a wine-growing region, they're in a rural part of Ohio.
With their laid back selling style and a strong connection to the community, they have gradually built a market for their handcrafted products without customers feeling intimidated.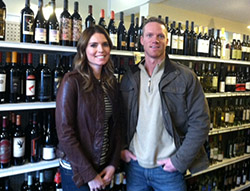 The couple's shop, Wine, Liquor & Craft Beer Depot, is in the Village of Johnstown, Ohio (population 4,763), 25 miles outside of the state capital, Columbus. The surrounding area is agricultural, but generations of farmers have watched new home development attract both urbanites and new industries. Even with this demographic mix, many places sell burgers and well known beers.
In this "everybody-knows-your-name" small town, Sean's family connection to the community has been a big asset. He grew up in Johnstown, where his father owned the gas station for 35 years and opened the original beverage shop 15 years ago. With both parents now gone, Sean and his brother Tom run the family business of maintaining their rental properties. Sean also serves as Johnstown's mayor.
Deep community connections have helped Sean and Shannon build an inventory of hundreds of wines and craft beers.
"I get great joy in sharing wines with customers and finding the perfect wine for them," says Shannon. Originally from Columbus, Shannon moved to Johnstown 10 years ago when she and Sean were married. Her previous jobs included banking, real estate, and an international modeling career, all fine-tuning her people skills.
"A friend introduced me to different styles of beer like IPAs and stouts, and as a consumer, I was frustrated I couldn't find these beers locally and wanted to bring them to our market," says Sean. He sees an educational component, such as expanding customers' tastes beyond Pilsner. "Shannon and I both learn from interactions with our customers, finding out about their interests and tastes."
Future plans for the store include opening a tasting bar, to build on that goal of educating customers about the products.
"Off-The-Wall" Art
Jane Font's Pandemonium Art Gallery is on historic 25th Street in Ogden, Utah, an area known for its galleries, restaurants, and shopping. But Font's funky 600-square-foot place is not a traditional gallery.
"I've always dreamed of opening a gallery that offered the kind of art I wanted to see," says Font. "Sometimes dark, or playful, mostly local, and always unique."
When she opened her doors in 2013, Font says she made extra efforts to embrace the community. "Because this 'pop-surrealism' art was so new to Ogden, however, it took more effort to connect with local residents and patrons," she says. "I volunteered to help organize events like the Farmer's Market and held youth exhibits," Font says.
She says she found success when she began holding paint parties at the gallery.
Font didn't just offer traditional step-by-step painting lessons. "I firmly believe art belongs to everyone, not just professionals, so I changed it up to focus on expression of creativity and individuality," she says. "It's so successful, I'm now scheduling two to five private paint parties a week." Font says.
The right mix of community connections, people skills and customer education can be a successful formula for entrepreneurs bringing something new to town.
Photo: Pandemonium Art Gallery, Ogden, Utah | During her 10 years as a freelance writer and book editor, Nancy LaFever has had her work published in BELLA Magazine, ReadersDigest.com, USA Today, Orbitz.com, and was a senior columnist for The Crafts Report magazine.