Small Business
Managing Your Business
4 New Year's resolutions to set your business on the right track in 2019
By
Margaret Spencer
Posted: 02/26/19
Updated: 12/06/19
You survived the holidays, are feeling fit thanks to your new year regimen and are feeling ready—to be more productive, more efficient and maybe even more adventurous—in your life and in your business.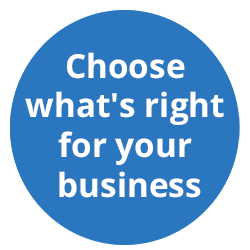 Let's put that energy to work! The new year is the right time to let your ambition take flight. But you can't just set 2019 goals into motion by wishing—business owners know that New Year's resolutions are a perfect way to recommit to your business.
Plus, you'll need ways to keep up your commitments as the months grow warmer. When your business is involved, the stakes are even higher to stick to your convictions. Whatever you resolve to focus on or improve this year, ensure that your team supports your business goals, and try to strategize a method for accountability.
Here are four realistic resolutions for business owners looking for a win this year.
1. Do an A-to-Z review of your year
It's easy to say that you won't make the same mistakes that you did last year, but how exactly will you plan to avoid them?
One easy step is to identify exactly where your mistakes occurred, whether in your supplier relationships, staffing, accounting, or other areas.
Begin to improve your operational efficiency—as well as your peace of mind—by reviewing important documentation from the last year , including financials. And, if possible, try to collect employee and management feedback on your internal operations.
Often, small business owners struggle with limited time and capital resources. Still, it's important to continually evaluate your processes, do what you can to avoid inefficient HR, payroll or other critical processes. If you can identify pain points by reviewing the prior year, you can find actionable, manageable improvements that positively impact day-to-day operations.
2. Get familiar with new regulations
Of course, you'll want to review your end-of-year sales and revenue numbers, but resolve to go deeper. Changes in local and national legislation, tax codes or industry regulations could affect your business, whether you are aware of new policies or not.
Specifically, understanding new small business tax policy is particularly important coming into the new year. The U.S. Internal Revenue Service (IRS) offers an online business hub with information on changes and major updates for small business tax policy. Remember that your local chamber of commerce is always a resource to contact, too.
3. Standardize hiring
The beginning of the calendar year is a great time to recruit, according to career site Glassdoor. On the other side of the holidays, applicants are typically back on the market, resolving to change careers or look for new positions. December, on the other hand, is the quietest month for job postings.
As an employer, holding off on recruiting until the New Year also gives you time to finalize job descriptions and listings, create a standardized process for candidates as well as complete any necessary training before onboarding new employees. The Society for Human Resource Management marks the cost of a hire, on average, to be $4,129—so a resolution to tighten your hiring system can help you keep recruiting costs at bay.
4. Make this year one for the books (literally)
If no other resolution sticks, this one is worth fighting to keep up with. Make an effort to maintain or begin keeping complete records for the year—whether it's for your bookkeeping, marketing performance statistics or something else entirely—ideally, both.
Keep your information organized and in a centralized place. Not only is it good practice, but you'll also have the resources you need to maintain and optimize your business over time. Becoming more organized could even increase your productivity and morale.
Starting the year with a clear idea of where you've been can help you make a roadmap for the year to come—and stay the course, too. If choosing goals for the year is an overwhelming commitment, or simply not feasible for your business, try making try making smaller, monthly mini-resolutions to help you get in the habit of regularly checking in on progress.
Finally, ensure new resolutions become standard practice by finding a way to enforce accountability. Begin with transparency with your team, emphasis on setting incremental goals and regular check-ins on progress. By this time next year, you may be well on your way to reaching new levels of success in your business.
Margaret Spencer is a Chase News contributor. Her work has appeared in the Fundera Ledger.