Your Money
Saving & Spending
This Couple Buried Themselves in Debt
Here's How They Dug Out of It.
By
Donna Freedman
Posted: 02/25/16
Updated: 11/10/17
Lauren Greutman grew up watching her parents live in the moment: See it, want it, buy it. They never talked about debt. When she married her husband Mark in 2004, she had the same attitude.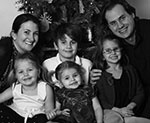 They made a good living: Mark was an actuary and Lauren was a sales director at Mary Kay, the cosmetics company. In 2007, Mark got a $70,000-a-year job in South Carolina, and Lauren quit her Mary Kay job. Once in South Carolina, they bought a 3,200-square-foot custom-build home for $230,000. They went on expensive vacations, ate out all the time, and shopped for furniture and gadgets for their new house.
"I just spend money," Lauren says. "Whatever I wanted, whenever I wanted."
By 2008, when Lauren and Mark were both 26, years of spending had come down to a pile of bills the couple couldn't pay. Lauren, who handled the couple's finances, made late payments, bounced checks, and transferred balances until she didn't even know how much they owed.
One night, "sick and tired of being broke," Lauren piled all the bills on their bed and called her husband in. Together, they did the math. Mark sensed they had been living beyond their means but "wasn't aware of the full extent of it," he remembers.
"I didn't want to deal with it," he recalls.
But, starting that night, he did. It turned out they owed $40,000 — more than half their household income of $70,000 a year. Making just the minimum monthly payment on their debt plus their mortgage, then greater than the value of their home, would cost $1,000 more than their take-home pay — without even counting living expenses.
They didn't argue. "Let's move forward on this," Mark said.
The Greutmans started reading blogs about money and debt and listening to personal-finance advice — and what they learned helped them cut luxuries and find creative ways to save money on basics. They canceled their cable television service, started buying clothes at yard sales and consignment stores, and ditched their landline in favor of basic mobile phone plans. Lauren found enough coupons and inexpensive recipes so that the monthly food budget for them and their child dropped from $1,000 to $200 a month. They explored repayment options and found less expensive car insurance. Lauren also began working nights as a server at a steakhouse.
The Greutmans put every spare dollar of savings toward their debt, paying off the smallest balances first because doing so gave them a psychological boost. After 18 months, they had paid off $5,000 — a small step in the right direction.
Then, in fall 2009, just after the birth of their second child, Mark's company began to plan a merger and he worried he'd be laid off.
That same day, Mark got a call from his former boss in upstate New York asking if he wanted to come back to his old company. Within two months, the couple unloaded their house in a short sale, sold some of their belongings on Craigslist and eBay, and rented an 800-square-foot townhouse in upstate New York. The move cost $4,000 but put them on the fast track to debt repayment. Rent cost $1,200 less a month than their mortgage.
Mark sold his prized drum kit for $2,000, partly as a "symbolic move" to show himself that he was serious about cutting back. Lauren started chronicling their newfound frugality on a blog, "I Am That Lady." Within a year, proceeds from the blog brought them about $1,000 a month — about three-quarters from affiliate sales for sites like Coupons.com and the rest from ads. This income, like the money from selling Mark's drum kit, went right to paying off their debt. The Greutmans began having a monthly budget meeting to track their spending and talk about their progress on their debt.
As they paid more of their debt, their credit score improved. By summer 2010 they bought a 1,800-square-foot house that cost the same amount per month as their rented townhouse. Although they had believed that they and their family "needed" a 3,200-square-foot house, they now think this new place has enough room for them and the four children they now have.
In February 2012, the couple made their final debt payment. Perhaps surprisingly, they didn't find it as meaningful as their 2008 decision to take control of their finances. "That moment when we determined to do it," Mark says, "it was like a switch flipped."
Lauren no longer had to hide the truth about their finances, and Mark no longer had to pretend everything was fine. Suddenly, instead of a shared delusion, they had a common goal.
"We took a negative — something that could destroy a marriage — and used it to draw closer to each other," he says.
The Greutmans still talk once a month about their finances — which they say is an important first step for anyone worried about debt.
"You can't fix what you don't admit," Lauren says. "As painful as it is, the only worse thing that could happen is not saying anything."
Donna Freedman, a former newspaper journalist, created the Smart Spending and Frugal Nation blogs for MSN Money. She also writes for websites like Get Rich Slowly and NerdWallet.