Small Business
Manage Your Business
5 things small business owners should know about tax reform
By
Bob Zyontz
Posted: 02/23/18
Updated: 12/06/19
The following story is intended to help small business owners navigate some of the trickiest aspects of managing their business, brought to you by Chase Business Banking.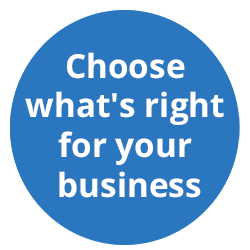 Congress recently ushered in the most extensive reform of the US tax code since the Reagan administration. The $1.5 trillion package lowers taxes for businesses and individuals through a wide range of provisions. Tax planning is a really important part of managing your cash flow, so it's particularly important that business owners understand the new changes and the impact it may have on your firm.
The goal of the new law, which took effect on Jan. 1, 2018, is to help organizations of all sizes grow, invest, and create jobs. However, its impact will vary depending on the size, structure and industry of your business. Here's a summary of the key changes most likely to affect you:
1. Lower tax rates
If you run a sole proprietorship, partnership, or S corporation—known to the IRS as "pass through" businesses – you'll see your top tax rate drop to 29.6 percent for qualified business income. As a "pass through" business, you'll no longer pay tax on earned income; instead, the profits (or losses) will pass through to you as the business owner and be reported as personal income.
The new tax law excludes some professional service businesses because of their higher income levels. For the most part, this includes the health, law, consulting, athletics, or financial services fields where the essential asset is the reputation or skill set of one or more of its employees or owners.
Professional services businesses involved in investment management, and the trading of stocks, bonds, and other securities for clients are also excluded.
2. Larger–and more–write-offs
Any qualified personal property you purchase for your business, such as a car, computer, or office space, is now fully deductible for a property acquired or placed in service after September 27, 2017 and before January 1, 2023.
For equipment not subject to 100 percent first year expensing, first year writeoffs are increased from $500,000 to $1 million and now includes equipment such as heating systems and home alarms.
3. More options for accounting methods
Many small business owners of C corps that are not personal service corporations prefer the more straightforward cash method of accounting, where you only account for income when the money is received. However, current law dictates that businesses with gross revenues over $5 million must use the accrual method, where you book revenue at the time of the sale.
Thanks to the federal tax overhaul, these businesses with up to $25 million in revenue may now stick with cash method of accounting.
4. Changes in the net operating loss requirements
When operating cost exceeds revenue on a business tax return, it creates a net operating loss (NOL). The new tax law allows businesses to carry those losses forward indefinitely and use them to offset 80 percent of their taxable income in a future tax-reporting period.
While you can carry these losses forward indefinitely, they cannot be carried back and applied to a prior tax period.
5. Potential for a trickle-down boost
Big corporations have had their tax rate reduced to 21 percent. Previously untaxed foreign profits held in foreign corporations will be taxed at 15.5 percent if held in cash or liquid assets, or at 8 percent on all other earnings.
If large firms respond to these changes by investing in expanded products and services, it should create opportunities for small businesses, as well.
With the tax overhaul now in place, 2018 will be a very interesting year for the US economy. To learn how the new tax law directly affects your business, set up some time with your accountant and discuss the tax strategies that work best for you.
JPMorgan Chase and its affiliates do not provide tax, legal or accounting advice. This material has been prepared for informational purposes only, and is not intended to provide, and should not be relied on for tax, legal or accounting advice. You should consult your own tax, legal and accounting advisors before engaging in any transaction.
Bob Zyontz is a Chase News contributor.