Your Money
Money Lessons
Scott Rogowsky takes aim at 6 dangerous money myths
By
Mary Sauer
Posted: 02/19/19
We all have beliefs about money—personal myths that can keep us from dealing with our finances in a healthy, logical way. HQ Trivia host Scott Rogowsky is no exception. He struggled for a decade as a stand-up comedian before finally getting his big break, and during that time he was confronted with his own fears about money.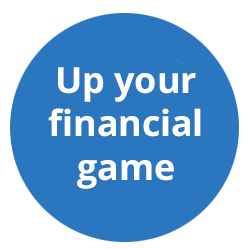 "It might sound silly or cliché, but you gotta have faith. I simply had to believe that I would reach my goals—in my career and my finances—while at the same time putting in the work and making decisions that I hoped would lead me to those goals; and staying true to my personal values and ethics even when I had very little," Rogowsky says.
To get a fresh perspective on money myths, we talked with Rogowsky about how he changed the way he makes and spends money while saving for the future.
Myth 1: Money is scarce
When Rogowsky was starting out, he didn't have a secure, full-time job, so he took on as many odd jobs as possible. At times he may have taken on too much, he says, because having a limited income can lead to a belief that money is scarce—even if you are covering your needs.
This perspective can encourage you to seize every money-making opportunity that comes your way, regardless of whether it's a good idea or not, Rogowsky says. "You don't have to take every short-term money grab," he explains. "Plan for the long-term."
To avoid this mindset, refocus your attention on your goals and values, Rogowsky says. Try dialing down your hustle a few nights a week, and spend those hours on exercise, reading or catching up with a friend.
Slowing down to make note of what you have will encourage to you work from a place of gratitude, instead of a fear that every dollar could be the last you'll ever spend or make.
Myth 2: All debt is bad debt
Like many people, Rogowsky says that he has occasionally been guilty of labeling all debt as fundamentally bad—particularly when his cash flow was limited. But debt can sometimes be good: for example, it can help you to finance large purchases and save you money in the long term. That's why students use loans to finance their education or startups borrow money from investors.
If you're worried about student loans or other debt, Rogowsky suggests thinking about it in the long-term. Will this purchase help you towards a successful future? Can you realistically pay it off? Will you make money off of this purchase or investment? Is it low-interest debt, or high-interest, which will cost you more over the long run? If you can answer these questions, it can help determine if it makes sense to take on some debt.
Myth 3: Your money belongs in a savings account
Saving money is always a good idea, but a savings account may not be the best way to do it. Saving came easy to Rogowsky—his father helped him open his first savings account around age 6—but if you're starting out saving later in life it may be smart to opt for other, higher yielding options.
For example, while standard savings accounts allow you to easily withdraw money for unexpected expenses, they also tend to have very low interest rates. If you really want to see your balance grow, do some research and look into whether you're ready to start investing. If you are ready to invest, considering starting early and being consistent, Rogowsky says.
Myth 4: You need to be making good money to give back
Looking back, one thing Rogowsky is glad to have practiced is generosity—no matter how broke he was at the time. "I struggled for a long time in my business, not making a lot of money, like really hurting for money, but still giving back to charity," he says.
Regardless of your situation, chances are that you're in a better place than someone else—and that they'd appreciate your generosity. If you're low on cash, find ways to give your time, like volunteering for a cause that you care about. Not only will this bring you closer to your community, but helping others can make you feel good—and could also give you a better perspective on your own finances.
Myth 5: You're expected to never make mistakes
Rogowsky tries not to dwell on his financial mistakes. "I've gotten super stressed about mistakes I've made, like when I made a bad deal, or sold something at the wrong time," he admits.
Setbacks happen, but whether you get a $100 speeding ticket or make a bad decision about how to spend your money, don't beat yourself up. Instead, honestly evaluate what went wrong and what actions led to your mistake.
Often money mistakes are the result of not knowing. And while you can try to fill in the gaps in knowledge yourself, it can be helpful to find a money mentor to help you sort through your questions about complex financial decisions.
"Talk to someone you trust about what happened and then make a plan for smarter choices in the future," Rogowsky says.
Myth 6: You need to take the first offer
We're constantly surrounded by limited-time offers and high-pressure sales pitches, pushing us to make instant decisions. To avoid getting caught up in the hype, Rogowsky practices a habit that he learned as a kid when he and his dad went to baseball card shows.
"I'd walk into this big room with 300 dealers and I'd jump at the first table I saw and want to buy everything," he says. "My dad would tell me to take a look around and do some comparison shopping."
Rogowsky suggests slowing down your spending. Shop around online for flights. Check eBay or similar sites to see if something you want could be bought used. Don't jump at the latest offer; instead, take time to weigh your options and make the most sensible purchase.
While it can be difficult to keep all of your money fears at bay, thinking—but not stressing—about your finances can be a sign that you are on the road to taking control of your finances.
"It took me a long time to feel comfortable financially," Rogowsky says. " But working hard paid off in the long run."
Investing involves market risk, including the possible loss of the principal amount invested.
JPMorgan Chase Bank, N.A. and its affiliates (collectively "JPMCB") offer investment products, which may include bank managed accounts and custody, as part of its trust and fiduciary services. Other investment products and services, such as brokerage and advisory accounts, are offered through J.P. Morgan Securities LLC (JPMS), a member of FINRA and SIPC. Annuities are made available through Chase Insurance Agency, Inc. (CIA), a licensed insurance agency, doing business as Chase Insurance Agency Services, Inc. in Florida. JPMCB, JPMS and CIA are affiliated companies under the common control of JPMorgan Chase & Co. Products not available in all states.
INVESTMENT AND INSURANCE PRODUCTS ARE:
• NOT FDIC INSURED • NOT INSURED BY ANY FEDERAL GOVERNMENT AGENCY • NOT A DEPOSIT OR OTHER OBLIGATION OF, OR GUARANTEED BY, JPMORGAN CHASE BANK, N.A. OR ANY OF ITS AFFILIATES • SUBJECT TO INVESTMENT RISKS, INCLUDING POSSIBLE LOSS OF THE PRINCIPAL AMOUNT INVESTED
JPMorgan Chase Bank, N.A. Member FDIC
© 2019 JPMorgan Chase & Co.
Mary Sauer is a Chase News contributor. Her work has appeared in The Hairpin, and Romper, among other media outlets.