Your Money
Saving & Spending
How to Spend Smart for Your Dream Wedding
Plan a Meaningful, Memorable Day Without Breaking the Bank
By
Kara Wahlgren
Posted: 02/19/16
Updated: 01/28/19
The good news: A projected 6 million couples in the U.S. may get engaged this Valentine's Day. The less joyful news: About one-third of them will go into debt paying for their big day, according to a survey conducted by TheKnot.com and PayPal.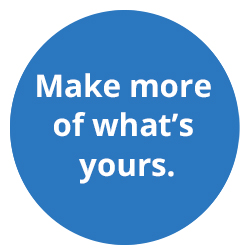 Chase is celebrating National Savings Week January 22nd through January 28th. Our series aims to provide tips and insights for saving today, tomorrow, and in-between.
It's easy to get swept up in the excitement of planning a fairytale wedding. But spending too much could turn your "happily ever after" into agony ever after (okay—huge exaggeration, but you get the point).
Sticking to a wedding budget doesn't mean you have to sacrifice your vision. Here's how to plan a wedding that fits your style and your budget.
Pinpoint Your Priorities
Before you start planning, sit down with your spouse-to-be and decide which details are most important to both of you. Is there anything you want to splurge on, such as your dream dress, a high-end photographer or a DJ who can keep the party going?
"Spend the money where it has the most value to you, and scale everything around those two or three things," says Karen Ann Daniels, owner and creative director for K.A. Creates, an event planning company in San Diego. Just don't skimp on food and entertainment, she says, since those elements typically have the biggest impact on your guests' enjoyment. "No one remembers what color the groom's tie was," Daniels says, "but everyone will remember a cheap meal and not enough booze."
Cater Creatively
The good news: Wedding food doesn't have to be expensive to be enjoyable. In fact, you can save money by creating a more personalized menu: Hire a taco truck, stock up on local beers or serve tea sandwiches at a garden wedding.
Hosting a brunch wedding is another great way to save on catering. "There are lots of creative ways to present breakfast foods, like mini chicken and waffles, sweet and savory crepe stations or a grits bar," suggests Nicki Korman, a wedding planner with TOAST of the Coast in Amelia Island, Florida.
Think Outside the Banquet Hall
Look beyond the least expensive ballroom and hold your wedding in a unique or meaningful space. "Some great places to look are city parks, rec centers, art galleries or libraries," says Daniels. Korman also recommends calling your favorite restaurant and asking if you can rent it out for your wedding; restaurants are equipped to host large groups, but they're typically less expensive than a ballroom or banquet hall.
Trim Your Guest List
A scaled-down guest list allows you to spend more time with your closest friends and family while significantly reducing costs. Many of the biggest expenses—like catering, cocktails, invitations and favors—are calculated per person, and The Knot estimates the average cost per wedding guest is $200.
"I always tell my clients to ask themselves, 'Would I take this person out to an expensive dinner any other time?'" says Korman. "If the answer is no, then you can most likely cut them from the list."
Forego the Favors
Before you buy 150 wine stoppers engraved with your wedding date, ask yourself how often you save the favors you receive at weddings.
"Guests will not miss wedding favors or all the little knickknacks we tend to accumulate, like mints, matches and flip-flops," Korman says. "The small stuff adds up. So save your money and allocate your dollars toward items that will have the biggest impact."
If it feels too untraditional to you to skip favors altogether, consider making a donation to a favorite charity on behalf of your guests instead.
Hire Professionals
Yes, it would be cheaper to have your aunt make her famous baked ziti and your cousin spin his playlist. But professional vendors are better able to handle the demands of a wedding.
Instead of putting your loved ones to work, look for ways to keep your costs down in each category. Hire a florist, but choose in-season blooms to save money; hire a DJ, but skip the laser light show; hire a photographer, but pass on the photo booth. And think of a wedding planner as a financial advisor for your big day: "A planner can help you allocate your budget, negotiate contracts and secure the best prices," Korman says.
Focus on the Future
Above all, don't let wedding planning get in the way of a happy marriage. "Money is one of the number one reasons couples fight," Daniels says. "Be very clear with each other about how much you have to spend and your future plans—buying a house, changing jobs, starting a family." When you're tempted to stretch your budget for chair covers, towering centerpieces or a seven-tier cake, remember your big-picture goals: they may help you resist those pricey extras.
Kara Wahlgren is a full-time freelance writer based in New Jersey. She specializes in health writing, entertainment coverage and personal finance. Her work has appeared in Women's Health, HGTV, Fine Living, MSN, Yahoo and more.