Your Money
Credit & Debt
Paycheck to (Unpredictable) Paycheck: Is Income Volatility the New Normal?
Volatility in Income Can Make Saving and Spending Tougher
By
Elizabeth Millard
Posted: 10/23/15
Updated: 11/10/17
Despite low unemployment rates in the United States, many Americans struggle with paychecks that differ from week to week, leaving them scrambling to prepare for a stronger financial future."We knew from our first report, Weathering Volatility, that consumers across all income levels are facing a significant amount of income volatility and that they don't have the financial buffers to sustain these financial ups and downs," said Diana Farrell, President and CEO of the JPMorgan Chase Institute. "Our new report takes a deeper look at this issue to understand the impact that a person's job and paycheck can have on that volatility and the ways in which consumers are managing it."
"When you don't know how much you'll be paid from one month to the next, you have to be really careful," says Erika Maastricht, a home health aide in Michigan whose on-call schedule varies every week. "You develop strategies to save whenever you can, but sometimes it seems like you'll never get ahead."
Maastricht isn't alone in trying to navigate income fluctuations. New research from the JPMorgan Chase Institute reveals that pay volatility is prevalent throughout the United States.
Navigating the Uncertainty
According to the report, most of the month-to-month volatility in take-home pay came from changes in paycheck amount of how often an individual is paid within a single job, rather than fluctuations from multiple jobs or a job change. For example, some months have five Fridays, which causes a difference in monthly amount.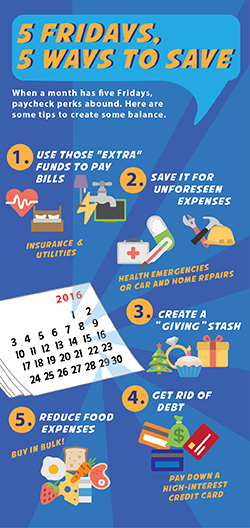 The JPMorgan Chase Institute report noted that many people experience nearly $500 in income swings across months. Although that can include spikes in earnings,it's usually more often seen as dips.
In order to deal with income fluctuations, some Americans end up like Maastricht, employing strategies they hope will act as a buffer for the times when income is lower. For example, she puts her "fifth Friday" paycheck during those months with an additional pay period directly into savings.
"Recently, I had medical bills that almost wiped out what I'd saved up," she says. "That wasn't fun, but I was happy I had it, rather than going into debt."
Working to Get By
Although income volatility is prevalent across all income levels, the JPMorgan Chase Institute found that it was most notable among the young, those living in the West and those in lower income tiers.
Marlene Malon, a service worker in California, says her fluctuating paycheck barely covers necessary expenses. So she is constantly getting creative to make that money last. She spends four hours every Sunday morning going through free newspapers for coupons and supermarket sales. She buys in bulk when she can, in preparation for the lower-income months.
Malon admits that the income volatility can be exhausting, especially because it involves numerous sacrifices. She doesn't invite anyone over for dinner, for instance, and her family doesn't exchange gifts on birthdays or holidays.
Once a month, she'll treat herself to a gourmet coffee drink or a small bottle of nail polish. "I have to do that little bit of self-love with a treat like that. It may sound silly, but it helps."
Second Job Blues
Another major finding from the recent research is that a second job often doesn't immunize people from income volatility. They may be taking on that work to make up for shortfalls in a primary job.
That's the care with Minnesota farmer Karla Pankow, who deals with monthly and seasonal fluctuations in income. Like many farmers, she takes on other jobs even in the peak growing season, but still ends up relying on bartering to stretch her finances. For instance, she teaches fitness classes at a local gym in exchange for a membership. She also barters homegrown produce in exchange for repair work on her equipment and vehicles.
"It would be nice to know exactly how much is coming in every month, but it just hasn't worked out that way yet," Pankow says. "It takes creativity to keep thinking about what other options you have for making money, and saving what you do have."
Going for Gigs
Although second jobs aren't quite the income lifter many might think, the results are more positive among those who are part of "the gig economy," the report found.
These flexible, highly accessible opportunities to work could potentially buffer against income and expense shocks. And this online-platform economy is growing fast, participation doubled about every six months across the three years , the JPMorgan Chase research found.
"I absolutely love working this way, because I make some extra money and I still have the freedom to do what I want," says Mini Newell, who does legal work in Washington, D.C. during the day, but picks up spare jobs via TaskRabbit in the evenings and on weekends. Her gigs are varied, from standing in line at restaurants that don't take reservations to picking up prescriptions for someone who's just had surgery.
"When I thought about getting a second job, I knew I didn't want a rigid schedule, or to clock in somewhere," says Newell. "These gigs let me choose my own pay rate, and I can take the tasks that seem interesting to me."
Newell sets income goals for each month, and then does gigs until she meets that number. "I take this work very seriously, but at the same time, it can feel like a game when you're trying to make a certain amount. That keeps it fun."
Elizabeth Millard is a freelance writer whose work has appeared in Entrepreneur, BusinessWeek, and Delta Sky Magazine, among other publications.