Small Business
Managing a Small Business
Chase, Yahoo Team Up to Help Business Owners Drive Growth
Successful Entrepreneurs Share Their Advice
By
Adrienne Jane Burke
Posted: 02/13/15
Updated: 11/10/17
A day care provider, a wine importer, a record producer: They're in different businesses, but they share a need for new ways to engage existing customers and win new ones.
The three were among more than 200 small business owners who attended "Strategies to Ignite," an event hosted recently by Chase Paymentech and Yahoo Small Business in New York, to learn ways to leverage new technologies and ignite growth.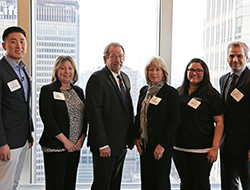 In a Q&A session with Chase Paymentech President Dan Charron, a panel of five successful small business leaders offered practical advice on using the latest payment and social media tools to capture and keep customers, based on their own experiences:
Jack Shamosh, CEO of Youngland, shared how his girls' clothing brand gets loyal moms to boost the business via Instagram.
Shannon Kelley, CFO at The Paper Store, told how a mobile point-of-sale system has paid off.
Solomon Choi, Founder of the frozen yogurt chain 16 Handles, offered innovative ideas for leveraging social media.
Pam Macharola, co-owner of Blair Candy, explained how her wholesale and retail business conveys a friendly image on its e-commerce platform to get an edge on big manufacturers.
Ed Berger, Vice President of Sales and Operations for eCommerce Outdoors, described how the online sports outfitter takes on the big-box stores.
Todd Hay, head of Yahoo Local, Maps and Small Business Local, and Mia Shernoff, the Executive Vice President of Marketing for Chase Paymentech, joined the group as they offered nine rules for success:
1. Present your brand consistently across platforms. Hay warned against losing control of your brand presence. Your website is just one of many places people will discover your business today, he said. Ensure that images, contact information, hours, inventory and pricing aligns everywhere your brand can be found, from Yelp to Facebook, Yahoo search, Google search, and mobile apps.
2. Know what customers seek. Consumers search for different businesses in different ways. They seek doctors based on expertise and insurance plans, look for restaurants based on location and images, and find salons based on friends' recommendations and appointment availability. "Understanding what makes your customer choose you helps you present the right information," Hay said. He urged the audience to use social media to offer more than just contact information, and to enable customers to make appointments or buy products online. The online call to action is underutilized, he said.
3. Help your fans promote you. The most powerful traffic is driven by your customers. "Provide them the tools to market for you," Hay said. Giving customers coupons to pass along and hashtags to use when sharing photos of their purchases are just two examples. Youngland's Shamosh said his business ran a Halloween Instagram contest that prompted its several thousand followers to post pictures of their children in costume. People shared pictures of Youngland products while pointing friends to the brand.
4. Evaluate your payment processing strategies. Shernoff explained how small businesses are increasingly becoming multichannel merchants, with both a physical location and an e-commerce presence. Today, more consumers are willing to pay via a mobile device. In fact, more than 1 million Chase cardholders have enrolled in Apple Pay, she said, adding that traditional cash registers might soon be a thing of the past.
5. Ring up sales faster with new technologies. "The way you take payments can ignite your growth," said Shernoff, adding that companies like Uber couldn't have been started without mobile-payment technology. The Paper Store's Shannon Kelley described how her Framingham, Massachusetts, location processed more than 2,000 sales in 4 hours at a Bobby Orr book signing last year by implementing a mobile point-of-sale system. The company later put systems in some of its largest stores for the holidays, and seasonal revenues rose sharply.
6. Go mobile to reach in-store customers. A 2014 survey by the marketing-intelligence firm GfK found that showrooming — shopping in-store, but then purchasing via smartphone, often from another retailer — is on the wane while more purchasers report doing extensive research online before making an in-store purchase. "Consumers are always going to want to be educated, particularly with large-ticket purchases," said Shernoff. Use of smartphones and tablets for shopping has doubled in a year, while use of PCs and laptops to conduct online research and make purchases is still dominant, but slowing.
7. Learn how your customers communicate. Entrepreneur Solomon Choi said that newspaper advertising for the frozen yogurt business he started near New York University wasn't effective. So when he discovered that 16 Handles had become one of the most "checked-into" locations on Foursquare, and that his customers were talking about it on social media, he ditched print ads and undertook aggressive Facebook and Twitter marketing.
8. Use social channels to drive in-store business. In one savvy social media marketing campaign, Choi asked 16 Handles Facebook fans to vote on a new frozen yogurt flavor. He announced the winner online and scheduled the launch of the new flavor at 2:00 pm on a Tuesday. Sales spiked at that typically slow hour. Choi said that although women aged 18-34 are his main market, his social media audience trends younger and favors Snapchat. During winter break, when 16 Handles' college-student customers were away, a "Snappy New Year" campaign invited local teenagers to create a sundae, capture a Snapchat picture, and share it with the cashier within 12 seconds to get up to a 100 percent discount. New Year's Day was busier than ever.
9. It's still about the humans behind the technology. Pam Macharola of Blair Candy said she competes with big manufacturers and slick social media campaigns with a fun, friendly web presence and excellent customer service. Ed Berger said that when he started online in 1997, he knew competing with the biggest retailers wouldn't be easy so he decided he would stand out by providing expert product knowledge and the best service. Seventeen years later, the business has expanded into a multi-channel specialty retailer, with two physical locations and seven online stores serving customers worldwide.
After the session, a number of small business owners shared their reactions and explained how they planned to implement the advice:
Denis Cranstoun, Founder, x3East: "The biggest takeaway for me is that established companies, like Yahoo and Chase, have not just the capabilities and the tools, but the willingness to work with small businesses. We're building a location-based discovery, communications and purchasing platform that caters to college sports fans around game-day weekends and multi-day events. Both what Chase offers on the payments side and what Yahoo offers on the maps and discovery platform side appeals to us."
Jaclynn Shweky, Partner, Set to Celebrate: "Jack Shamosh mentioned using Instagram photos from your customers for search-engine optimization and to drive business back to the store. We're an online party retailer, and will consider doing that."
Glenn Turner, Owner, HarrMonika Music: "I've been in the music business for 40 years and have seen my industry go from cassettes to DVDs to iPods. As people are becoming more sophisticated, social media has been a wonderful way for me to grow and get out there. At this event, I heard an affirmation that I'm on the right path."
Lydia Short, Owner, TTT Events Planning: "I really liked the idea I heard here that 'businesses take on the personality of their owner.' I thought that was profound."
Sazara Johnson, Owner, SaTechRo: "People are talking about millennials all the time, but I liked the focus here on understanding your customers from all generations, and the advice to consider that the customer who finds you through social media could be different than the one who comes through your website or into your brick-and-mortar business."
Charles Bataille, Founder, Alpine Selections: "I learned a lot from the panel of entrepreneurs. My business imports wine and we have to be close to the tastes of our customers. To hear how Solomon did it gave me so much energy to want to get to know our customers better."
David Kontra, Owner, The Budget Photographer: "My biggest takeaway was seeing how much more I could focus on social media to engage my target audience: women who are looking to get married and hire a wedding photographer."
Learn how your business can process mobile payments, including Apple Pay, with Chase Paymentech, and how Yahoo Localworks can ensure that your brand appears consistently in more than 40 online directories.
Adrienne Jane Burke is a freelance journalist who covers science, technology and startups and is a Contributing Editor at Techonomy. She was the Founding Editor of Genome Technology and Executive Editor of the New York Academy of Sciences magazine.