Your Money
Success Stories
Scott Rogowsky's secret to success: Be bold...and budget
By
Mary Sauer
Posted: 02/11/19
Updated: 02/19/19
You may know Scott Rogowsky as the nattily-dressed, wise-cracking host of the popular app HQ Trivia. But before he landed the gig in 2017, he found himself at a dead end: he was 10 years into his career as a standup comedian, but still hadn't gotten his big break.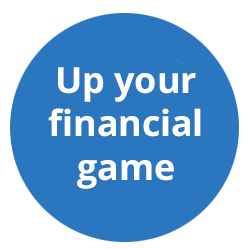 At the time, HQ Trivia was a brand new app with only a few thousand players. But within a year and half, it has garnered tens of millions of users—and turned Scott into a rising celebrity.
With the success of HQ Trivia came a bigger paycheck, but Scott says he hasn't changed the money habits he established as a struggling comedian hoping to make ends meet.
We quizzed Scott on his financial history and discovered his secret to financial health: consistency.
Read on for his take on first jobs, money mistakes and building a financial future.
Q:| What did you do with your first paycheck?
Oddly enough, my first job was as an actor at the age of six in a stage production of Madame Butterfly. The show came to my hometown and I worked as an extra and earned $25. It was a big deal for me seeing that first paycheck with my name it! The first thing I did was set up a saving account, so I could save up for baseball cards that I wanted.
Q:| How did you balance a budget while pursuing comedy?
I started doing stand-up in college, and that was the coming out moment for me. It was like "Oh, I'm a comedian; I belong on stage."
After college, I was an intern and contributing writer at the Onion, a satirical newspaper—when it was still a newspaper. I would get paid small fees for selling headlines—$25 here, $50 there—but those Onion checks were the proudest I've ever gotten.
I worked hard to make my budget work. I was living very cheaply, paying very little rent with multiple roommates. All of my clothes were second hand, all from thrift stores. I was really strict with myself and focused on only spending on food, clothes and occasionally a trip to the movies. I even moved back in with my parents for a time to cut my expenses even more.
Q:| You weren't tempted to indulge with credit cards?
No, I was really careful. It can be tempting to let credit card balances spiral out of control, but I paid my full balance every month and never had to pay interest on a carried balance. I thought it was a smart move because I couldn't save much money, but I managed to keep my finances relatively stable.
Q:| What do you wish you had known about money in college?
Time is money.
We've all heard it before, but it's a cliché for a reason. I could have learned that lesson earlier. In college, people are constantly wanting you to hang out or go out. There are too many distractions.
You can always blow off stream and de-stress, just realize that everything you do has a value to it. If you spend all day playing video games, watching TV, or consuming something passively, realize that you could instead use that time to make a video, writing an article, or being creative in a way that could earn you money or set you up for a job in the future.
It's really never too early to start figuring out and practicing your passions because they could lead you to a future career or opportunity.
Q:| What does financial freedom look like for you now?
Since I started at HQ Trivia, my paycheck has grown, but I still have careful spending habits. There are changes of course, I have my own apartment now—no more roommates! And I started to save for a home purchase. It's funny though: even though I can treat myself or my friends to dinner sometimes without getting anxious, I still do my clothes shopping at the Salvation Army.
JPMorgan Chase Bank, N.A. Member FDIC
© 2019 JPMorgan Chase & Co.
Mary Sauer is a Chase News contributor. Her work has appeared in The Hairpin, and Romper, among other media outlets.