Your Life
Explore Seasonal Trends
Why national parks are great winter vacations
Skip summer crowds and hike and snowshoe through transformed landscapes
By
Danielle Shapiro
Posted: 02/20/17
Updated: 01/04/19
The following story is part of a broader series presented by Chase Freedom to inspire practical tips for your winter spending. Make the most of your vacation this season when you receive 5% cash back on gas and travel expenses through the end of March.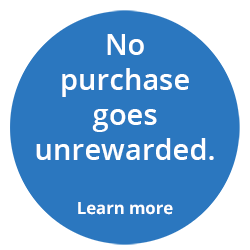 Paul Robertson, general manager of Lone Mountain Ranch, in Big Sky, Montana, near Yellowstone National Park, says it's a myth that visiting the parks in winter is challenging. An added bonus: no crowds.
It just requires the right gear—a sturdy pair of waterproof hiking or snow boots, moisture-wicking socks; and an appropriate amount of layers—fleece or wool sweater, a down jacket, a good windbreaker, along with a warm hat and insulated gloves. By gaining cash back on these everyday purchases with your Freedom card, you could even tack on a water reservoir backpack for those long hikes. For snow-covered areas, you'll also want sunglasses to protect your eyes from the glare, and trekking poles with snow baskets for stability. And, once outfitted, an experienced guide.
When Shannon Entin and her husband Paul were planning their family ski trip out West last January, the couple realized that a slight detour on their drive would land them in Arches National Park, just north of Moab, Utah. Most people visit in the summer. In fact, the only other time the couple had visited the park was in that warm season. But, they thought, "wouldn't it be gorgeous there?"
In January of 2016, about 20,000 people visited Arches. By May, that number jumped to more than 200,000, according to the National Park Service. (The National Park Service celebrated its centennial in 2016.) With low entry fees, spending a day or two visiting the park is great for the budget traveler.
Most of the coldest of the roughly 400 protected areas remain open year-round. Although there may be fewer open services, like lodging, shops or visitor centers, than there are in summer, activities like ice fishing, skiing, snowmobiling and snowshoeing abound.
With a thin cover of snow blanketing the ground, Shannon and Paul drove through the park, stopping for short hikes throughout the day. The contrast between the bright white flakes and deep red sandstone was striking. "Everything just kind of sparkled," says Shannon, 47, of Bloomsbury, New Jersey. "It was a totally different experience."
Here are a few national parks to visit this winter where you too can have an off the beaten path vacation: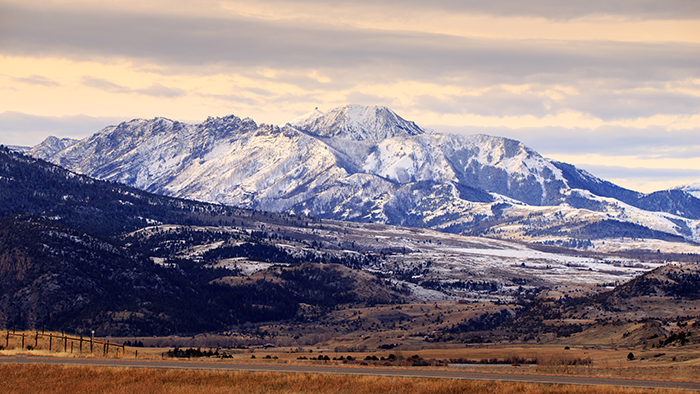 1. Yellowstone National Park
Location: Montana, Wyoming, Idaho
Best bets: Cross-country skiing, snowshoeing, snowmobiling, wildlife safaris
Best time: December – April
Although most of the park roads close in the fall, there is still much to do and see. Bison, moose, elk, bighorn sheep, coyotes, bald eagles, wolves, otters, and more roam the park's 3,472 square miles. Many of the more than 10,000 hydrothermal features and 500 active geysers are still accessible in the winter. "It's not just a question of colder temperatures or fewer people," says Robertson. "The entire environment is transformed."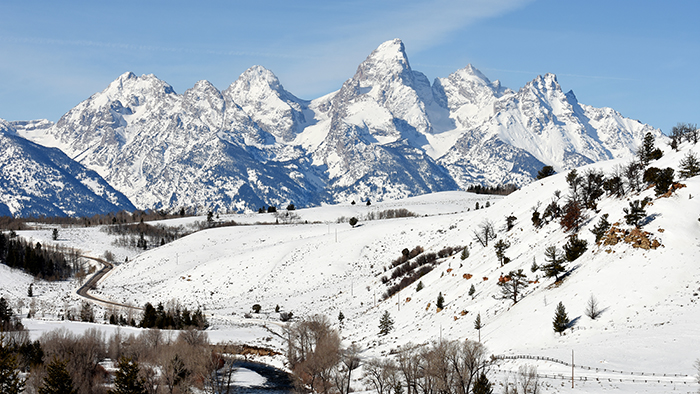 2. Grand Teton National Park
Location: Wyoming
Best bets: Backcountry downhill skiing, cross-country skiing, snowshoeing, snowmobiling, wildlife safaris
Best time: December – April
Just a few miles south of Yellowstone is Grand Teton National Park. Home to impressive mountain peaks, glacial lakes, and hundreds of animal species, its terrain boasts some of the best backcountry downhill skiing anywhere. With similarly closed roads, there are opportunities for snow sports, and wildlife viewing, all in near solitude. A scenic drive from both Yellowstone and Grand Teton, takes you to Jackson Hole, where you can find charming hotels, delicious food, and any piece of outdoor clothing or gear you could possibly need (or just really want).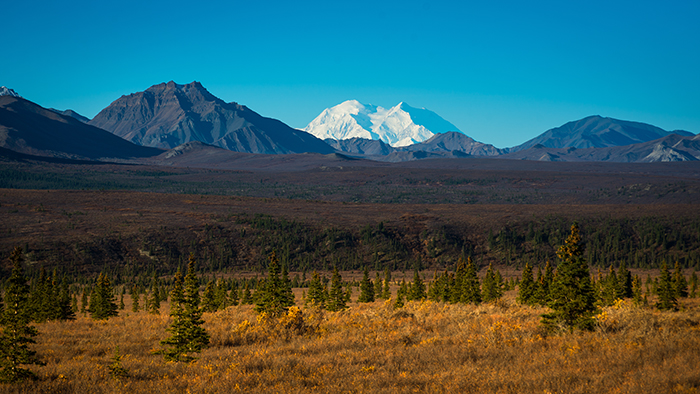 3. Denali National Park and Preserve
Location: Alaska
Best bets: Cross-country skiing, winter biking, snowshoeing, backcountry downhill skiing, dog sledding, camping, stargazing, and viewing the northern lights
Best time: December – April, March is particularly nice with longer days and warming weather
The sub-Arctic desert environment of Denali National Park can be less daunting, with less snow, than many visitors would imagine. But the weather can still vary in the extreme. Yet, with plenty of front country hiking trails open, dog sledding tours available, a luminary solstice ski in December, and an extended winter festival in February to mark its centennial, it may be an ideal, if off-beat, winter destination.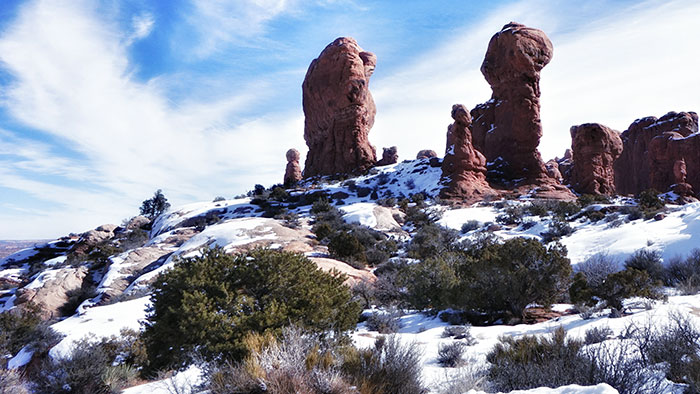 4. Arches National Park
Location: Utah
Best bets: Hiking, camping, stargazing, scenic drives
Best time: December – March
Although disappointed that hiking to the famous Delicate Arch was too icy for the Entin family, on the trails they did walk, Shannon Entin said the park "was quiet and chilly and peaceful." They saw only a handful of people and the combination of outdoor adventure with such stillness deepened their family bonding. Most trails remain open throughout the year. To return to civilization, the nearby town of Moab offers a chance to reboot, and fill up on southwestern dishes.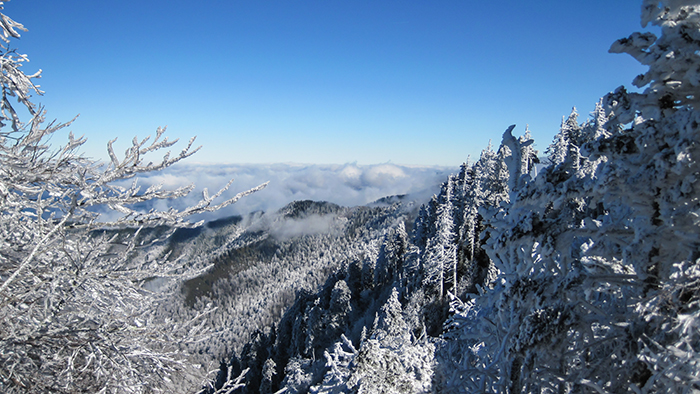 5. Great Smoky Mountains National Park
Location: North Carolina, Tennessee
Best bets: Hiking, camping, biking, snowshoeing, cross-country skiing, fishing, scenic drives
Best time: November – February
The nation's busiest national park, sheds its foliage and, with air free of summer haze, unobstructed mountain views unfold for winter travelers, especially from the higher, sometimes snowy, elevations. There are 100 historical structures within the park and those too, are easier to spot as the dense vegetation thins. You can tour the Mountain Farm Museum with demonstrations of how a 19th-century farm operated. Come back to the 21st century in nearby Asheville, North Carolina, known for farm-to-table restaurants and craft beers.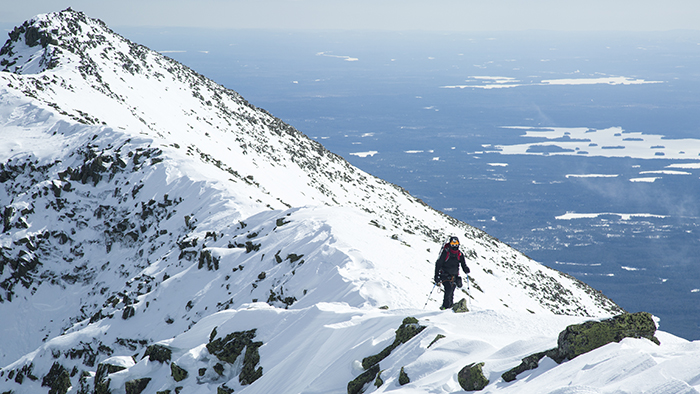 6. Katahdin Woods and Waters National Monument
Location: Maine
Best bets: Hunting, camping, snowmobiling, cross-country skiing, snowshoeing, ice fishing
Best time: December – April
The country's newest national park unit, and Maine's largest, has roughly 87,500 acres of mountains, forests, and waterways, ripe for exploration and adventure, even in the winter. There are two fee-free huts accessible by cross-country skiing, and equipped with cooking utensils, firewood, and a propane stove so guests need only food, sleeping bags and gear. In nearby Millinocket, you can find comfortable hotels, and try your hand at dog-sledding, snow-showing or snowmobiling.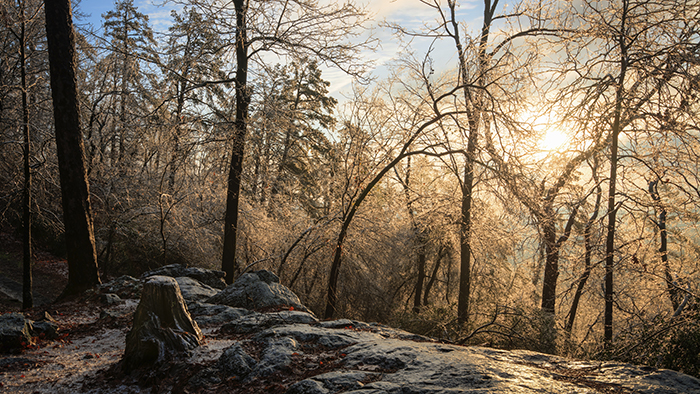 7. Hot Springs National Park
Location: Arkansas
Best bets: Traditional baths fed by the park's hot springs, hiking, camping, scenic drives
Best time: November – March
This unique parkland of more than 5,000 acres has 47 natural hot springs used since the 19th century for their restorative qualities. Today, visitors can take a traditional bath in one of the original bathhouses, or plunge into the same thermal waters surrounded by more modern facilities for a true spa day getaway. The mild Arkansas winter means hiking some of the park's 26 miles of trails, and even camping, is doable before or after a good soak.
Danielle Shapiro is a Chase News contributor.