Your Money
Celebrate Life Moments
6 ways to save money on a wedding dress
By
Carrie Anton
Posted: 02/13/17
Updated: 05/22/18
Weddings are a major life moment, and involve thoughtful financial planning. In this series, Chase looks at smarter ways to approach the costs of weddings, presented by Chase Slate.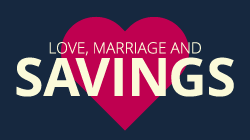 When Mizar Turdiu got married, she wasn't like her friends who spared no expense for their big day looks. Instead, Turdiu saved by swapping bridal boutiques for New York City's fabric district.
She found a photo in a magazine of a bride in a slim, 1920s-style dress and instantly fell in love. It was different from the poofy styles that her friends were wearing, so Turdiu turned to her mom, who is a seamstress. For $125 spent on lace fabric—at least a thousand less than what her friends were spending on gowns—Turdiu had a custom-made wedding dress featuring her mother's amazing talent.
If you're in line to say "I do," finding a dress is likely top priority. But with brides spending an average of $1,500 on wedding dresses in 2015—and thousands more if you have your eye on a designer label—what you want versus what you can afford may not match up. A handmade dress is one option. But if you're not as fortunate to have a seasoned seamstress standing by, don't fret. There are many ways to save money on a wedding dress without blowing the rest of your wedding budget.
Here are six tips to affordably say yes to the dress: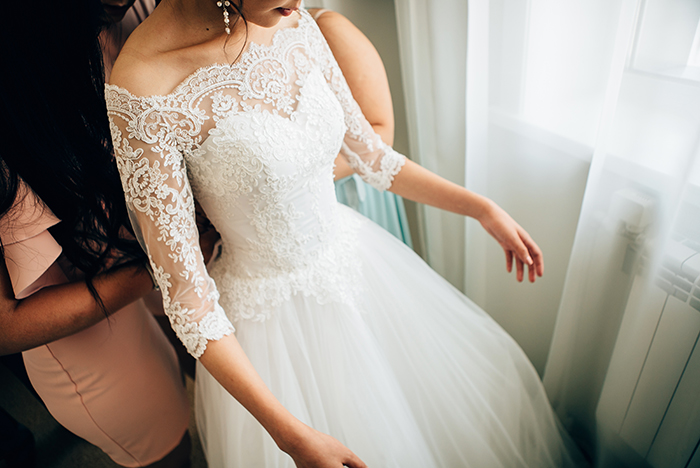 1. New to you: Some brides may preserve their wedding gowns for future daughters, but many dresses end up in consignment shops, or websites that showcase pre-owned dresses.
Sometimes brides can be superstitious about a pre-owned wedding dress, worried that it might bring bad luck. But if it means more money in your pocket, forget about it. Realistically, there may not be any bad luck behind a used dress at all, it may just be that the previous owner needed to declutter.
Don't assume used dresses are all you'll find on the secondary market. "I found that many brides who were less concerned about a budget than I was would purchase multiple dresses, choose one to wear, and consign the others with tags still on," says Melissa Joseph Muntz of Frederick, Maryland. Muntz recalls finding the exact same dress she had previously tried on at a name-brand national chain for $200 less.
2. Cyber savings: Post-Thanksgiving deals aren't just for holiday gifts. When Patricia Zurita of Rancho Cucamonga, California, waited to buy a dress she loved and it paid off come Black Friday. "The dress was more than 60 percent off, and I ended up purchasing it for less than $100," she says. "To my surprise, the dress arrived in a few days and it looked great—just like the online photo."
3. Bridesmaid dress as wedding dress: When Sandy Magura was shopping for her wedding dress in Long Island, New York, she became frustrated with the high prices. Many of the styles Magura leaned toward only came in bright white, washing out her skin tone, and made her look unnaturally pale.
Then, a salesperson had an idea. "She brought out a strapless, mermaid-cut bridesmaid dress in maroon, and told me to keep an open mind," Magura recalls. The red color complemented Magura's complexion, and she loved the gown's fit.
At $100 for the dress, and an additional $100 to elevate the look with matching satin buttons up the back, Magura walked down the aisle in a budget-friendly bridesmaid dress fit for a bride.
4. Mix and match: Skip the dress entirely and opt for bridal separates instead. "I often liked the top of one dress, but the skirt of the other," says Danielle Wen, who found separate pieces to be the perfect alternative when shopping for her own wedding dress.
Mix-and-match bodice and skirt options allow you to create a silhouette right for your body and often at a lower price point. This is an especially great idea if you like the idea of having one look for your ceremony and another for your reception. Instead of buying a second gown, swap out just the skirt, or layer a removal ballgown skirt over a little white cocktail dress.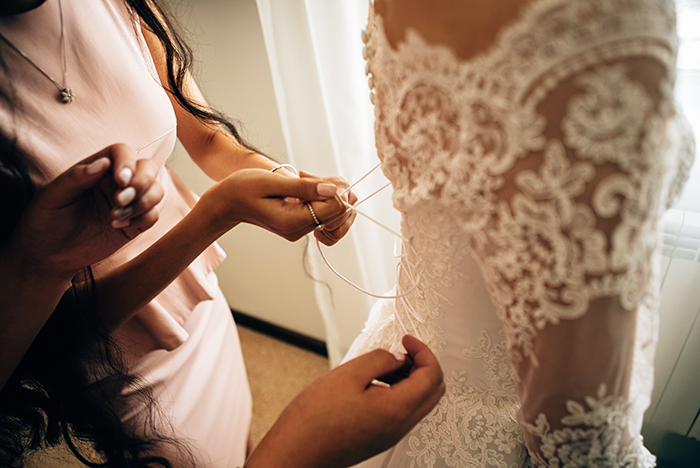 5. Sample sale: Most wedding dresses are white, and each new season brings new styles from designers. This means that the older styles, which are still perfectly wearable, go on sale.
When a store in San Francisco needed to clear out dresses from previous seasons, Cynthia Traina took advantage and got a great deal.
"I went to try on dresses at traditional shops, and was shocked at the cost," she says. "So when I heard about the sample sale, I went in and found the most beautiful pure 100 percent silk dress. It was originally $1,500, and I paid only $500."
Before going to a sample sale, call ahead to find out what size dresses will be sold, as some stores may only offer samples in a certain range. Also, be ready to make a quick decision. Items at sample sales don't last long.
6. Simple made stylish: Maria Avgitidis, of New York City, wanted a dress that sparkled. But she quickly found that gowns with rhinestones, lace, beading, sequins and other decorative flourishes came with lofty price tags.
Refusing to settle for less, she found a beautiful, but very plain, silk taffeta gown and then bought a roll of beaded trim from a local fabric shop to tack on in all the right places. For $1,000, she glowed on her big day without spending beyond her budget.
Carrie Anton is a Chase News contributor. Her work has appeared in Women's Health, Oxygen, TheKnot.com and Reebok.