Your Money
Celebrate Life Moments
How a ring consultant can save you money on an engagement ring
By
Linda DiProperzio
Posted: 02/13/17
Updated: 12/03/18
Weddings are a major life moment, and involve thoughtful financial planning. In this series, Chase looks at smarter ways to approach the costs of weddings, presented by Chase Slate.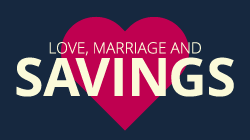 When Shelly Harrington's fiancé proposed to her in Italy last June, he did it with a placeholder ring, because he knew she would want to be fully involved in selecting her engagement ring. There was one problem: she had no idea what she wanted.
"This is an expensive purchase, and it's something I am going to wear for the rest of my life," says Harrington, a 43-year-old veterinarian from San Francisco. "After weeks of searching, I was feeling overwhelmed."
An online search brought her to Little Bird, independent engagement ring consultants and diamond shopping experts based in San Francisco. They helped Harrington with everything from deciding on the shape of the stone, and the style of the setting to finding the diamond and connecting her with the right designer. Harrington chose a diamond ring, in a platinum setting.
While hiring a ring consultant might seem a bit over the top, many couples find that it has its perks. One of the biggest is that it can lead to a significant savings of 20 to 40 percent off the cost of the ring. The average American wedding costs just over $26,000, so finding ways to trim costs is important.
Also, since there is so much information overload when it comes to weddings, a ring consultant can simplify a process that can be mystifying to the average consumer.
This is key, since spending on engagement rings is at its highest ever. A survey by The Knot, a popular wedding resource, found that the average price of an engagement ring is about $6,000. Making sure you get the most for your money is crucial.
Here are some reasons why you may want to consider a ring consultant:
Ring consultants have insider knowledge
Hiring a consultant can be about more than just saving money. Most people don't know a lot about precious stones and metals. A consultant can inform and educate clients on diamond and ring vocabulary, as well as review diamond and gemstones reports before a client makes the final decision.
Most ring consultants are certified by the Gemological Institute of America, an authority on diamonds, colored stones, and pearls. A Graduate Gemologist is the most distinctive credential in the industry, so they're good people to talk to when making this major purchase.
"A consultant who is also GIA Graduate Gemologist can grade a diamond based on the tools they've been taught, which is much more complex than just going by the four c's (cut, clarity, carat and color)," says Joshua Fishman, president and owner of A. Fishman & Son Diamonds, in New York City.
They can offer a wider selection
"A salesperson in a retail store is limited to the inventory on hand, and more likely than not making commission and interested in upselling clients," says Susie Saltzman, a fine jewelry designer in New York City. "That almost always does not allow a client to get the most out of their budget."
Ring consultants can save couples money because they have little or no inventory to worry about selling. Instead, they do business with a variety of jewelers and designers. Because of that, they're able to work within a couple's budget to find the best materials and people to make their vision come to life.
"There is a trust there because it's not just about the sale," says Michael Lebowitz, jewelry director for WP Diamonds which is based in both New York City and the United Kingdom.
Check on the commission
Make sure you're clear on how the consultant gets paid. Do you pay them a commission? Do they get commission from the other side? You want to make sure they have your best interest in mind.
Consultants like Little Bird don't profit off the sale of the gems or the design of the ring. Instead, the company charges a flat fee, with packages starting at $75. "Our clients know that we're giving them unbiased recommendations because we're not profiting in the amount someone pays for the ring," says Beth Moore, a gemologist affiliated with Little Bird.
Know your budget and what you want
It's crucial that you figure out how much you can spend before meeting with the consultant, whether you are paying cash or using a credit card. They will be using those numbers when searching and choosing gems. The process can be easier if you have some ideas during for the initial consult. Check out Instagram and Pinterest for inspiration.
Take your time so you make a great decision
Try to get recommendations from family and friends. If you find a consultant online, ask for references and check online sites like Yelp before putting down a deposit. This is not a purchase you can make overnight. It can take up to four months for a custom-made ring, so work that into your proposal timeline.
Linda DiProperzio is a Chase News contributor. Her work has appeared in the New York Post, Parents magazine and Working Mother magazine.