Bold Leaders
Inspire Bold Leadership
8 powerful leadership lessons from inspiring women
By
Kelsey Mulvey
Posted: 02/08/18
Updated: 12/06/19
From the rise of co-working spaces and startups to the push for relatively relaxed dress codes, the workforce is evolving rapidly. So, too, is our definition of leadership. Today, you'll find fewer bosses who bark coffee orders and demand long hours at the office, and more leaders who expect honest feedback from employees, openly talk about empathy, and encourage a manageable work-life balance.
At JPMorgan Chase's recent Women on the Move Leadership Day, a moderator observed: "The days of the dragon ladies are over."
JPMorgan Chase invited three top women leaders—Bozoma Saint John, Uber's Chief Brand Officer; Arianna Huffington, who left the Huffington Post in 2016 to launch Thrive Global, a wellness initiative; as well as Vernā Myers, founder of the Vernā Myers Company, a diversity and inclusion consulting firm—to share insights on what it means to be a powerful leader in the modern workplace.
Here are eight takeaways from the conversation:
1. You don't have to work all the time
"Down time is not a bug. It's a feature of the system. I love the myth of creation. God created and heaven and earth in six days. And then, she took the seventh day off!" —Arianna Huffington
2. Take the time to take care of yourself
"There is so much that we put on ourselves—about perfection, and wanting to achieve—that we often put ourselves at the very last. Because the list is, 'I've got to do that. And I've got to do that. And I've got to do that. Oh—and I've got to take care of myself.' Yeah, okay, that never happens." —Bozoma Saint John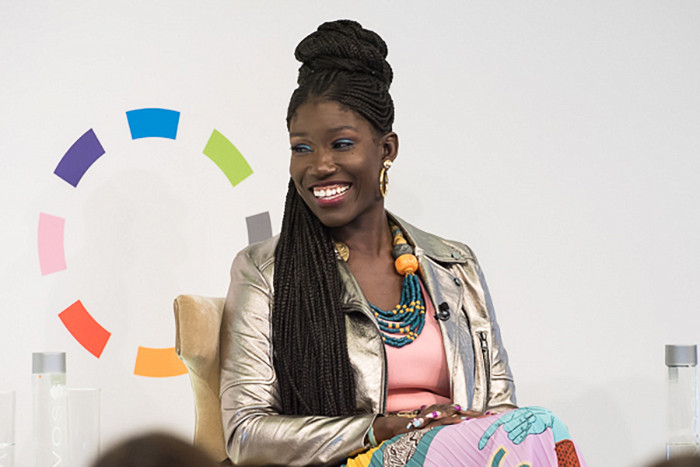 3. Advocate for your colleagues
"We need to speak up for others. We need to speak about how fabulous each person is! We need to publish the accomplishments of others. We also need to speak out when we see something. And it may not always be about gender. We need to speak out against all types of exclusion in the workplace." —Vernā Myers
4. Silence your inner critic
"Women in stressful jobs have a 40 percent greater risk of heart disease, and a 60 percent greater risk of diabetes. We internalize stress. We need to change that. We need to stop listening to that voice that I call the obnoxious roommate in our head, that judges us and doesn't think we're doing everything perfectly, so that we can be a little easier on ourselves. That will help us deal with stress better." —Arianna Huffington
5. Get uncomfortable
"We've got to figure out how to expand our own comfort zones. And this is something that I will talk to many men about, but I'm also talking with you as women: Expanding your comfort zone requires you to be conscious of where you're uncomfortable. " —Vernā Myers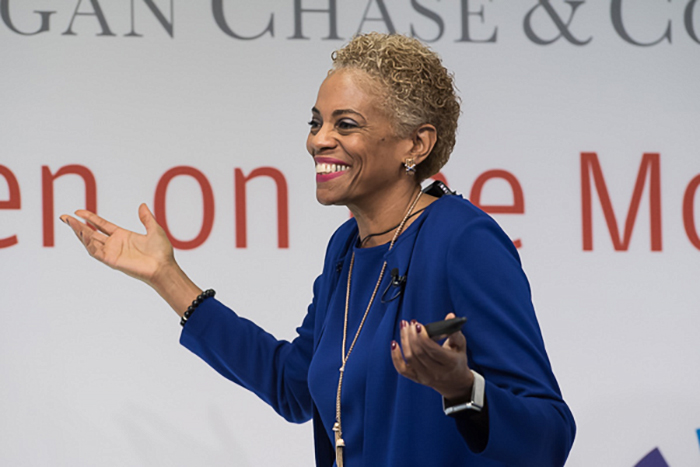 6. Focus on your priorities
"Our days change all the time. New issues pop up that you have to prepare for. For me, it's about quieting my mind and really understanding what it is that I need that day or that moment. It's about knowing that if something is piling up, I need to figure out how to take care of it. And then, listening to that intuition to implement whatever the fix is going to be." —Bozoma Saint John
7. Celebrate your professional network
"I feel enhanced by what other women are doing. And I think this is so important. Because, you know, what Madeleine Albright said, 'There's a special place in hell for women who don't support other women.' Well, there's also a special place in heaven for women who truly support other women, and truly celebrate their victories, and are truly there to pick up the pieces when we fail or when things are not going well. I think that's such a big lesson for all of us going forward." —Arianna Huffington
8. Be yourself
"A lot of times, people come into the workplace and hide parts of their identity in order to fit into the established culture. But here's the thing: You are wonderful, you matter, you are rich, you are talented, your lives are multi-faceted. Bring that into the workplace." —Vernā Myers
Kelsey Mulvey is a Chase News contributor. Her work has appeared in Business Insider, The Wall Street Journal, and New York magazine, among other media outlets.