Community
Giving Back to Community
Boot Camp for a Responsible Business: The Girl Effect Accelerator
Fighting Poverty Can Go Hand-in-Hand With Building Profits
By
Carrie Kirby
Posted: 02/06/15
Updated: 11/10/17
For two weeks in November, Gwendolyn Floyd left the startup she co-founded to hang out in a Northern California barn and sleep in a chilly teepee.
This wasn't a retreat or vacation. Floyd was tapping into the expertise of mentors and fellow entrepreneurs to build something meaningful into the business plan of her handcrafted jewelry marketplace, Soko: She wanted to improve the well-being of adolescent girls.
Alongside Floyd, leaders of nine other startups, in mobile payments services, solar energy, education and other fields with ties to the developing world, made the same commitment. The companies were participants in the first Girl Effect Accelerator, an experimental program that recognizes girls as key to bringing families and communities out of poverty -- and looks to for-profit companies to empower those girls.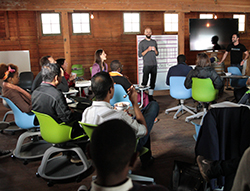 The Nike Foundation, along with the NoVo Foundation, the United Nations Foundation and the Coalition for Adolescent Girls, started Girl Effect in 2008 to attack inter-generational poverty. The power of girls to help their communities captured the attention of Unreasonable Group, a business accelerator that harnesses entrepreneurship to tackle pressing challenges. Daniel Epstein, Unreasonable Group's founder, illustrated the power of the 250 million adolescent females living in poverty today: An educated girl will invest significantly more of her future income in her family, according to a number of recent studies, than an educated boy.
"If we really want to put a dent in global poverty, it became clear that the biggest lever we could pull was working with entrepreneurs who were positioned to unleash that potential within girls in poverty," Epstein said.
So the Unreasonable Group partnered with the Nike Foundation to create a two-week event where startups in a position to reach girls could plot ways to help this powerful demographic while building profitable businesses. Each company left with a commitment to a plan for achieving that goal.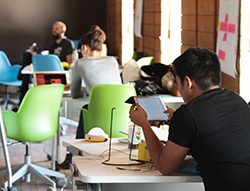 Soko's commitment, according to Floyd, was that "our goals for income generation for artisans would be tied specifically to the amount necessary to ensure that boys and girls were treated equitably in terms of education, health care and nutrition."
The accelerator also said it will offer financing for the participating companies and invest in them as they grow.
Each company agreed to track a metric around its impact on adolescent girls living on less than $2 a day and report back quarterly, to help the Girl Effect team learn more about what solutions work best.
"The accelerator is the spark to a flame," Epstein said. "The program was two weeks long. The flame is the next 20 to 30 years."
Floyd said she has attended business-accelerator events before. But this one was different.
"Because all of us were driven by this shared goal, there is an amazing sense of radical vulnerability and participation that ended up enabling us to collaborate in such deep ways," Floyd said. "All of us forged really deep partnerships with the other companies and came away with key learning and commitments to one another that within just two weeks had a fundamental impact on our business."
Carrie Kirby is a freelance journalist who was formerly a business reporter at the San Francisco Chronicle. Her work now appears in the Chronicle and in the Chicago Tribune, San Francisco magazine and other publications.