Small Business
Manage Your Business
Preparing your business for unexpected events
Small businesses should have long-term plans to meet any eventuality
By
Selina Wagowski
Posted: 02/06/17
Updated: 03/07/19
Christina Morales' first lesson in running her own business came early. Her parents died when she was 15, and by age 23, Morales found herself in charge of the Houston, Texas, funeral home her family had operated since 1931. She had limited experience, little preparation and no time to pursue a higher education before being thrust into the world of business ownership.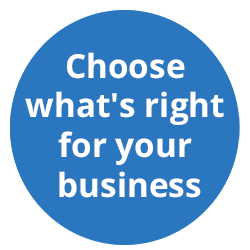 "I had to learn the hard way," Morales recalls, adding: "As a small business owner, you never know what could happen."
Morales survived, and thrived, when the unexpected happened. Over the past 23 years, she not only has succeeded in building the family business—she has become a leader in Houston's Hispanic business community. But others may not be so lucky.
For small businesses, deciding in advance how they will meet challenges such as death, divorce or other unexpected events—including the need for loans to bridge the business in hard times—is crucial. Planning with partners, discussing with family members and finding the right advisor to put provisions in place can make the difference between overcoming unexpected events, and succumbing to them.
Get it on paper
Many small business owners are so focused on running their companies that they don't make time for long-term planning. They may not think about the need to include provisions for ownership in their wills, or have discussions with family members about what will happen to the company after they die, Dr. Laura Murillo, president and CEO of the Houston Hispanic Chamber of Commerce, told about 250 small business owners at a recent Chase for Business: Connecting Minds, event in Houston.
In Morales' case, her grandmother stepped in to run the funeral home until Morales was ready to take over. But family members aren't always willing or able to do that. If the family hasn't discussed succession planning or an exit strategy, the business could be left in jeopardy. "Make sure you have it all on paper," Morales says.
Ownership succession is just one reason that small business owners should develop relationships with lawyers, accountants and bankers they trust and who understand their business.
Consider all possible pitfalls
In the Hispanic community, in particular, entrepreneurs often rely on family for financial support, says Graciela Saenz, an attorney with the boutique firm of Saenz & Burkhardt, which focuses on business transactions. "If something goes wrong, how will you get that money back? It's better to come to an understanding before you make major business decisions," she says.
Small business owners should plan for a wide range of unexpected events that could affect their companies, including injury, disability, death or financial hardship, says Jeff Dinerstein, an attorney with the law firm Jones Day who represents business owners on tax issues as well as mergers and acquisitions.

Dissolving or selling a business
It's never too early to start the process. Even if a business is still in the startup phase, the owners should think about their plans for selling or dissolving it someday. Planning for these types of long-term outcomes can help avoid pitfalls to growth, Saenz says. "I always tell clients to think about what you want this company to be and where you want it to end up."
If a company is owned by a husband and wife who get divorced, for example, dividing the ownership interests can put the future of the business in jeopardy if they haven't planned for how the business would be dissolved or sold.
Business owners who plan to sell should begin preparing at least two years before they could conceivably put the company on the market. "You want to think about getting a solid set of financial statements," Dinerstein says. At the same time, they must understand the market, because many buyers would prefer to buy only assets, rather than an entire company.
Depending on the nature of the business, it may be important to consider non-compete clauses for employees. "All of this becomes more relevant when you sell," Saenz says.
Who to turn to for advice
As they seek professional guidance on these issues, business owners should also understand the function that each professional performs, says Cesar Guerra, a Chase Vice President in Houston. Bankers, for example, can provide a financial compass to guide business owners to the best financing options, but they can't offer tax advice. "Your tax expert is the key person in deciding how you can get the most tax advantage from a transaction," he says. When selecting an accountant, keep in mind that many bankers prefer to see that a certified public accountant has reviewed a business's books.
Documenting finances
Just as audited financial statements are critical for selling the business, they also provide business owners with more financing options if they want to grow their business. In addition to helping in the loan approval process, audited financial statements may also help get a lower interest rate. "Have a banker review them and let them give you an idea of where you stand," Guerra says. "We don't say 'no,' we say 'not now.' If you have the proper safeguards, it should not be a difficult transaction, but you have to make sure you have those safeguards in place."
If several bankers all turn down a business's loan application, it may be necessary to re-examine the financial statements, Saenz adds. If a business isn't eligible for a commercial loan, bankers may be able to recommend other financing, such as a loan guaranteed by the U.S. Small Business Administration.
Planning from the start
Even businesses just getting started can put plans in place. Startups that don't have an established financial history can fortify themselves with a strong business plan so that lenders can see how the business will work and where the money will come from, Saenz says. She suggests that some business owners may want to form an "advisory council" of other business owners who can offer advice on developing the business. "Having these trusted relationships are important," she says.
Morales learned early in her career the importance of trusting family members, but she says business owners must realize that not everyone in the family shares the same commitment to the business. "It can be hard to work with family sometimes," she says. "It's important to recognize potential hazards."
Selina Wagowski is a Chase News contributor.