Small Business
Managing Your Business
The Big Game Equals Big Business
Local Establishments Benefit from NFL Fans Willing to Spend
By
Michael Austin
Posted: 02/03/16
Updated: 11/10/17
It's just eight Sundays a year, but if local businesses in close proximity to NFL stadiums draw up a smart game plan, they have opportunities to cash in on huge football dollars from potential patrons willing to spend.
And, beyond the eight home games a year for an NFL team, if that squad reaches the ultimate football face-off, there is the potential for even greater returns.
Keeping Up With Demand
Carolina put together an incredible 15-1 regular season this year, including a perfect 8-0 mark at home and a pair of dominating playoff victories.. The team's offense has been fueled by MVP favorite Cam Newton and the defense just forced an NFL-title-game record seven turnovers. Carolina has the best record in the NFL this season.
Draught, an upscale sports and craft beer bar located one block northwest of the team's stadium in Charlotte, has tapped into the potential of excited football fans.
On Sundays, the establishment opens at 11 a.m. although alcohol cannot be served until noon by law. Opening an hour before the beer is tapped, however, allows for the kitchen to start preparing food to get a jump on hungry customers.
Maura Howe, sales and events manager for Draught, says to accommodate the expanding clientele, additional staff is on hand and they bring in tents for the outside parking lot area to create extra restaurant space. They also place additional bars outside to serve thirsty fans.
Howe adds that Draught has been a beneficiary of Carolina's success this season, as well as when the team succeeds— primetime games. "On a typical Sunday game day, our sales double or even triple that of a non-football Sunday," Howe reports. "Our numbers definitely are affected by game times. When we had Sunday and Monday night games, we definitely were running out of inventory by the end."
New Business Profiting From Parking, Tailgaters
For new businesses with an opportunity to open near an NFL stadium—especially one housing a winning team like Denver—the returns are immediate.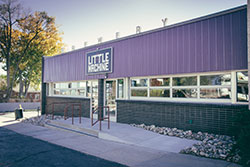 Little Machine Beer opened on October 29, 2015, just to the northwest of the parking lot near Sports Authority Field at Mile High. Co-owner Ben Chenard reports he's already noticed a 50 percent increase in sales when the Denver is playing at home versus a typical Sunday.
Chenard says he adds three to four additional staff on game days and sometimes stays open an hour later or opens an hour earlier depending on game time. Plus, he sells parking in his lot for $40 per spot. With 20 spots available, that's a nice income boost for a new business.
Chenard also notices an increase in customers when the weather is calm and mild rather than snowy and frigid. "The number of people who watch the game at our brewery increases if the weather is nice. More people are out tailgating and will come over to watch the game versus when it's snowing or very cold."
Expect more people to walk through the doors of Little Machine Beer next year regardless of the weather as the owners could not have picked a better time to enter the local-business scene near Sports Authority Field. Denver will be coming off last year's big game and sporting one of football's best defenses once again.
The Party Doesn't Stop
With close to 80,000 extra people infiltrating the area near an NFL team's stadium, it's the local businesses that go the extra mile to service fans that are seeing the biggest returns. And while the championship battle will be taking place in Santa Clara, expect the local establishments in Denver and Charlotte to keep the excitement going with viewing parties so fans can watch the big game with others who are just as fanatical as they are.
For more big business wins, as well as news and expert tips and valuable products and solutions, visit chase.com/forbusiness.
Michael Austin runs Basketball Coach Weekly while also serving as a contributing editor for This Is AFCA (American Football Coaches Association) magazine.