Bold Leaders
Managing a Small Business
3 Businesses That Do Well by Doing Good
Companies, Customers Join in Supporting Charities
By
Gwen Moran
Posted: 03/12/15
Updated: 11/10/17
When small business owners take up a cause, they're able to enlist their customers and suppliers as well. These three companies were inspired to donate time, goods and services to help people in need — from in their own backyards to places as far away as Uganda and South India.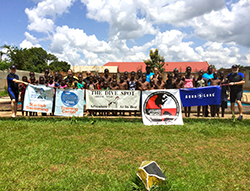 The Dive Spot: Teaching Survival Through Swimming
J. and Lorraine Wilson are the husband-and-wife team behind the swim and SCUBA diving school they started in Abilene, Texas, in 1998.
When the couple met the founder of the Lira Integrated School, which provides grade-school education and agricultural training in a poverty-stricken Ugandan community, they pledged their support for several projects. But they said they were especially moved by stories they heard about people drowning in accidents related to fishing and river transportation.
On a recent trip to Uganda — their third — the Wilsons and a team of volunteers taught basic swimming skills to nearly 500 local adults and children. They used social media, including their diving school's Facebook page and Lorraine's blog, to solicit donations of funds and gear. This summer they collected nearly 700 swimsuits, as well as whistles and kickboards.
"We started small," says J. "We started asking people in our town to donate. We have 150 to 200 people come through the door every day. We put out boxes and signs. I thought they would bring us their little kids' swimsuits from last year. They went and bought brand-new swimsuits and brought them to us."
When the Wilsons reached out for support from other organizations, they received donations from large corporations, local businesses and a group that teaches water safety. And local cafes helped them raise money. "There wasn't a company I approached that didn't support us," says J.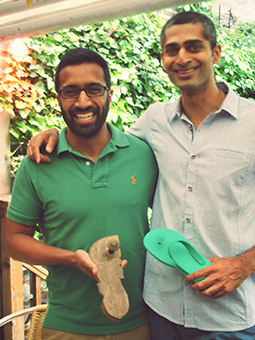 Gurus
Prem Thomas and Joe Choorapuzha met 10 years ago, fresh out of college and working on Wall Street. Both first-generation Americans, they learned their parents originate from the same region of South India (some of their relatives live across the street from one another), where both families have been rubber farmers for generations.
While visiting India in 2010, Thomas became smitten with the simple sandal called a paduka that has been worn in India for 5,000 years. The friends teamed up to launch Gurus — maker of vibrant-hued, comfortable unisex flip-flops inspired by the classic sandals worn by Gandhi. The company is committed to 100% sustainable manufacturing of its biodegradable footwear, with 40% of the rubber coming from the founders' sustainable family farms.
Now, for every pair sold, a tree is planted in a developing community through Trees for the Future, which helps farmers in developing countries implement sustainable business practices.
"Anyone can sell thousands of flip-flops," says Thomas, who previously worked in the Philippines at the microfinance organization Kiva. "But if you support people in sustainable businesses, you can help improve their quality of life, and their community's lives."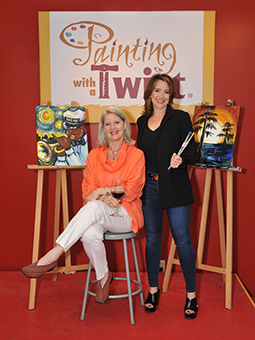 Painting With a Twist
Philanthropy has been at the root of the 10-year relationship between Cathy Deano and Renee Maloney, who met when were both room mothers for their kids' kindergarten class.
Deano — a longtime community arts supporter — and Maloney went into business together after Hurricane Katrina hit their southern Louisiana town. They founded Painting With a Twist, which now offers adult painting classes at more than 175 locations nationwide.
"We wanted to start a business for ourselves, but also one that gave back to our community, which was devastated by natural disaster and a recession," says Deano.
"People thought we were crazy to launch in the middle of those conditions. But people needed an escape and a chance to connect. They leave feeling better than when they arrive."
Since the business started in 2007, Painting with a Twist has donated more than $1 million to charity through a program they call Painting with a Purpose — monthly classes that benefit a local cause.
Initially the founders held charity classes for people in their community they knew needed help. As the business grew, Painting with a Purpose became a leading feature of the brand.
The charity classes are held monthly, and most franchises give 100% of the fees from those classes to the nonprofit organizations of their choice. The parent company requires that at least 50% go to charity, and takes no royalties on those sales.
"We don't want to be that company that just gives 10%," Deano says. "I've been surprised by how many franchisees select us because of the charity component. People want to be philanthropic, but not everyone knows how to be. We help them do that."
Photos courtesy of The Dive Spot, Gurus and Painting With a Twist | Gwen Moran is a freelance journalist who has written for Inc., Fast Company, Entrepreneur, The Los Angeles Times Magazine, Crain's New York Business, Woman's Day and Ladies' Home Journal.