Your Money
Understand Your Finances
The 7 essential rules of saving
The key to being a successful saver is to have a plan
By
Farnoosh Torabi
Posted: 01/19/18
Updated: 02/06/19
This story is part of a broader Chase initiative to encourage Americans to save more money.
We all know that having a healthy savings account and controlling spending is part of being financially responsible. But, let's face it, this can all seem daunting, and even abstract. We often ask ourselves: How much of a savings buffer does someone need in case there's an emergency? Does being a diligent saver mean that I can never indulge in things I love?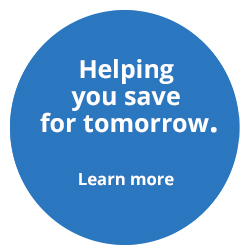 The key to being a successful saver is to have a plan. Know where you want to go, and take steps to get there. There may be slip ups along the way, but you can always course correct and get back on track.
These are seven essential rules to help you develop better saving habits—and still have room for the good life:
1. Widen your lens
Take a step back. What's your hope with your money?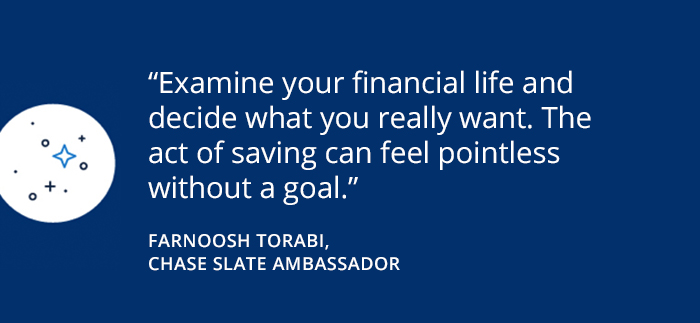 Most of us know we should save, but have you ever asked yourself why? Examine your financial life with a wide lens and decide what you really want this year. Having a goal-based framework for your finances can lead to more wealth, according to research by Morningstar.
Do you want to buy a house this year? Then actively save for a down payment. Want to go to Italy this summer? Let that guide your travel fund.
When you establish a goal that you can rally behind, saving becomes a fun challenge—not a chore.
2. Modify your expenses
We know that spending less leads to more savings. There are probably a few expenses you can eliminate altogether, and there may be easier ways to save more cash.
Try finding ways to get the same things and services you love for less. For example, renegotiate the terms with your cell phone provider, insurance company, and cable service. Try to renegotiate big ticket items, like monthly rent. It may seem far-fetched, but you don't know unless you ask. For example, offering to extend the term of your lease or paying a few months of rent in advance may earn you a discount.
Then, do an audit of your other recurring expenses. Is your monthly beauty box subscription something you really look forward to, or are you over it already? Do you truly love your high-end gym or will the one down the street that costs less do the job?
You don't have to give up all the things you love in order to save more. Sometimes you just need to find a more cost-effective way to get the same purchase.
3. Get to know your debt
When asked about how much credit card debt we're in, many of us don't know. A Federal Reserve Bank of New York study found that people underreported credit card debt by as much as 40 percent.
You have to know all the details in order to move forward with your savings goals. From the balance on your car and student loans and outstanding credit card debt, keep a log of their amounts and interest rates. Then, see if you can make your debt less expensive by securing a lower interest rate.
If you have credit card debt, apply for a balance transfer card that won't charge a balance transfer fee. Once you transfer your debt to the card, there is usually a fixed period of time when you have a 0% APR to pay it off.
4. Make a savings timeline
Now it's time to craft a savings timeline, to stay on track for your goal.
I suggest working backwards. For example, if you want to save $6,000 by the end of the year, you'll need to save $500 every month to get there.
Set up an automatic savings transfer, preferably at the beginning of the month, when you receive your paycheck. If you wait until the end of the month to save what's left over, you may come up short.
5. Take advantage of lump sums
Along the way, take advantage of big chunks of cash that fall into your life. Whether it's a bonus, tax refund, or a really generous birthday check from your grandmother, make sure you use these lump sums wisely by allocating some (or all) towards savings.
If you're in debt, I recommend putting 50 percent of a lump sum towards debt repayment and 50 percent of the cash toward goal-based savings.
6. Get some accountability
You're more likely to reach your savings goals if you have some encouragement from friends and family. In a National Bureau of Economic Research study, experts found that people who saved money in a self-help treatment group, where they'd publicly announce their savings progress, saved 3.5 times more frequently than people who were outside the group.
7. Buy yourself a little happiness
Treating yourself can be a great way to stay motivated while reaching a bigger goal. Give yourself a small allowance to spend on things that make your life easier, better or happier. For example, if you're trying to cut back on food spending, treat yourself to a nice restaurant dinner if you make it through one month of cooking all meals at home.
These indulgences will help celebrate incremental milestones, and motivate you to keep saving.
Farnoosh Torabi is a Chase News contributor, Slate Ambassador, and financial expert.